So You Want to Be an Architect? 001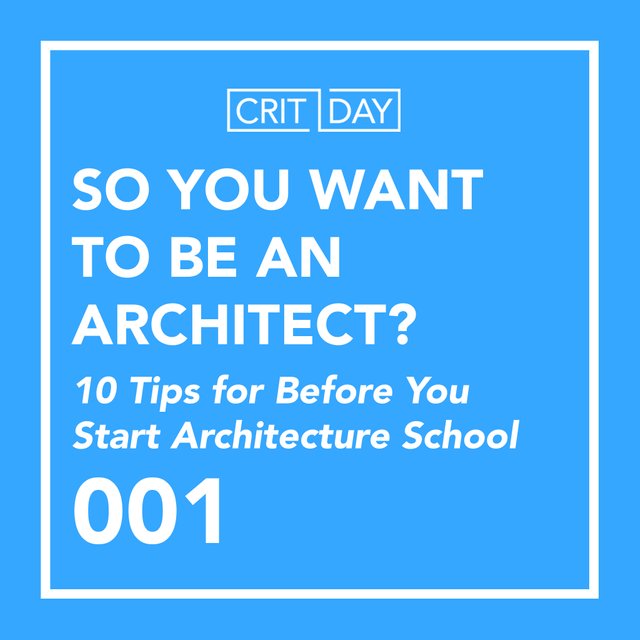 10 Tips for Before You Start Architecture School
So you are thinking of starting the journey to become an architect?
Before you start your architectural education here are 10 top tips for anyone who is thinking
I want to be an Architect
.    
#1 - Get some work experience
This is a must! Architecture is a well respected profession and Architects are generally held in high regard within society. This positive image can lead to misconceptions of the day to day role of an Architect. The best way to gain a true understanding of the profession is from the inside, which is why all would-be Architects should complete at least one week of work experience before they commit themselves to the journey.    
#2 - Know the route to qualification
Like many professions each country has its own route to qualification. Whilst the fundamentals will be the same, the route to becoming an Architect in the UK is different to that of the US. Make sure you check your country's governing organisation's requirements. Here are two examples;
UK
and
US
.    
#3 - Learn the lingo
During the first few months (and even beyond) you will be met with new words and phrases which will seem alien. If you're ever unsure feel free to ask CritDay via email or Instagram DM. To give you a head start here are some of the most common; Precedent - an idea or example from a person/project, Elevation - usually a 2D drawing of the front, side or rear of a building, Section - a cut-through drawing of the building.    
#4 - Choose your school wisely
Make sure you do your research into which school you want to study at. Reputations aside, different schools have their own specialisms. Some schools focus on live projects, whilst others are more theory based. Online research and attending open days will be the best way to learn about an individual school - but be wary, they are trying to encourage you to sign up to their school.    
#5 - It's not all about designing buildings - in fact it is more about people
Architecture isn't just about buildings. During architecture school it is common for the focus to be on society, politics, environment and culture just as much (if not more) than "architecture". Part of the Architect's role is to understand how people occupy spaces and what impact our buildings have on the wider world.    
#6 - You get out what you put in
Like with many things, the more effort you put into architecture school the more rewards you will get out. Most schools offer extra opportunities, such as live projects, research, site visits etc. As a budding Architect you should grasp all the opportunities you can. They will be a good chance to increase your experience and meet like minded people.    
#7 - Start to figure out what you do (and don't) like - and more importantly why?
Having
justified
opinions is a key part of developing your focus and taste as an Architect. What styles do you like? What Architects do you like? Always ask yourself 'why'.    
#8 - Be prepared for the long haul
The road to becoming an Architect is a long one. In the UK the minimum time is seven years, but in reality this is more like eight to ten. Whilst this should not necessarily deter you from starting your journey in architecture you should definitely be aware of the timescales.    
#9 - Consider a foundation or summer course first
Architecture school can be a shock to the system, if you are entering straight out of school. The style of teaching, conversation and research is far beyond that of high school and sixth form college. A foundation year in an art based subject or a summer school may be a good way to bridge the gap. For more information on these type of courses feel free to get in touch.    
#10 - Why do you want to be an Architect?
This is a fundamental consideration for anybody thinking of entering the world of Architecture. Whilst architecture is not for the faint hearted the potential rewards in terms of impact to society and job satisfaction can be great.    
Hopefully the tips above have helped you in the right direction. If there is anything else you would like to know or discuss, please get in touch via email or Instagram and look out for future posts in this series.
---
Posted from my blog with SteemPress : http://critday.com/2018/12/19/so-you-want-to-be-an-architect-001/
---