ARAW ecosystem:Making online shopping easier with a universal payment system

Ecommerce industry is flourishing with increased number of smartphone users and the ease associated with online shopping. While there are several aspects of online shopping but the most noticeable one is the online payment system. ARAW saw an opportunity to provide a feasible, acceptable and easy platform where everyone can make transactions effortlessly. It provides ultimate ease where users can pay online with just a click of a button. It has also introduced Araw touch and pay card which facilitates instore micropayments.


Few of the unique features of ARAW:
This ecosystem uses Ethereumblockchain which is regulated by ARAW token to provide an online payment systems for ecommerce industry. Below are few of the unique features of this system.
• Cashback: it offers the customers rewards against purchases which will encourage customers to do more shopping using this platform.
• The platform provides plug and play widget which can be used on any website
• The platform is very easy to use which does not make the users feel that they are switching from their existing payment platform.
• ARAW touch and pay card allows the users to pay on coffee shops, grocery stores and online shopping platforms.
• ARAW will create an E-commerce marketplace in a way that will not force the shopper to change their shopping pattern.
• The platform uses smart contracts which facilitates the users where they can exchange goods with AWAW tokens.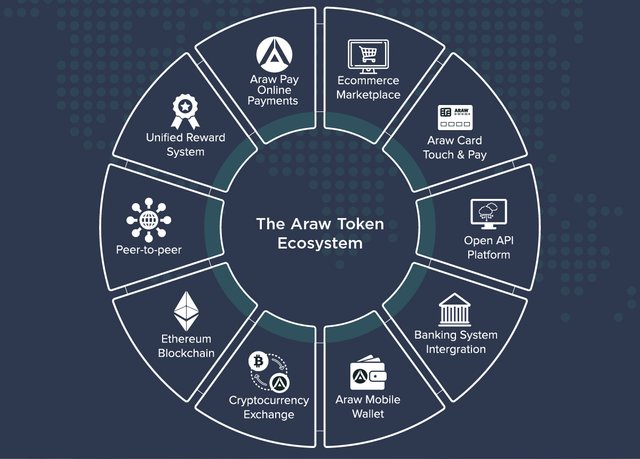 ARAW addresses the fundamental problems existing in the ecommerce and online payment industry:
We have observed that the online and offline retailers are either not giving any rewards at all to the consumers or offering very limited ones because of the fear of losing their brand reputation. These rewards are limited and of no value to the customer while on the other hand ARAW system provides significant unified reward system to the users which will definitely increase its adoption.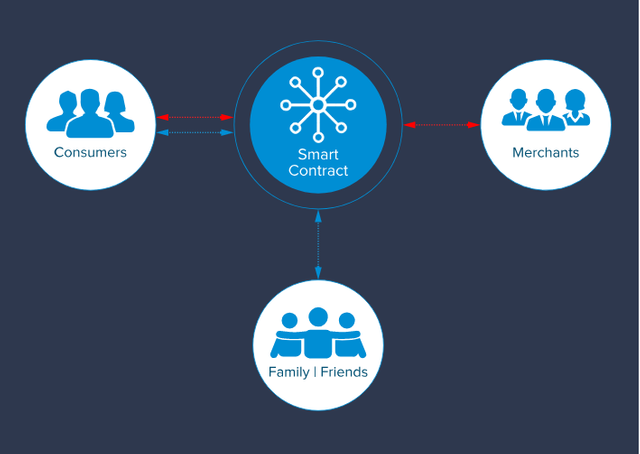 The other problem in the current ecommerce industry and payment system is that there is a lack of adoption of cryptocurrencies as a valid payment option. ARAW rightly answers this problem since it provides and easy to use platform with cashback rewards and an exchange to convert your digital currencies to fiat currencies.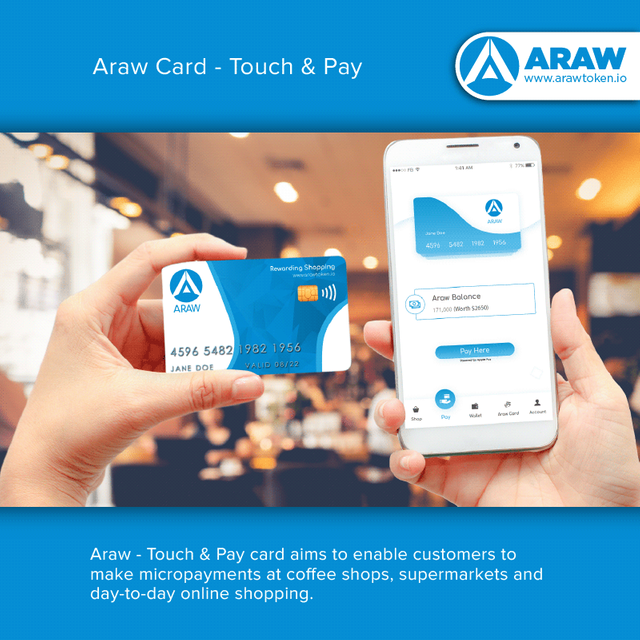 ARAW mobile wallet and exchange:
ARAW mobile wallet can be used for storing, spending or exchanging with other currencies. This wallet can be linked to your bank account to route your payments and withdraw them from there. It also works as an exchange where ARAW tokens can be exchanged to Ethereum, Bitcoin and other cryptocurrencies. This user friendly wallet and exchange will attract more people to this platform. Investing in this token will be profitable because there is a fix number of tokens to be mined and its value will certainly appreciate in the near future.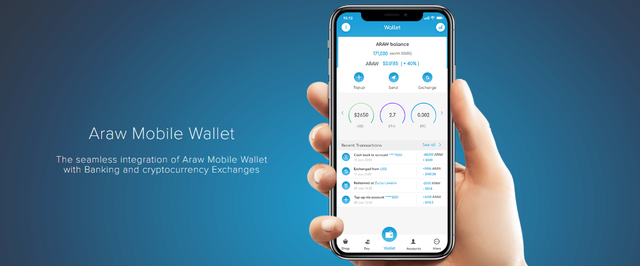 For more information about Arawtoken visit links below.