Delivering A Clear Message : توصيل رسالة واضحة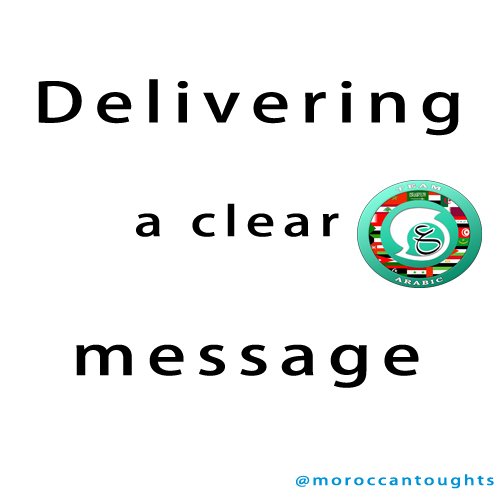 As we all know, we started this trip about three months ago and there is no trip without a pitfalls. Of course, we faced many difficulties and with the help of God we were able to overcome some of them and continue to work towards achieving the established goals and solving the remaining problems. We have recently noticed a lack of quantity and quality of posts. The main reason for this is the marked decline in the value of the valuation currency steem on the one hand.
On the other hand, the main reason I write this post is the articles published on the platform copied from the net or from other platforms and attributed to you on the basis that you are the owners of what published in order to make an easy profit the copy and other scam are not good for the owner of the post but also it brings the whole community down. So in an effort to get this community to a place that is well deserved for some very valuable posts it will be responsible to not try to cheat the system and this is unacceptable in our community, it was clear in our article when we started the ARAB community that we want to promote this community as we aspire to be distinguished in our posts and to conduct our participation to other communities, and one of the conditions in order to be voted on your posts is to avoid copying from sites and better to share your personal experiences, so we help to improve our community and progress ahead as planned.
I conclude my speech by informing you that i will give a two week ban for the people who are copying for the first time and a month second time, and definitive ban and they will be reported, peace.

كما يعلم الجميع بدأنا هذه الرحلة منذ ثلاثة أشهر تقريبا ولا يوجد رحلة بدون مطيات ،طبعا واجهنا العديد من الصعوبات وبعون الله إستطعنا التغلب على بعضها و مواصلة العمل نحو تحقيق الأهداف المسطرة وحل المشاكل المتبقية .لازلنا في بداية المشوار نحو تكوين مجتمع خاص بالعرب وإبراز اللغة العربية بالمنصة و إظهار جمالية بلداننا بإختلاف ثقافاتنا و تقاليدنا و عاداتنا إلا أننا مؤخرا لاحظنا خمولا في عدد المنشورات وكذا جودتها و السبب الرئيسي في ذلك يرجع إلى التراجع الملحوظ في قيمة عملة الستييم ، هذا من جهة.
ومن جهة أخرى فالسبب الرئيسي الذي دفعني لكتابة هذا المنشور هو المقالات المنقولة من النت أو من منصات أخرى ونسبها إليكم على أساس أنكم أصحاب المنشور في سبيل تحقيق ربح سهل و هذا شيء غير مقبول في مجموعتنا ولن يسكت عنه ،كان واضحا في مقالنا الذي إفتتحنا به هذا المجتمع تحت شعار عرب أننا نريد الرقي بهذا المجتمع كما نطمح إلى أن نكون متميزين بمنشوراتنا وأن نوصل مشاركاتنا إلى مجتمعات أخرى ، وكان من ضمن الشروط الواجب إحترامها ليتم التصويت على منشوراتك هو أن تتفادوا النسخ من المواقع ومن الأفضل أن تشاركونا تجاربكم الشخصية،فمثل هذه الأفعال تضر بالمنصة و بتقدم مجتمعنا للأمام كما هو مخطط له.
وبهذا أختم كلامي بإعلامكم أنه لن يتم التصويت على أي منشور تبين أنه منقول وسيتم التبليغ عنه و السلام عليكم.
@moroccantoughts @steeimran @chatitsimo @amineaz @rezzouk.elabiad @taoufik @meryoum @mustaphaaoufi @protomar @deutschewolf @shootphot @chepoch @yassine2014 @steemwhele @mehdierraji @aitbilal @anassmed @klasanaj @saizor @askmee @lafifi @abde @safouane @omarov @louizate @soufianeluka @imadox @capguir @hariabbad @nourtawfi @imras @usif07 @omar2014 @aherbil @shootphot @boukdir @alfamano @cheneats @youns @nice.man @digi5952 @toppo @chomicha.steemit @nationall @soufiani @sst @alkhatib94 @laciri @atlas12 @m1str2 @darsh79 @sarah131 @tasneimahmed30 @hazem91 @thecollector @worldinformation