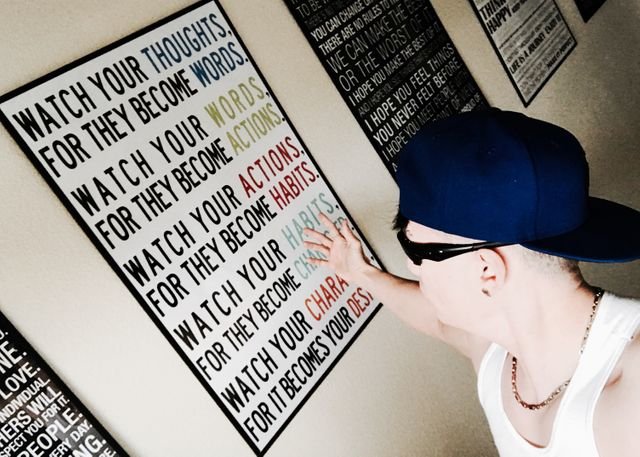 When I open my eyes every morning, I see this poster... Why do I do this? It's a great reminder to myself so that I can live a better and happier life.
" Watch your THOUGHTS for they become words. Watch your WORDS, for they become actions. Watch your ACTIONS, for they become habits. Watch your HABITS, for they become character. Watch your CHARACTER, for it becomes your destiny. "
Sounds Pretty Damn Cheesy You Say?
All I know is that it's 10X better than being a negative asshole all the time, living life as a victim... It's no way to live.
Surrounding yourself with positive motivation everyday can only lead a person to do better things in life.
However, I'm not the typical person that praises sunshine, rainbows and unicorns 24/7....
If I see or hear something that I don't believe in or disagree on, you can bet your ass that you'll hear the real truth from me.
Can this be a negative trait? Na, I believe in constructive criticism and the truth; even though it's "not acceptable" fromall the "Social Justice Warriors" nonsense we see in the world Today.
With that being said, just try to be the best person that you can be everyday. We all go through rough roads and speed bumps in life... it's how we deal with them, what really counts.
Keep On STACKIN!
~ Charles Fuchs
For those who's interested in following my "Content" and "Daily" Posts... you can just follow me @stackin to get my updates.
You Can Follow Me Here:
➡️ UpTrennd: https://uptrennd.stackin.co
➡️ Facebook: https://facebook.stackin.co
➡️ Twitter: https://twitter.stackin.co
➡️ Instagram: https://instagram.stackin.co
➡️ Steem: https://steem.stackin.co
Crypto.com: Get The World's First ELITE Cryptocurrency MCO Debit Card and we both get $50! NOTE: You must stake 50 MCO to get the $50 + 2% cashback on all purchases. Must use Ref code: ( mqanqykcym )
PI NETWORK: Pi is a new digital currency you can mine on your mobile phone for free without draining the battery or using data. Use The Referral Code: ( stackin ) to be on my personal team.
BYBIT: Want To Trade Bitcoin with 100X Leverage? Create Your Free Bybit Account 30 seconds and claim your $60 Welcome Bonus!