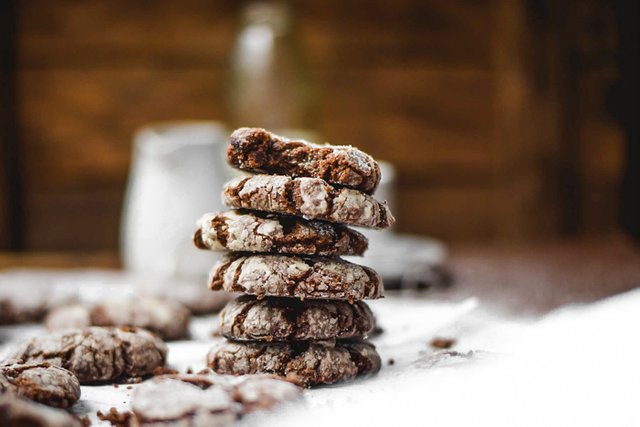 Anyone need some bake or break therapy today? I know it always makes me feel better.
I was in the mood the other day to make something a little less rich and very basic. Sometimes those are my favorite recipes and I'd say time has proven that the simple and easy recipes are always the ones we go back to over and over again.
One of my brothers said that they tasted just like these cake doughnuts he remembered from when he was younger and then my mom said they were one of her new favorite cookies to have around. Yeah, I'm definitely counting these as a winning recipe.
They're not too sweet or overpowering, just perfectly balanced and soft. Also, if you want you could even add some bitter-sweet chocolate chips to give them that extra yum factor we all love, MMmm!
--Soft Dark Chocolate Crinkle Cookies (Vegan)--
Looking for a favorite new cookie recipe? These soft, dark chocolatey cookies bring happiness with each bite!
Prep Time 15 minutes
Cook Time 20 minutes
Total Time 35 minutes
Servings 20 cookies (about)
--Ingredients--
2 tablespoons coconut oil
2 tablespoons olive oil or preferred liquid oil
1 cup organic sugar
1/4 cup cocoa powder
1/4 cup applesauce or pumpkin puree
1 teaspoon baking soda
1/2 teaspoon salt
1 1/2 teaspoons vanilla extract
1 1/3 cups flour
1/2 cup powdered sugar for rolling cookies in
--Instructions--
Preheat oven to 350 degrees F (180 C). Beat together the sugar, olive oil, applesauce, and coconut oil in a medium mixing bowl until creamed and smooth. Add the salt, soda, vanilla, and cocoa and mix until combined. Stir in the flour 1/2 cup at a time just until the dough comes together.
Roll the dough into balls, about 1 1/2 tablespoons each, and place them about 2 inches apart on a parchment lined baking tray. Pour the powdered sugar into a shallow bowl or pie pan and roll each one of the balls in it to coat well. Place them back on the tray and bake for 10 -12 minutes, or until the edges start to darken slightly. Remove from oven and cool for a minimum of 5 minutes before taking them off the tray. You can eat them soft and warm or allow them to cool for a while if you like them more solid.