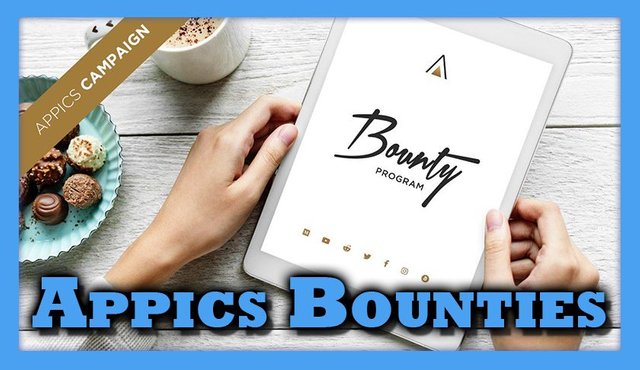 The Instagram-clone @appcis was the very first announced Smart Media Token project, back in summer 2017. It ushered in the era of bounty systems for tokens on the Steem blockchain and many later projects build on the success story of said bounties. In the midst of the crypto winter, Appics closed the bounties and the future of the entire project was uncertain. Now they are back, joining forces with Steem Engine and EOS and with the re-opened bounties.

What Is Appics?
The principle is very easy: Imagine all the beauty and convenience from Instagram and pair it with the power of a Steem Engine token. APX will use the ScotBot technology from SteemEngine, to mimic the behaviour of Steem for a second-layer solution token. It is not what Steemit originally promised with their Smart Media Tokens, but it is functional and securely stored on the cryptographic blockchain.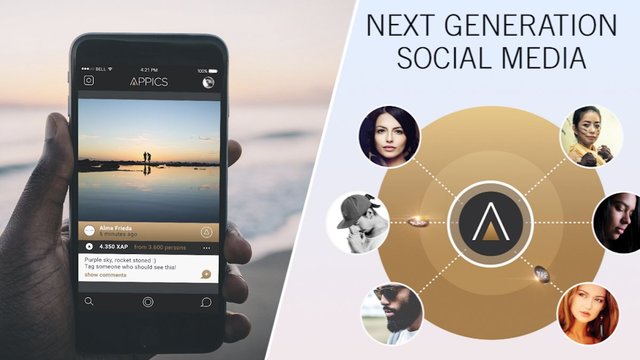 The application itself is already being tested publicly since last year and looks gorgeous. It has been using only Steem so far, but the APX token will be integrated into the app as soon as all investors have claimed their stakes. We will then be able to earn APX by posting images to the mobile application, which others can upvote, just like any other Steem post. It will be its on Steem Engine tribe and can appear on frontends like Steempeak, if they choose so.
Unlike most other Steem-projects, Appics went the classic investor journey and gathered some capital that way, before they even announced themselves. Ever since then, they have been touring around the world, promoting Appics at crypto conferences with their talented team of dancers. They connected with many influencers and were basically just waiting for Steemit to deliver. Steem Engine came to the rescue.
Check out my video about Appics, posted with @thecryptodwarf:
---

Register And Claim Your ICO Tokens
Go to https://token.appics.com and register a new account. If you already had an account before, you can use your old login information. It still works on the re-opened page.

If you have participated in the Appics ICO last year, you can now claim your tokens by connecting your Steem account with Appics. When all investors have done that, the APX token will be distributed to our Steem Engine wallets.

How To Use The Bounty System
Appics will reward you for sharing content about them on various social media platforms. You can claim the bounties, by sharing the links on their bounty page. You can also connect Facebook, Twitter, Instagram and Steem. Doing so will allow you to earn automated bounties for comments, likes and shares. Check the social media of your choice for the exact details.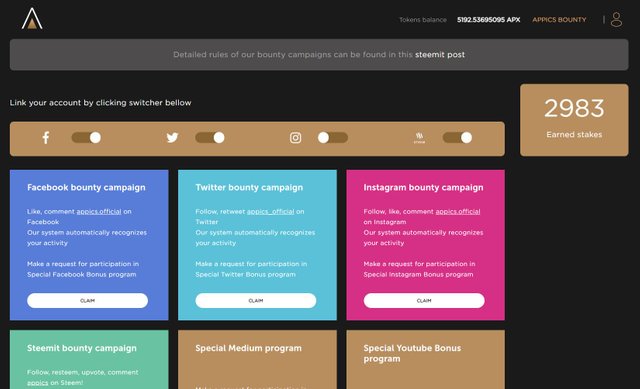 Grinding the bounties is pretty straight forward: Create cool content on the supported platforms and claim your rewards. It will be manually controlled, so no cheating or low quality stuff. This post will be claiming a bounty that way as well!
But even better are the automated rewards. Start upvoting Appics on Steem and Facebook, write a comment under their posts and retweet them where you see them. Step by step you will accumulate bounty stakes. These will be compared with the stakes of everyone else when the bounties end and you get your percentual share of the bounty pool.
For a detailed list with all bounties and for the installation, check out their latest anouncement.

Conclusion
Appics has been my favorite Steem project from the day I read the announcement post. Although I am not an Instagram user, I do see the potential and I adore the simplicity and beauty of using the Appics application. The APX token will give it finally its proper legitimacy and creating content specifially for Appics in image format will be something I am already looking forward to.
As I have invested a little bit into the ICO, I am already an APX holder and able to give you all some juicy upvotes, when we finally begin a new chapter in content creation and rewards.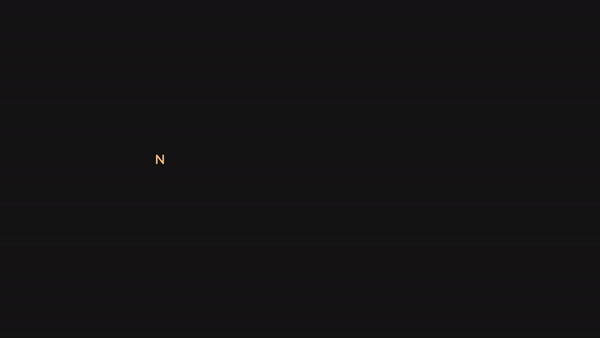 This post and all your comments are eligible for the following upvotes: