... ...
... Ingredients:
A) To make dough-
2 cups wheat flour
1 teaspoon cumin seeds
1 teaspoon ajwain (carom) seeds
1/2 teaspoon turmeric powder
Salt (as per taste)
1 teaspoon oil .
B) To make stuffing-
2 cups split mung dal soaked in water for 3 hours
1/2 teaspoon turmeric powder
1 teaspoon red chilli powder
1 teaspoon garlic ginger paste
1 teaspoon cumin powder
1 teaspoon coriander seeds powder
1 teaspoon tamarind paste
Salt (as per taste)
Drain water from moong dal. Add all ingredients and cook in a pan with little oil .
Make small roti of dough. Keep mung dal stuffing in d middle.
Close the roti from all sides and roll it to make parathas.
Keep in mind that stuffing should not come out.
Then shallow fry from both the side.
Repeat the same procedure for rest of parathas.
Mung dal paratha's can be had with ketchup, green chilli sauce etc.
Enjoy your Mung Dal Paratha's!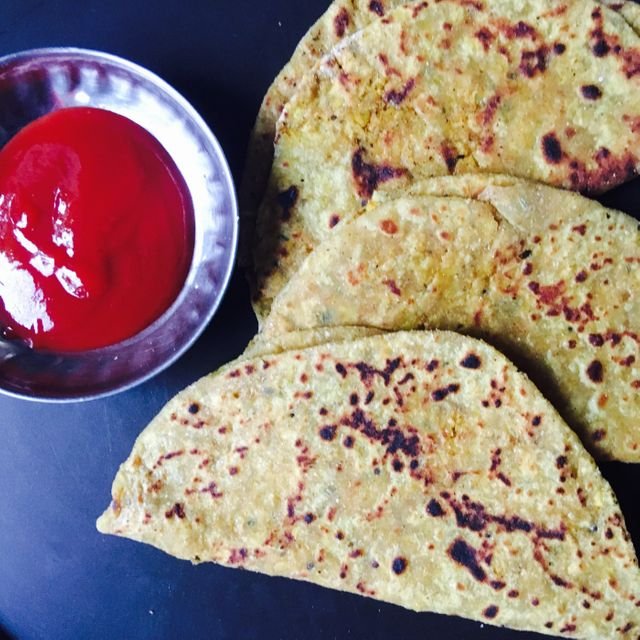 %20To%20make%20dough-%0A2%20cups%20%20wheat%20flour%0A1%20teaspoon%20cumin%20seeds%0A1%20teaspoon%20ajwain%20(carom)%20seeds%0A1/2%20teaspoon%20turmeric%20powder%0ASalt%20(as%20per%20taste)%0A1%20teaspoon%20oil%20.%0A%0AB)%20To%20make%20stuffing-%0A2%20cups%20split%20mung%20dal%20soaked%20in%20water%20for%203%20hours%0A1/2%20teaspoon%20turmeric%20powder%0A1%20teaspoon%20red%20chilli%20powder%0A1%20teaspoon%20garlic%20ginger%20paste%0A1%20teaspoon%20cumin%20powder%0A1%20teaspoon%20coriander%20seeds%20powder%0A1%20teaspoon%20tamarind%20paste%0ASalt%20(as%20per%20taste)%0A%0ADrain%20water%20from%20moong%20dal.%20Add%20all%20ingredients%20and%20cook%20in%20a%20pan%20with%20little%20oil%20.%0AMake%20small%20roti%20of%20dough.%20Keep%20mung%20dal%20stuffing%20in%20d%20middle.%0AClose%20the%20roti%20from%20all%20sides%20and%20roll%20it%20to%20make%20parathas.%20%0AKeep%20in%20mind%20that%20stuffing%20should%20not%20come%20out.%20%20%0AThen%20shallow%20fry%20from%20both%20the%20side.%20%0ARepeat%20the%20same%20procedure%20for%20rest%20of%20parathas.%0A%0AMung%20dal%20paratha's%20can%20be%20had%20with%20ketchup,%20green%20chilli%20sauce%20etc.%20%0A%0AEnjoy%20your%20Mung%20Dal%20Paratha's!&category=food&hashtags=paratha+mung+dal+breakfast&author=cryptopossible&profileImageUrl=https://s3.eu-central-1.amazonaws.com/backend-alpha-kw-8/profileImages/2162-1564398903076-640&permlink=alpha-kw-8-appics-im-31375)



%20To%20make%20dough-%0A2%20cups%20%20wheat%20flour%0A1%20teaspoon%20cumin%20seeds%0A1%20teaspoon%20ajwain%20(carom)%20seeds%0A1/2%20teaspoon%20turmeric%20powder%0ASalt%20(as%20per%20taste)%0A1%20teaspoon%20oil%20.%0A%0AB)%20To%20make%20stuffing-%0A2%20cups%20split%20mung%20dal%20soaked%20in%20water%20for%203%20hours%0A1/2%20teaspoon%20turmeric%20powder%0A1%20teaspoon%20red%20chilli%20powder%0A1%20teaspoon%20garlic%20ginger%20paste%0A1%20teaspoon%20cumin%20powder%0A1%20teaspoon%20coriander%20seeds%20powder%0A1%20teaspoon%20tamarind%20paste%0ASalt%20(as%20per%20taste)%0A%0ADrain%20water%20from%20moong%20dal.%20Add%20all%20ingredients%20and%20cook%20in%20a%20pan%20with%20little%20oil%20.%0AMake%20small%20roti%20of%20dough.%20Keep%20mung%20dal%20stuffing%20in%20d%20middle.%0AClose%20the%20roti%20from%20all%20sides%20and%20roll%20it%20to%20make%20parathas.%20%0AKeep%20in%20mind%20that%20stuffing%20should%20not%20come%20out.%20%20%0AThen%20shallow%20fry%20from%20both%20the%20side.%20%0ARepeat%20the%20same%20procedure%20for%20rest%20of%20parathas.%0A%0AMung%20dal%20paratha's%20can%20be%20had%20with%20ketchup,%20green%20chilli%20sauce%20etc.%20%0A%0AEnjoy%20your%20Mung%20Dal%20Paratha's!&category=food&hashtags=paratha+mung+dal+breakfast&author=cryptopossible&profileImageUrl=https://s3.eu-central-1.amazonaws.com/backend-alpha-kw-8/profileImages/2162-1564398903076-640&permlink=alpha-kw-8-appics-im-31375)