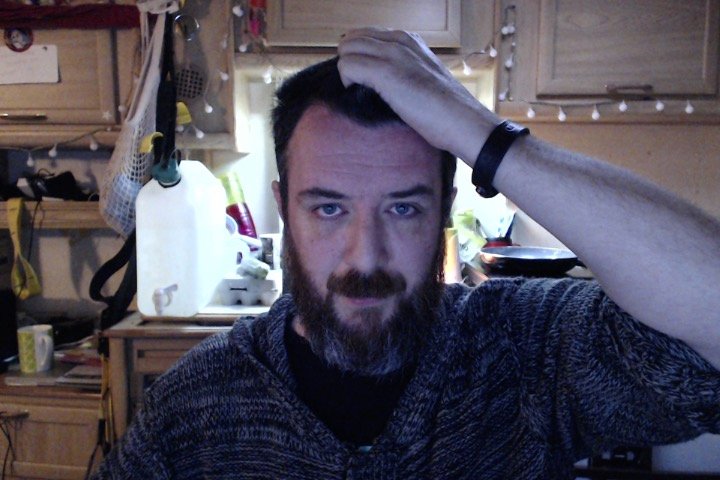 today was the final day to get funds together to pay towards the place where we are staying, I'm not gonna get into details but basically at this rate by christmas we are probably screwed. I found out we have to find a similar amount of money, even more actually in the next 22 days, that's kind of impossible for us so now we are trapped — trapped in a field with a day rate when we were told that we could get a seasonal pass, feel confused, anxiety, like setting the damn caravan on fire and just walking away from it, honestly it's all a little much, especially because we have both had to hustle our asses off to make those funds this week.
Everything is chasing our tail style right now, I have no issue that there is back pay to pay but we are now being charged a different rate without any communication about it whatsoever. I feel trapped and angry about it, now have the looming issue of this hanging over us, finding £600 for early december when we both work remotely and often december and January are super quiet anyway.
feel like it's my fault for even deciding to come here now, to try and live this life, truth is nothing is easy to escape from or run from, I just wish I had invested more in bitcoin when I had the chance or bought a van to live in rather than the smart - coulda, shoulda, woulda kinda thing - now I'm under stress about it which I presume is exactly what someone wants and it's the very thing I hate about society, everyone is squeezing some one and doesn't realise the pain it causes.
dayleeo is with me for six months and aside from feeling like the worst host but also that I don't have my shit together. I hate this feeling, all we wanna be is together and every time the border causes us problems because we don't have the right paperwork etc, it's all a little much — we could get a flat for half the money a month but who wants that life, shared with other people, worrying about the stuff in your room if it's gonna be there, dealing with the internet connection etc — no wonder we have so many people damaged in the system and this just feeds my anxiety and stress.
maybe I need to make the move abroad for periods of time instead and commute back to see my daughter instead of each weekend like we have been doing for the last five years, maybe I really need to change things on that score, maybe being local is not gonna work anymore and I need to go somewhere where it's cheaper to live. I don't know, I just know that I've got a few projects I gotta do today and keep on track, keep billing, keep bringing in the funds and have this 22 day target looming over my head, that's all I can do right now, I can't buckle at the moment even thou my brain is going into shutdown, anxiety mode — got courses to finish, clients that I need their funds from the work I do.
I just need more and I hate that I'm forced into that 'by all means necessary' head state, people just want the money without the compassion, that's business they say and yet they don't realise the human inflection points that it cause between us when we squeeze the small guy. I used to think the threats to our countries were from outside but I realise now, especially here in this country at least that they walk among us in different generations wanting to see us comply and fall into 'the way things have always been done' when all I want to do is hit the road and keep driving.
Feel kinda cheated right now and having a hard time balancing angry, anxiety, stress, financial and authentic reasoning - it's so hard to deal with that snowball effect. I think I have to go back to working in a warehouse or something at this stage because I can't afford what they want each month right now, no matter what I do it's out of our reach to keep on finding that amount each month, i'm really not sure what we are gonna do — so please, bear with me while I make this transition mentally.
this blog post isn't smart, it's not sexy, but it is real and it is honest, from a father of a failed previous partnership because of my own mental health issues, I'm just trying to hold it together for my daughter, my partner and to maintain some kind of short to long term future. I'm not a bad person, I'm not taking from the state and I'm just trying to survive — the survival mindset is starting to grate on me thou — is it really this hard to try and be ethically sound in a world of inefficient processes and cold faced ideals.
ok, gotta get back to some kind of grind here today and hope that the rest of the day doesn't fall apart.