Antique Baker's Cabinet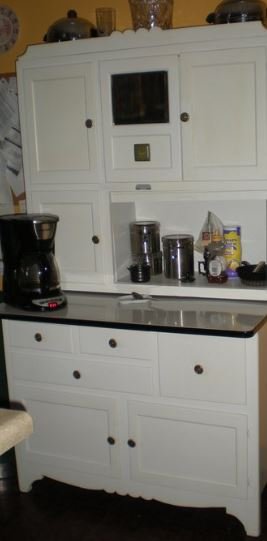 While I'm very aware this isn't one of the oldest baker's cabinets out there this one has a story. My family owned an old time grocery store and to the local shut ins in the early 60s we would deliver groceries to them. This practice of delivery continued for the most part until the State Highway dept. bought them out in 2007.
My Grandpa usually did it but after he retired my dad started going. He fell in love with this baker's cabinet at one of our customer's homes. He tried and tried over the years to purchase it from her. After many years of our deliveries. as she was getting more up in years she decided that he could buy it. He had it repainted and my mother used it for several years for her quilting supplies.
After my dad passed and we had moved to part of a family farm she told me to come get it. Well, I jumped on it and turned it into our coffee side bar in our home. It is fully complete, sifter is there, roll down over mid opening works, and enamel top, where coffee pot is located is not only in good shape it pulls out for more room.
The small wind up clock in the middle door still works too. The only "new" part of it is the knobs. Those were plastic, I still have a few in tack, saved because I like them but had to be replaced. It was made in Louisville, KY by a company called Scheirich.
The most sought after are made out of oak, and I do love those too but have never been able to locate one in my price range that was fully functional. At least not in my area.
Very thankful to have another piece of history from my area, just like the drug store cabinet. It has proved to be a very functional part of my kitchen.