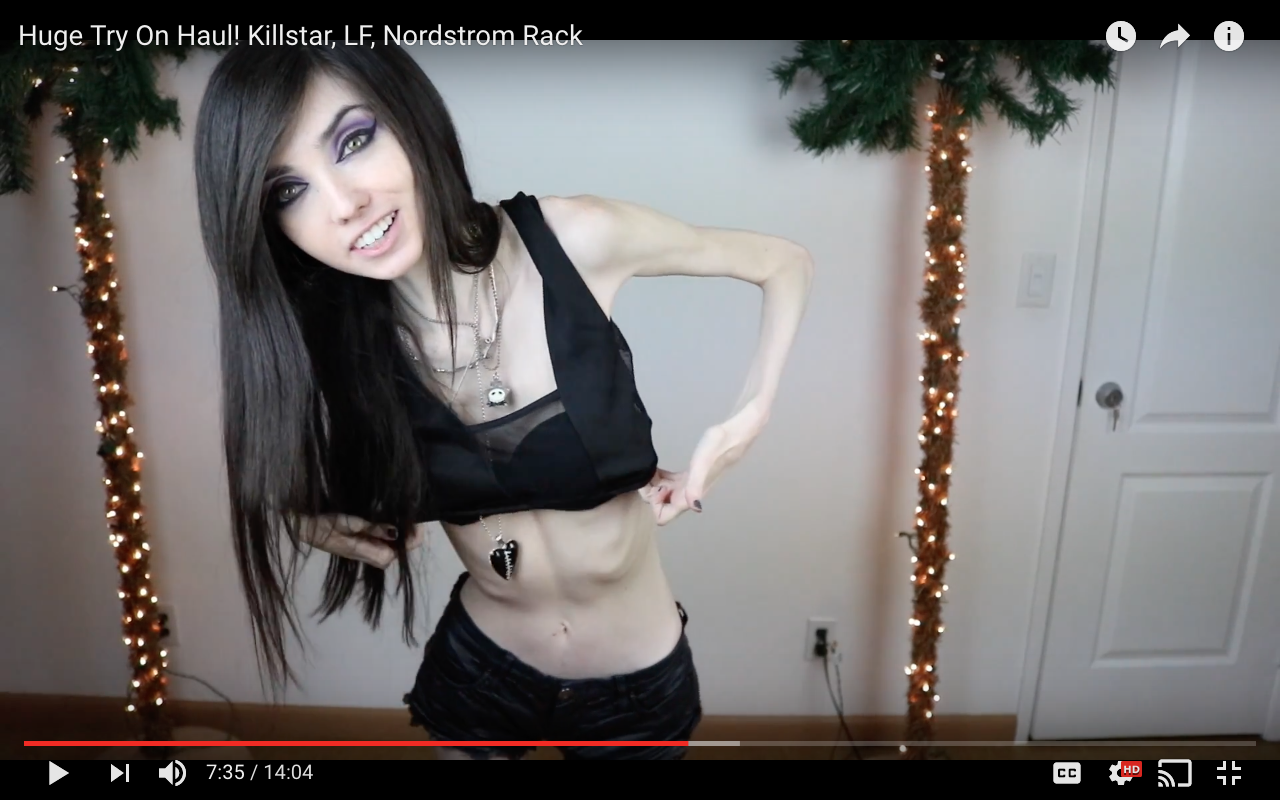 Payout declined because I refuse to profit off of someone's eating disorder.
A sort of follow-up post to my post from a few days ago. A friend of mine read it, liked it, and we had a lengthy discussion about anorexia. She then introduced me to Eugenie Cooney who is a YouTuber who does clothing and makeup stuff. Not stuff I'd find interesting. But her content wasn't the point, obviously.
Eugenia is clearly skinny to an unhealthy degree. And I'd argue that her eating disorder is rather obvious. She herself says otherwise, but looking at her face from certain angles screams regular, self-induced vomiting. I guess it takes a trained eye to be able to look for it, but if you know what to look for, you'll see it right away.
In fairness, she seems really energetic, and her teeth are in good shape.
Judging her for her potential eating disorder is not what this about, though.
I've looked into Eugenia's account during the past few days - because I have this weird thing about eating disorders, I don't know, they just break my heart - and apparently, it's been a thing for a long time now to get Eugenia petitioned off of YouTube due to her weight.
The argument being that she's unhealthy, she sets a bad example and sends a negative message to her followers.
A case could be made that that's true, sure.
It begs the question, though, of why similar petitions aren't made for the unhealthily obese people on YouTube promoting fat acceptance? How is that not a bad message? It promotes an unhealthy, potentially deadly, lifestyle.
Just as Eugenie does, according to these people - although, to her credit, she never makes it a point to say that being dangerously skinny is an admirable thing to aspire for.
The media is filled with messages of body positivity regarding obesity; it's a clear goal to normalize being overweight to the point where we're being trained to think that there's nothing wrong with it, and you should never even attempt to lose weight. There seems to be a new show on TV called "My Lovely Fat Life" or whatever every single day.
Fat people aren't allowed to be criticized, but at the same time, people are making money off of videos talking about Eugenia and her weight. I find it reprehensible, by the way, to treat someone like this as a circus animal for your own financial gain, but that's just me.
It's okay to bully someone like Eugenia according to most it seems. And yes, you can say that she free-willingly puts herself in a position to receive comments, and no doubt she realizes what she looks like, and no doubt shows off her body, knowing full well what the reaction is going to be.
But again: the same could be said for any overweight person who chooses to put him or herself in the public spotlight.
Nasty comments towards anorexic people are justified by saying that it's not healthy to be anorexic, and it isn't - but neither is being obese. Make a mature, objective video, post, or whatever, about the fact being overweight is not healthy and overweight people should lose weight and you get bombarded with feminists calling you a bigot, close-minded, a fat shamer, just about every name in the book.
The exact same arguments that people use to justify skinny shaming of anorexic people can be used for fat shaming: it's unhealthy, it's not good for you. Being overweight and being underweight are both - in most cases - the result of a disorder, most of often having to do with eating.
It doesn't make a difference whether you eat too much or too little, the end result is the same: health problems due to a fucked up relationship with food.
Imagine the outrage if a widespread Thinspiration movement would case in 2018. It'd be absolutely immense.
Heck, I find it amusing that the official Thinspiration website has a huge disclaimer at the opening page, stating that dieting too much is unhealthy and that you should always know what you're doing, it's not worth losing your life for.
Are similar disclaimers being demanded from the Body Positivity movement? I haven't seen any. It's all about loving yourself the way you are, type 2 diabetes, clogged arteries and a glooming premature death notwithstanding.
As for Eugenia herself, I have mixed feelings.
On one hand, it just breaks even a black heart covered in ice to see someone in that state. It's always been a weird personal contradiction I have that even as a chauvinistic, sexist pig, the one soft spot in my heart has been reserved for anorexic girls.
It's easy to say she's doing it for attention, and I'm sure that it's true. At least partially. That's always a part of it. How big of a part it is depends on the person. The psychology of anorexia is a lot more complex than that, though.
What a lot of people never seem to be able to grasp is the fact that negative attention also feeds the issue. So, the people bullying her, and even those who genuinely care about her, are acting as these sort of devil's advocates here.
The thing people don't understand, even though it's obvious, is that anorexia is extremely difficult.
And that's very important to realize because it's key.
Starving yourself to the point of barely surviving - on purpose - goes against just about any basic mental function we have, so it always takes an unbelievable amount of self-discipline.
And that's not me putting it over or anything, but I need to make a point.
When people get horrified over something like this, they send a message to the anorexic person that they're special. They're doing something that elicits such a strong reaction out of them because they're wondering how it's even possible to do that to yourself.
This is pure gold to an anorexic because that's what their identity is built around. Them being special. Anorexia isn't so much about "looking good" - in the traditional sense - as it is about accomplishing something. The classic retarded thing people often say is "No man would ever want that", completely missing what the disorder is about.
Also, she has, what, 1.3 million subscribers. I can't even fathom how hard it would be for her to deal with the reaction it would cause if she were to gain some weight.
The whole situation would turn upside down: both types of attention, positive and negative, would be seen as negative because it would strip her from the one thing she's built her identity around.
If she's not deadly skinny, who is she?
On the other hand, though, she's done it to herself, yes, and I'm convinced she's aware of the fact that her weight gives additional attention to her and her channel. Pointing that out is only fair.
I just hope she doesn't kill herself. She seems like a sweet, charming person, even if I have no personal interest in what she talks about.
But as long as it remains okay to bully and talk shit, and laugh at people like Eugenia, the Body Positivity movement will be a hypocritical joke that I refuse to take seriously.
A free tip to cap this off:
If you have a daughter - either now or in the future - who's naturally skinny and/or underweight in her pre-teens, or very early teens, refrain from even negatively commenting on her weight. Comments like "you should get some meat on your bones", even though done with good intentions, will cause the girl to build her identity around the fact that her body gets attention, even if it's negative.
Then she gets older, her metabolism changes, and she gets that first extra pound on her, it's crisis mode, and there's a good chance it may lead to an eating disorder.