The rise of anonymous crypto insurance
Every new government's regulation, restriction or embargo that makes impossible for people to trade, do business or increase their expenses, creates a demand for any market solution that helps to bypass these obstacles. The fact - how many entrepreneurs or ordinary citizens consider the given law to be unethical, willing to avoid with the least risk as possible, determines an economic feasibility of the 'avoidance' solution.
If anyone wants to start any successful business in this gray area, she should be interested in:
number of potential customers (more stupid laws produce more disappointed people willing to break the law and looking for a government's harm reduction solution)
anonymity (the government should never be informed about the given bypassing scheme used against them)
We are witnesses of still new victimless crime legislation penalizing entrepreneurs for most obscure things. A beautiful example is EET legislation in the Czech Republic when all companies must follow a bureaucratic obligation to notify immediately Czech Financial administration about all performed transactions, even if they are tiny causing a lot of overhead for small businesses.
Thousand Czech entrepreneurs consider this legislation to be draconical and bureaucratic, with significant privacy risks leading to an Orwellian society of financial dictatorship.
All these people think the given law is unethical.
And most of them are willing to bypass this law if they can minimize a risk of possible government's harm - penalties that can be up to 500 000 CZK (about 18 500 EUR). Of course, if no one knows about it.
Pseudo-anonymous cryptocurrencies (like Bitcoin), anonymous cryptocurrencies (like Monero/zCash/zCoin) and anonymous web applications (using Tor hidden service) make this problem technically solvable.
The solution is an anonymous insurance company.
More angry entrepreneurs and possibility of more discrete and anonymous ways to reduce government's harm means more potential customers for this kind of business.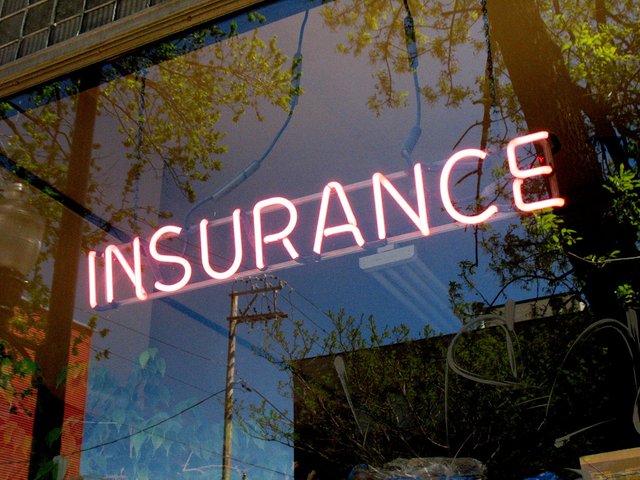 Let's look how the anonymous insurance could work.
1. Registration
All entrepreneurs who consider EET (or any other stupid law) to be unethical, register their company at the anonymous insurance company website that will be hosted as a Tor hidden service or at anonymous website/domain.
Because of privacy issues, the insurance company should not know their real customer names until the insurance claim (even in this situation, it is possible for the insurance company to pay insurance money without the knowing of actual customer name using "trusted adjuster," see below).
This issue may be solved using HMAC function - the entrepreneur applies HMAC to her company name using her secret chosen passphrase. The result of this hash is used as a unique insurance's customer ID. Therefore the insurant can always prove she has been paying her insurance since the given date. And when the insurance claim happens, she can show the insurance company (using her secret passphrase) she is demanding insurance money for her real company she has been paying the insurance. It means that until the insurance claim, the insurance company will not know the customer's name, but still be able to track her weekly/monthly insurance fees.
2. Insurance claim
If the given entrepreneur gets a fine from the state (e.g. for a missed notification to the EET), she can ask for her insurance claims. She will scan her government's penalty evidence and upload/send to the anonymous insurance company (ideally encrypted with their PGP key), so they can verify the authenticity of the insurance request.
There always have to be ways how to check the authenticity of the government's penalties. Otherwise, you can generate and send fake government's penalties to all people and companies and force them to pay these fines. If the given evidence is real, the insurant will receive money in bitcoins (after mixing service is used) or in more anonymous cryptocurrency.
To prevent situations that the entrepreneur decides to become the anonymous insurance's customer when she is already aware of the fact he will get a fine from the government; the insurance companies might set multiple requirements for insurance claims, e.g. minimum time of being insured, no previous insurance claims during the particular period, etc.
Theoretically, the insurance companies do not need to have any real information about their customers if trusted adjusters (or "trusted liquidators") are used who are chosen voluntarily by customers in case of the insurance claims. These trusted adjusters (for agreed % fee) verify the claim of the client and let know the insurance company to pay the given insurance claims. In this situation customers of the anonymous insurance company could choose if their requests should be verified by the insurance company itself or trusted adjusters (which will be probably more expensive).
3. Recalculation of insurance fees
The current insurance payments will be recalculated weekly/monthly according to the number of insurance incidents, the total number of paid insurance claims, the increased/decreased number of paid customers, etc.
This problem is just a statistical math. It can always be solved. Theoretically, you can be insured against anything; the question is only for how much.
Note, the real insurance market starts to exist when you have a lot of paid customers, e.g. entrepreneurs who consider the given law to be unethical and stupid.
The facts
For the government, it will be almost impossible to prove that anyone is insured against any law. Neither they can reveal the given people receive their insurance money because no cash or traditional bank transfers are involved.

Government officials have limited sources to penalize all entrepreneurs; they will always choose only some "victims," therefore more paid insurants the anonymous insurance companies will have, lower insurance rates will be.

Less stupid and immoral laws mean less feasible business case of anonymous insurance companies.

Both anonymization technology and state dictatorship are always improved over time. Therefore the existence of anonymous cryptocurrencies is the only question of time.

The war of governments with anonymous insurance companies can be partially won by abolishing of all stupid regulations and restrictions most people consider to be unethical.

The anonymous insurance against wrong laws can create an incentive for many decent non-technical people to use bitcoins or other cryptocurrencies to protect their property.

The government can increase fines to kill all businesses that break any law and strictly enforces it. In the given situation, the best solution will be to move the business to a different country, or stay and pay high insurance fee.

The government can hire 4x more employees, does strict checks of EET legislation, issues 3x more penalties to entrepreneurs at the same time, therefore forces anonymous insurance companies to bankrupt.
This scenario is for sure possible. But it is necessary to realize the anonymous insurance does not need to be applied to the EET legislation only, but to any stupid/unethical law. The state simply does not have enough sources to check if all people or companies follow each law people/companies may be insured for. The situation for the state is asymmetrical with an apparent advantage for anonymous insurance companies.