VIDY will be listed on GGBTC on September 21, 2019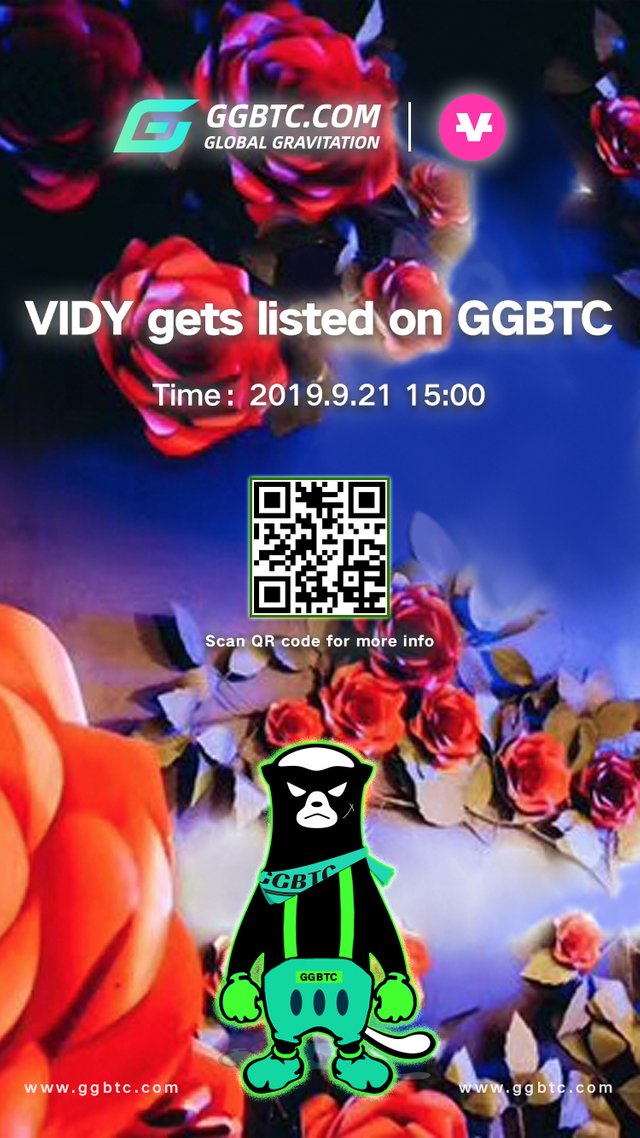 GGBTC is going to list VidyCoin (Token: VIDY) on September 21, 2019(GMT+8). At that time, deposit and trading services will be opened.
Trading opening time: September 21, 2019, at 15:00
Deposit opening time: September 21, 2019, at 15:00
Withdrawal opening time: September 21, 2019, at 15:00
Trading pair to be opened: VIDY/USDT
Project Introduction
Vidy invented an invisible embedding layer for web keywords based on the Ethereum blockchain. With long-pressing keywords, users can see tiny videos associated with text in the text of any page on the web, making it effortless to experience a new reading experience. All video ads use a miner-driven NLP consensus protocol. With Vidy's experienced team of engineers, industry-leading advisory boards, and many world-class brand partners, Vidy is redefining digital advertising models, e-commerce and video entertainment. The cryptocurrency application truly provides valuable services to the public without any conversion costs.
VIDY Official Website:https://www.vidycoin.org
Risk Warnings:
Trading digital assets involve significant risk and can result in the loss of your invested capital. Please make a rational judgment on your ability to invest and take cautious investment decisions.
GGBTC attempts to screen all tokens before they come to market, however, even with the best due diligence, there are still risks when investing. GGBTC is not liable for investment gains or losses. We sincerely appreciate your support and understanding. GGBTC will continue to provide you with better products and service!
Find us on:
Website: https://ggbtc.vip
Facebook: https://www.facebook.com/ggbtcofficial/
Twitter: https://twitter.com/GGBTC_Official
Telegram English Group: https://t.me/GGBTCOfficial_EN