ECNY will be listed on GGBTC on October 8, 2019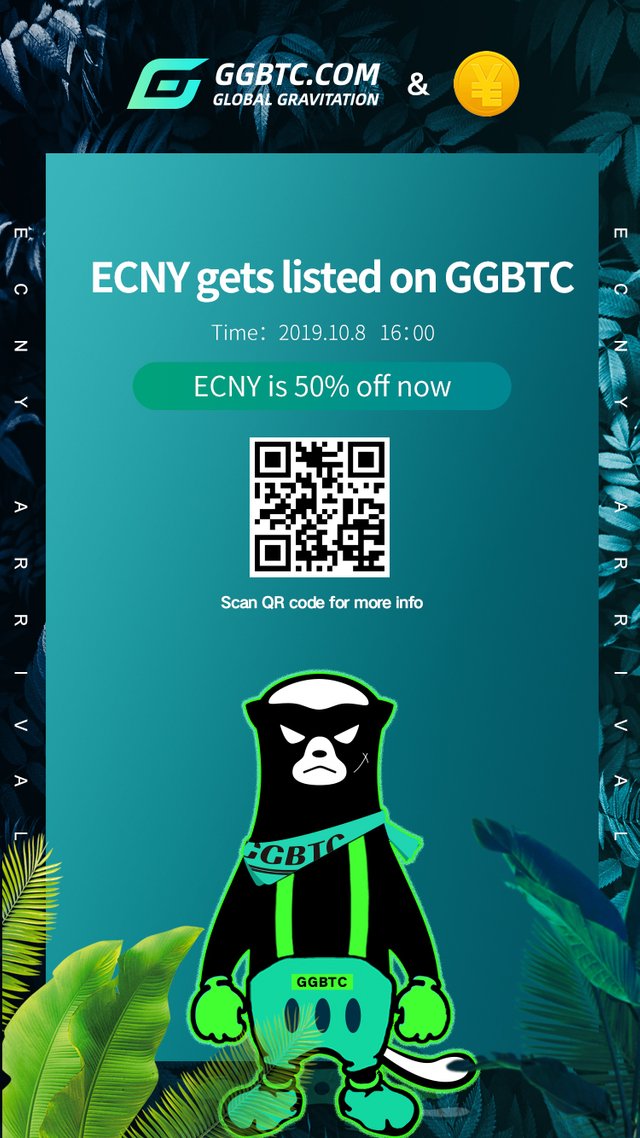 GGBTC is going to list ECNY (Token: ECNY) on October 8 , 2019(GMT+8). At that time, deposit and trading services will be opened.
Trading opening time: October 8, 2019, at 20:00
Deposit opening time: September 30, 2019, at 15:00
Withdrawal opening time: October 9, 2019, at 15:00
Trading pair to be opened: ECNY/USDT
I. ECNY is 50% off now
ECNY listing price: 0.0138USDT
50% off ECNY: 0.0069USDT
Activity Time: October 8, 16:00
Activity Rules:
Users can purchase ECNY with 50% off of the original price on GGBTC. The total amount of 50% off ECNY is 1 million , first come, first served.
Note: A single user account is limited to purchase 2,500 ECNY before the end of the purchase limit.
Project Introduction
EthereumChina Yuan (ECNY) is a token issued by the ECNY Foundation and is a decentralized blockchain digital asset based on Ethereum. The total amount of ECNY issued is 10 billion, of which 9 billion is stable coin with 1:1 (RMB)circulation and 1 billion is less than 1:1 (RMB)circulation. Every quarter we repurchase ECNY based on the ECNY Foundation-controlled exchanges or the profits of the Belt and Road industry and quarterly trading volume. Users can search through the blockchain browser to ensure openness and transparency until the total amount reaches 1 billion ECNY. As an unstable coin ecosystem and decentralized exchange fuel, ECNY has been applied to many scenarios of the Belt and Road , such as payment, consumption and storage with ECNY. ECNY payment is available on Monaco Visa and the APP. At present, ECNY is a new type of unstable coin whose value is <0=≥1 RMB, which is supported by blockchain enthusiasts in more than 193 countries and regions around the world.
The ECNY issued by the ECNY Foundation is the first generation of decentralized digital cryptocurrency issued on September 4, 2019. ECNY is an unstable coin of the exchange. 70% of the platform's net profit for the quarter will be used to repurchase ECNY until the total amount of repurchase reaches 1 billion ECNY. In theory, in the case of the constant value of ECNY, the repurchase can make the price of the currency rise steadily. One billion ECNY unsteady coins equals 1 billion bubbles. Among them, 30 million ECNY is used for the exchange, 30 million ECNY is used for the development of the Belt and Road application, and 40 million ECNY is used for the airdrop, evangelists, news and so on. When every ECNY is 1-to-1 pegged to the RMB, the remaining 9 billion ECNY will be exchanged and digital assets such as Ethereum and Bitcoin will be purchased as risk guaranteerisk margin, which is a more dazzling part of this new unstable coin.
ECNY Official Website:http://ethereumchinayuan.xyz/
Risk Warnings:
Trading digital assets involve significant risk and can result in the loss of your invested capital. Please make a rational judgment on your ability to invest and take cautious investment decisions.
GGBTC attempts to screen all tokens before they come to market, however, even with the best due diligence, there are still risks when investing. GGBTC is not liable for investment gains or losses. We sincerely appreciate your support and understanding. GGBTC will continue to provide you with better products and service!
Website: https://ggbtc.vip
Facebook: https://www.facebook.com/ggbtcofficial/
Twitter: https://twitter.com/GGBTC_Official
Telegram English Group: https://t.me/GGBTCOfficial_EN