CBE will be listed on GGBTC on September 25, 2019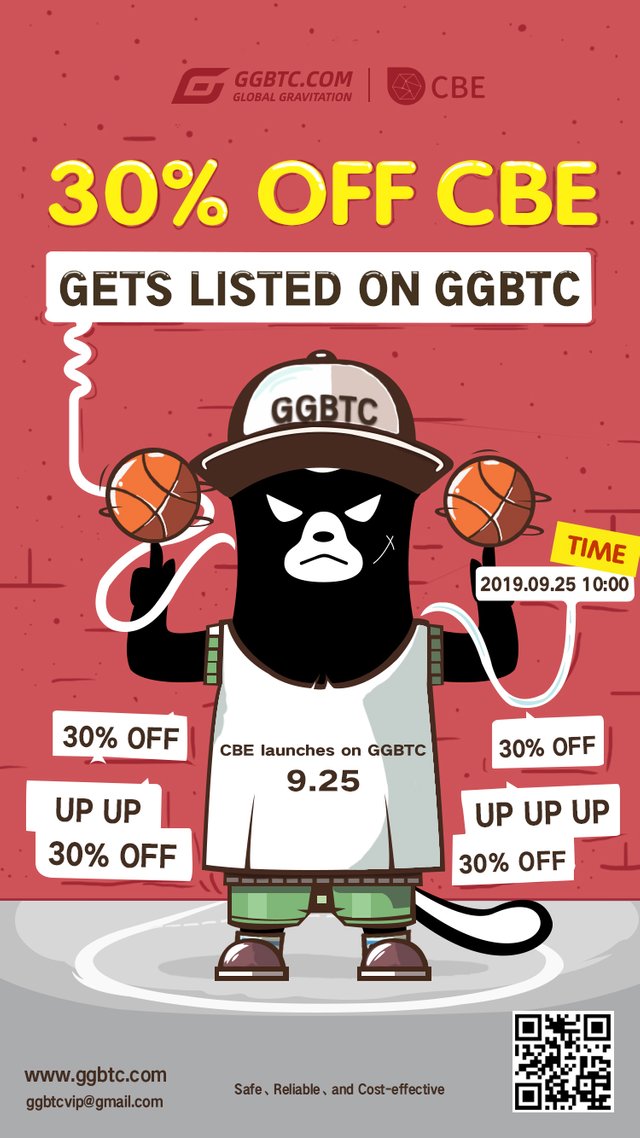 GGBTC is going to list CBE (Token: CBE) on September 25, 2019(GMT+8). At that time, deposit and trading services will be opened.
Trading opening time: September 25, 2019, at 12:00
Deposit opening time: September 28, 2019, at 12:00
Withdrawal opening time: September 28, 2019, at 12:00
Trading pair to be opened: CBE/USDT
CRC is 30% off now
CBE listing price: subject to real-time online price
Event time: September 25, 2019, 10:00
Event rules:
Users can purchase CBE with 30% off of the listing price on GGBTC. The total amount of 30% off CBE is 200,000, first come, first served.
The method of 30% off purchase: calculate the price difference
For example, if the CBE listing price is 1.0CNY, the 30% discount price is 0.7CNY, and the price difference is 0.3CNY. The 30% off purchase is only for the listing price, not for the real-time price, that is, each subsequent order is settled at 0.3CNY spread.
Note:
A single user account is limited to purchase 5000 CBE before the end of the purchase limit.
Users need to participate in this event on the computer.
Project Introduction
Led by the Korean blockchain data engineer and the personal WHITE HACHER event sponsor Huang Qizhen, CBE is initiated by the CBE fund and the technical staff from TELLUS, the top team in Korea and is based on the underlying IPFS technology and the DPOS consensus mechanism, with the DAPP framework, IoT platform system and blockchain as the architecture, which can realize the integration of global interconnection and entertainment value of pan-entertainment. Blockchain technology enables data to be recorded in a chain that is open, transparent, traceable and non-tamperable, driving the commercialization of entertainment. Cross-border cooperation and management can be established between various ecological scenarios to establish an application-level modern business ecosystem from the entire pan-entertainment industry supply chain such as games, insurance, payment, logistics, open source malls, and finance.
CBE Official Website:http://cbe.top/
Risk Warnings:
Trading digital assets involve significant risk and can result in the loss of your invested capital. Please make a rational judgment on your ability to invest and take cautious investment decisions.
GGBTC attempts to screen all tokens before they come to market, however, even with the best due diligence, there are still risks when investing. GGBTC is not liable for investment gains or losses. We sincerely appreciate your support and understanding. GGBTC will continue to provide you with better products and service!
Find us on:
Website: https://ggbtc.vip
Facebook: https://www.facebook.com/ggbtcofficial/
Twitter: https://twitter.com/GGBTC_Official
Telegram English Group: https://t.me/GGBTCOfficial_EN