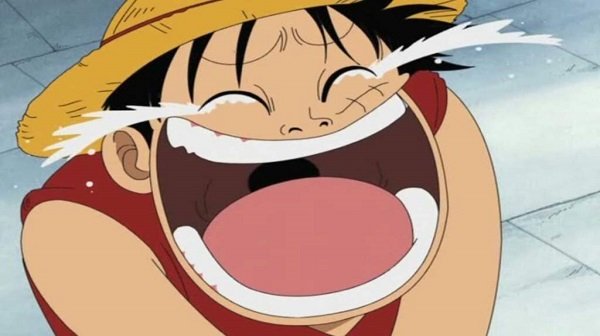 Hello to everyone from the community! Here @ibsem, in this post, I bring you laughs!, in this TOP I will show you 5 animes that without a doubt will make you laugh and have a nice time, even if you are on a gray day, I fully recommend all, I hope you enjoy them!
5- Danshi Koukousei No Nichijou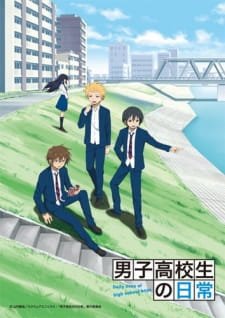 Source
Note: The source page distributes completely legal anime
** Mangaka:** Yasunobo Yamauchi
Manga Chapters: 107 (Completed)
Director: Shinji Takamatsu
Studio: Sunrise
Genres: Comedy, School, Life Counts.
Seasons: 1
Episodes: 12 (1S)
Ovas: 7 Specials
Movies: 0
Issue Date: January 9, 2012
Status: Completed
Synopsis
Tadakuni, Hidenori and Yoshietake are three students from Sanada del Norte High School, only for men. When there are no girls, the boys are uninhibited, so they usually do nonsense, tell stories or plan how to get a girlfriend. The series also evaluates some myths present in the institute: will the girls really be more orderly, clean and calm than the boys?
☆ Personal Review ☆
This is one of those anime that will make you laugh and remember in your adolescent days and if you are a teenager then you will identify yourself in some moments, it is a fun and very moving anime, I know you may like it, it should be noted that it deals with the competition that exists between a Preparatory of pure Boys vs a Preparatory of pure Girls (it is only in case they thought that they do not leave girls xD).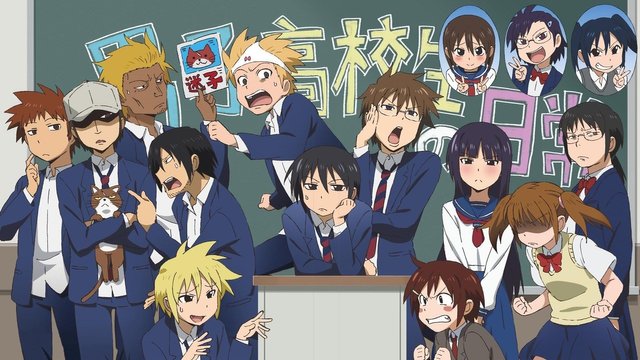 Source
4- Noucome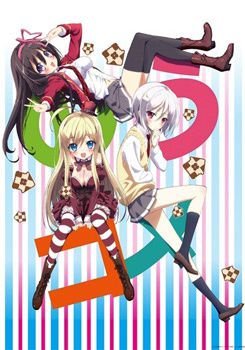 Source
Note: The source page distributes completely legal anime
Mangaka: Takeru Tasukabe
Manga Chapters: 5 Volumes (Completed)
Director: Takayuki Inagaki
Studio: Diomedea
Genres: Comedy, School, Romance.
Seasons: 1
Episodes: 11 (1S)
Ovas: 1
Movies: 0
Issue Date: October 9, 2013
Status: Completed
Synopsis
The story is starring Kanade Amakusa, a cursed boy with a power called "Absolute Choice". Suddenly a questionnaire with two options appears in his mind, having to choose one and becoming reality as ridiculous as it may be. For example, you may choose between going naked from the waist down or naked from the waist up to class. On one occasion he arrives to class, he has to choose again: "a beautiful girl falls before him or is he who falls from the roof dressed as a woman". Obviously choose the first option, and so a blonde girl named Chocolat falls before him.
☆ Personal Review ☆
This anime will definitely make you laugh, I would die of laughter with this anime for its bizarre comedy, the expressions of the characters, how the world punishes Amakusa with the absolute options that it places, seriously it is an anime of good comedy , you have to see it!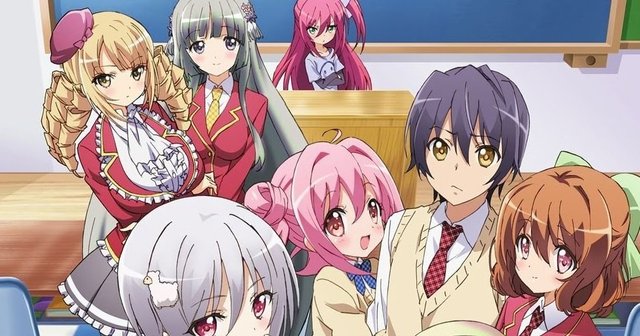 Source
3- Sakurasou no Pet na Kanojo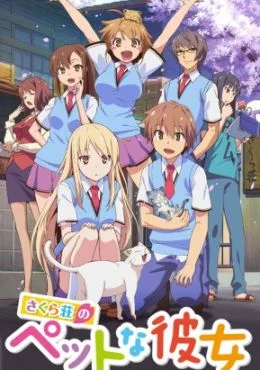 Source
Note: The source page distributes completely legal anime
Mangaka: Hajime Kamoshida
Manga Chapters: 8 Volumes (Completed)
Director: Atsuko Ishizuka
Study: J.C Staff
Genres: Comedy, Romance, Life Counts
Seasons: 1
Episodes: 24 (1S)
Ovas: 0
Movies: 0
Issue Date: October 9, 2012
Status: Completed
Synopsis
The romantic high school comedy revolves around a high school student named Sorata Kanda, who lives in the Sakurasou, the dormitory for troubled kids at the institute. One day, Mashiro Shiina, a very cute girl who is a brilliant artist, moves to live in that bedroom. Sorata decides that she must protect the seemingly fragile Mashiro from the Sakurasou crowd, and it turns out that she is not mistaken: Mashiro has no idea how to take care of herself. He gets lost when he goes out on the street, he does not know how to fold his clothes and he has the room made a mess. In the end the Sakurasou boys consider Sorata as the "owner". Mashiro, and will live in the bedroom under the idea that everyone see them as? owner and pet ?.
☆ Personal Review ☆
Anime more than Comedy, but with a bit of romance, I know that they will like it, they will laugh with the occurrences of Misaki, the phrases of Jin, the attitude of the teacher more carefree, the eccentricity of Mashiro, in the end the life in Sakurasou It makes you want to live in that House xD, have fun watching the life around Sorata, I recommend it !.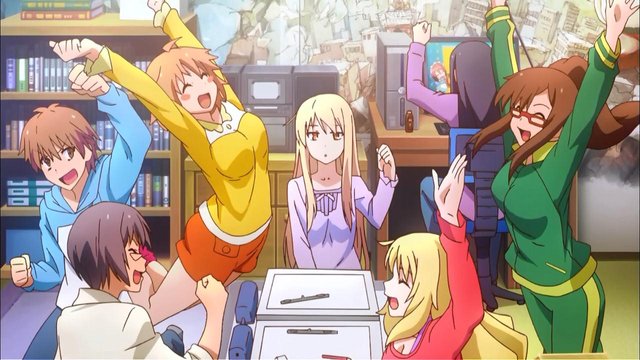 Source
2- Kono Subarashii Sekai or Shukufuku wo!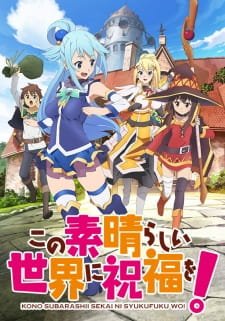 Source
Note: The source page distributes completely legal anime
Mangaka: Natsume Akatsuki
Manga Chapters: 30 Chapters (In Publication)
Director: Takaomi Kanasaki
Studio: Studio Deen
Genres: Comedy, Adventure, Fantasy, Supernatural.
Seasons: 2
Episodes: 11 (1S) 11 (2S)
Ovas: 2
Movies: 1
Issue Date: January 13, 2016
Status: Completed
Synopsis
This popular comedy of alternative worlds revolves around Kazuma Satou, a hikkikomori death fan of video games, anime and manga. A traffic accident ends his life ... or that should have happened, but he wakes up with a beautiful girl next to him who introduces himself as a goddess. The girl says "I have good news. Would you like to go to an alternative world? You can take only one thing that you like "and he answers" Then, I'll take you ". With that, he is teleported to another world in which his great adventure begins by submitting to a demon king ... although before that he has to work hard to pay for food, clothing and housing. Kazuma wants to live in peace, but the goddess creates one problem after another, and then the demon king's army looks at him.
☆ Personal Review ☆
This anime is pure Comedy, thrown the seriousness by the precipice xD, haha this anime is the one that I can recommend more to laugh, life around Kazuma is to die of laughter, so if you want to laugh out loud, this is one of your animes, definitely recommended, you have to see it seriously xD.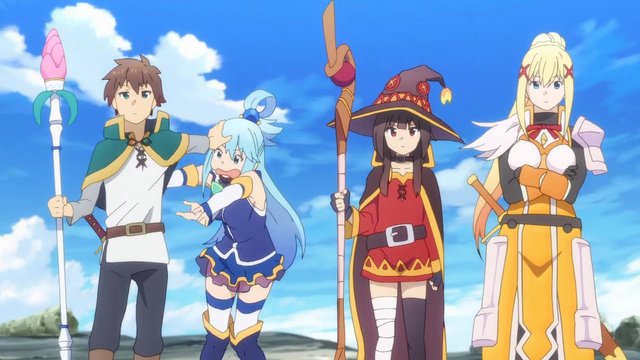 Source
1- Suzumiya Haruhi no Yuutsu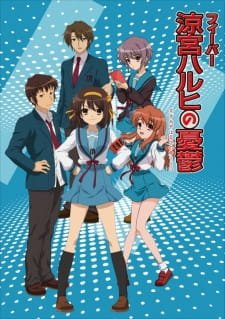 Source
Note: The source page distributes completely legal anime
Mangaka: Nagaru Tanigawa
Manga Chapters: 105 Chapters (2005), 8 Chapters (2004) (Completed)
Director: Tatsuya Ishihara
Studio: Kyoto Animation, Nippon Animation, N / S KP TX 2006
Genres: Comedy, School, Fantasy, Science Fiction.
Seasons: 1, 1 Season of short stories not animated and 1 Season of Parallel History
Episodes: 14 (1S), 14 (With short stories not animated) and 16 (TParalela)
Ovas: 0 (at least as far as it is)
Movies: 1
Issue Date: April 2, 2006
Status: Completed
Synopsis
It is about the life of high school student Haruhi Suzumiya and those who are trapped in their madness. Although Haruhi is the central character, the story is told from the point of view of Kyon, one of his classmates. Kyon is a high school student who has recently left behind his fantasies of paranormal events, time travelers, and aliens, along with the lower secondary school. However, when he chooses to talk to an eccentric girl who responds to the name of Haruhi Suzumiya on the first day of class, he unintentionally unleashes a chain of events that leads him to situations entirely different from the real world.
☆ Personal Review ☆
Being sincere this series I have not seen it yet, I'm going to see it, but I've heard great things about this anime, I've seen videos about some scenes of them or I watch few of their parody scenes that make me laugh a lot and also they have recommended it to me for that reason it is that I decided to place it in this List / TOP, I hope you Like it!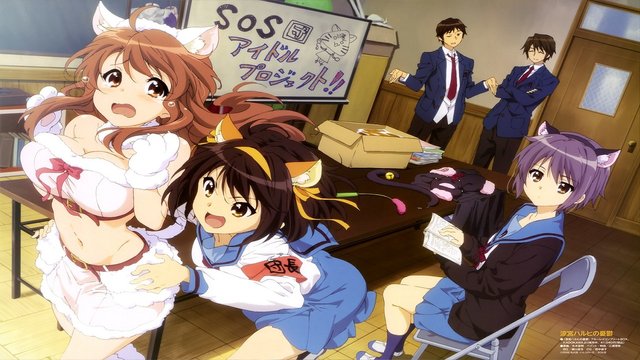 Source
PD: In this TOP all the animes are very good in my opinion, so instead of saying that I recommend everyone, I can tell you that I recommend all the animes of this TOP to start, EYE there are animes many comedy animes , which I did not include because I did not see them, that's why I put these I've seen and I know you can like it and get a smile :) This is just a personal list that I recommend! I hope you like it! then I will continue doing more TOPS.
Boys & Girls of the Community! Here we come to the end of the POST :(, The Otakus WE WILL DOMINATE THE WORLD! XD, If you like, do not forget to follow me, I will start uploading post every week and do not forget to leave your comments! upvote for WAIFUS :3
Encourage everyone to continue developing the Gamer / Otaku community here!
And remember being Otaku is not a hobby, it's a Lifestyle!
Until next time!