AKA The Story Of How Haruko Became My Waifu

Why is this TV walking? He must be a Sony-brand Walkman.
FLCL, pronounced "Fooly Cooly," has taken the #1 spot on my list of favorite anime since I first saw it as a teenager. The entire series is an extremely fast, surreal ride through an alternate universe small town where nothing really special ever happens. It will only take you about 2 hours to get through all 6 episodes of FLCL without credits, but it's worth every second, even the 3D effects and manga mode. Dripping with colorful landscapes, sexual innuendo, intense action and everything else you can imagine, there's no question as to why this show has remained my favorite over the years.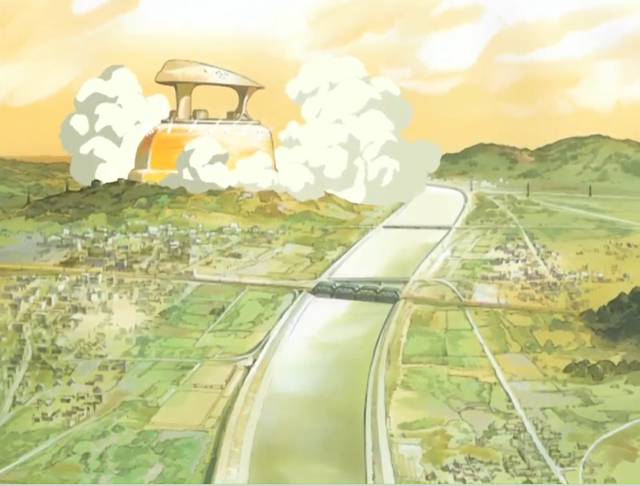 The town of Mabase, pronounced mah-bah-say
Nothing amazing happens here, everything is ordinary.
Naota is a young boy on the edge of puberty living in the archetypal small, boring town when one day, an alien riding a Vespa scooter hits him with a guitar and changes his life. Naota is a highly relatable character and I was only a bit older than him when I first saw the show. When we first meet Naota, he has already gone through challenges in his life such as being raised by a single parent, his father, and the pain of his older brother and idol, Tasuku moving away to America to play professional baseball. Naota is constantly haunted by ghosts of his brother's memory, including his ex-girlfriend Mamimi, who hangs around Naota as it's the closest thing she can get to Tasuku. Mamimi even calls Naota and several pets she acquires throughout the series "Takkun" as they fill the void in her heart created when Tasuku left the picture.

This show is basically about beautiful women and classic stringed instruments.
Haruhara Haruko here, age 19, splendiferous housekeeper at Takkun's house!
Haruko is another story altogether. She is a first class space patrol officer, sent to Earth to find information about Atomsk, a being of unspeakable power who earned the moniker "Space Pirate" from his ability to capture entire star systems. The gigantic clothing iron that sits in Mabase, eerily reminiscent of a nuclear power plant, is a factory owned by the evil Medical Mechanica corporation. There are no doors or exits; the plant just sits there, spewing white mist throughout the day. Haruko believes that the plant is a prison for Atomsk, and the only way in is to find someone and open a wormhole in their head using the mystical energy called N.O. Haruko finds this person when she runs into Naota, and quickly attaches to him as his head is the only one that works.


The fight scenes are absolutely incredible.
If that thing hits, do you think we'll have school tomorrow?
The action scenes in FLCL are amazing. Where else will you see someone spin 3 times in the air in front of an enemy before kicking them a mile away, or a wild-west-themed robot hand with little hands on the ends of its fingers? The fights feel both realistic and surreal at the same time; you really get a sense of how large the robot is as it falls into a building, knocked back by a woman in a bunny costume wielding a bass guitar. The entire show revolves around this blend of the real and surreal, bouncing between Naota finding out his grandfather sent the robot to the store to buy Hustler, and forcing himself to drink the sour drinks because it makes him look more mature. FLCL spends a lot of its time commenting on how children handle maturing into adults, the choices they make and the pressures they face from their peers. As Naota finds love and faces hard questions about who he is, he progresses from a young adolescent to...a slightly older adolescent. This is not the story of how people grow overnight, but one of how those brief periods of instability and upheaval in our lives can be a catalyst for change.


FLCL has countless references to other anime, and at least 2 nods to South Park that I was able to find.
We crossed the bridge as usual, and before we knew it the seasons had changed.
There is so, so much about this show that I wish I could tell you. I'd love to spout off quotes and explain all the intricate plot details, but then you wouldn't have anything left to enjoy when you started watching it. Well, except maybe the music - the music is incredible, and perfectly captures the apocalyptic, fast-paced feel of the show. For fans of robots, love rectangles, innuendo galore, aliens, magic, video games, advanced weapons technology and literally any other archetype present in modern anime, FLCL is required reading. Even if you aren't into anime, this is one that can hold your attention and create a smooth, but quick transition into its dysfunctional world. And for those of you who have already seen it, supposedly we have 12 more episodes coming soon.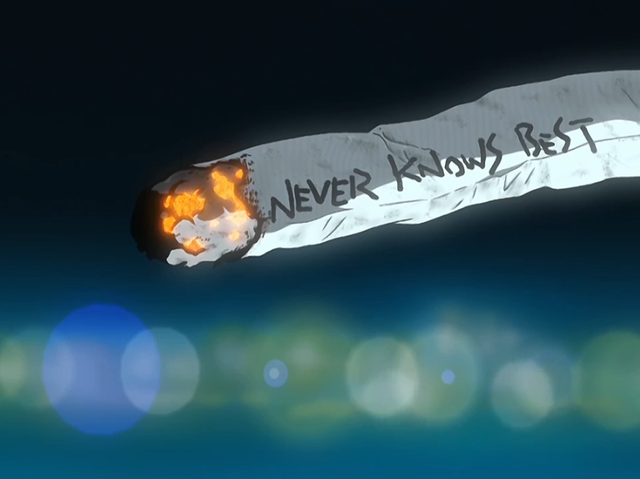 Mamimi left town, she said she wanted to be a photographer. I don't know what happened to her after that.