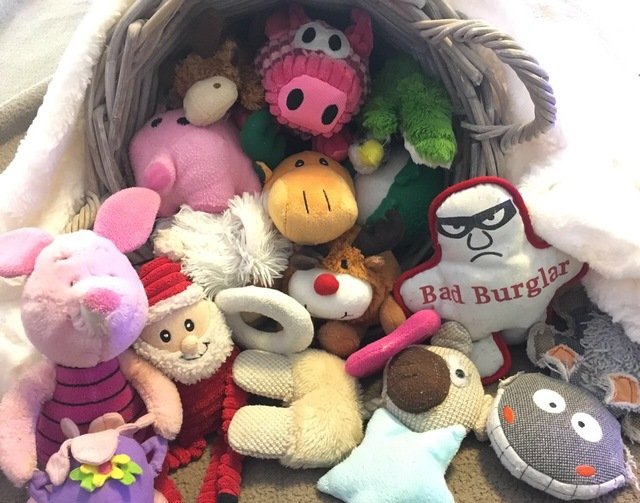 Hi guys, this is just meant to be a fun post, maybe a bit of a laugh. I would love to know about your pets favorite toy, maybe its your old sock or shoe? 
My dog Louis has a vast selection of "friends" and all have their turn to be mauled and chewed upon. Some only come out at Christmas or Halloween or special occasions. But there is one toy that if it went missing he would go into a serious decline. The toy that still goes to bed with him on occasion and is used as a pillow.

When he chose us as a puppy 6 years ago he came with this toy. I guess ther is sentimental attachement :)

Why does it have to be the mankiest toy lol. It is now seriously worse for wear, it looks like it has mange as he has plucked all the hair from it. One of its legs is missing and the tail has been chewed and sucked to within an inch of its life. He has been sown back together many times, in fact that's grannies job when she flies down for a visit. Granny always restores life to her grandchild's toys, but try get her to do my pants… I think there is a little favouritism there.

Any who let me show you "Mr Lion"! He used to have such a grand mane.., but he is still the Simba of the toy kingdom and rules them all.