Largest Hawks in the United States: American Birds of Prey, Raptors
Hawks are a main type of bird of prey. Feeding primarily on rodents, these raptor birds of America are apex predators. 
True hawks of the genus Buteo are found nationwide in the continental United States. Most are very similar in size, shape, and habits, but variations exist, and many different species are found in different places. Following are the largest hawks in the United States. 
Ferruginous Hawk, the Biggest Hawk in the United States
The Ferruginous Hawk (Buteo regalis) is the largest hawk in the US. This large bird of prey reaches an average length of 23 inches, with a 56 inch wingspan, and tends to weigh around 3.5 lbs. Found primarily in the American Southwest, in summer it can be found as far north as Alberta, and in winter, it can move down into Southern Mexico. The Ferruginous Hawk exists in two different plumage morphs, one light (with white and red on the body), and one dark (all dark brown). This big raptor bird of America feeds on rodents, small birds, and snakes.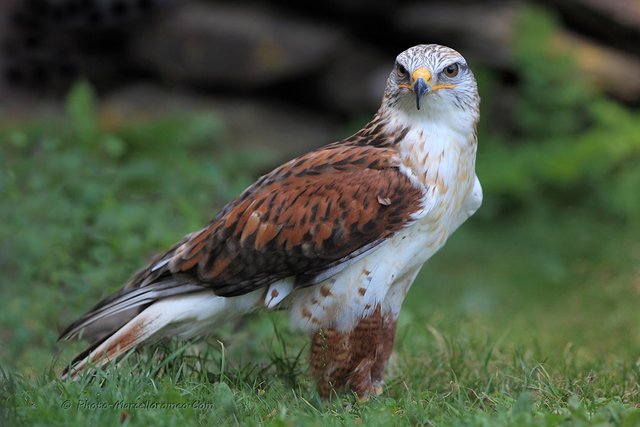 Rough-Legged Hawk, a Large Northern Raptor Bird
The Rough-legged Hawk (Buteo lagopus) has an average body length of 21 inches, an average wingspan of 53 inches, and a typical weight of about 2.2 lbs. This bird summers in Northern Canada and Alaska, and winters in much of the United States, except for in the Southeast. It is also found in Northern Europe and Asia.Like with many hawks, there are different plumage morphs of this bird, and two main versions (light and dark). The light Rough-legged Hawk has gray, brown, and dark areas, but also a lot of white coloring. This phase is found mainly in the west. The dark morph is very dark gray and black, with light feathers only under the wings, and it is found more in the east than in the west. Rough-legged Hawks eat mainly small mammals.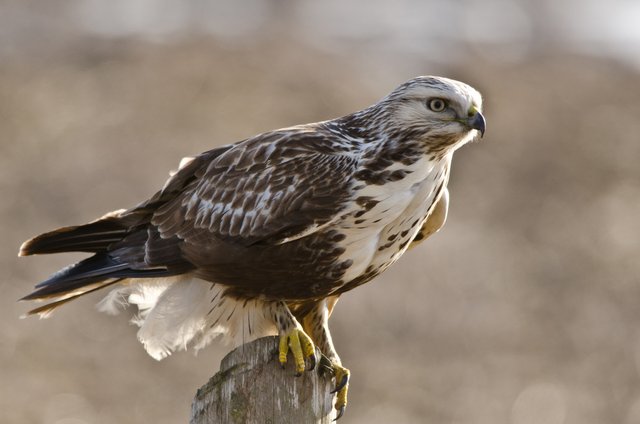 Red-Tailed Hawk, One of the Largest Hawks in the US
The Red-tailed Hawk (Buteo jamaicensis) is the most widespread and common hawk in North America. With an average length of 19 inches, a wingspan of 49 inches, and an average weight of 2.4 lbs, the Red-tailed Hawk is a muscular bird. It has several different plumage morphs, ranging from very pale to almost black. This large raptor bird of America can be found in every continental state, much of Canada, and nearly all of Central America and the Caribbean. The Red-tailed Hawk feeds primarily on small mammals that it catches.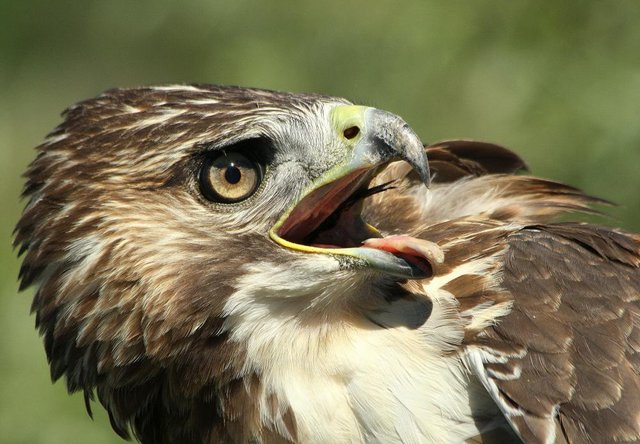 White-Tailed Hawk, a Large Southwestern Raptor
The White-tailed Hawk (Buteo albicaudatus) is another big bird of prey. With an average length of just over 20 inches, a wingspan of 51 inches, and a weight of 2.3 lbs, this big hawk is agile in flight, and it feeds primarily on small mammals, like rabbits, and lizards. The White-tailed Hawk is only found in Southeast Texas in the United States, but it thrives in the Caribbean, and Central and South America.These large birds of prey are the largest hawks (of the genus Buteo) that are found in the United States. Other slightly smaller hawks include the Swainson's Hawk and the Zone-tailed Hawk.