Rescuing a Gentle Dog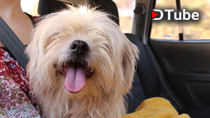 ---
Halfway through last year we visited our friends farm, and met an old Maltese dog. His fur was matted and full of burrs, his claws were long, and he was very shy.
He had been abandoned somewhere near the farm and made his way to their home. Our friends supplied him with food and water, but didn't have the time to properly care for a new dog.
Before our visit, we didn't know about him. We had been searching in shelters wanting a new friend for a few months, and when we heard his story we decided to take him on.
The next few days were long. We were busy, so couldn't pick him up strait away. After those days passed we bought some dog food and a leash, I grabbed my camera and we drove back to our friends farm to bring him home.
Since the time of this video, Mr Woofs has completely come out of his shell and blessed us with his goofy personality. He is so happy, and loved so incredibly much.
I hope you enjoy the video. If you'd like me to film a part 2, leave a comment and let me know.
MUSIC: Tubby Love, Paul Izak, and Anna Surento "All Ways Love" http://paulizakmusic.com/
---
▶️ DTube
▶️ IPFS