These Spanish Strays (shepherds) are looking for a family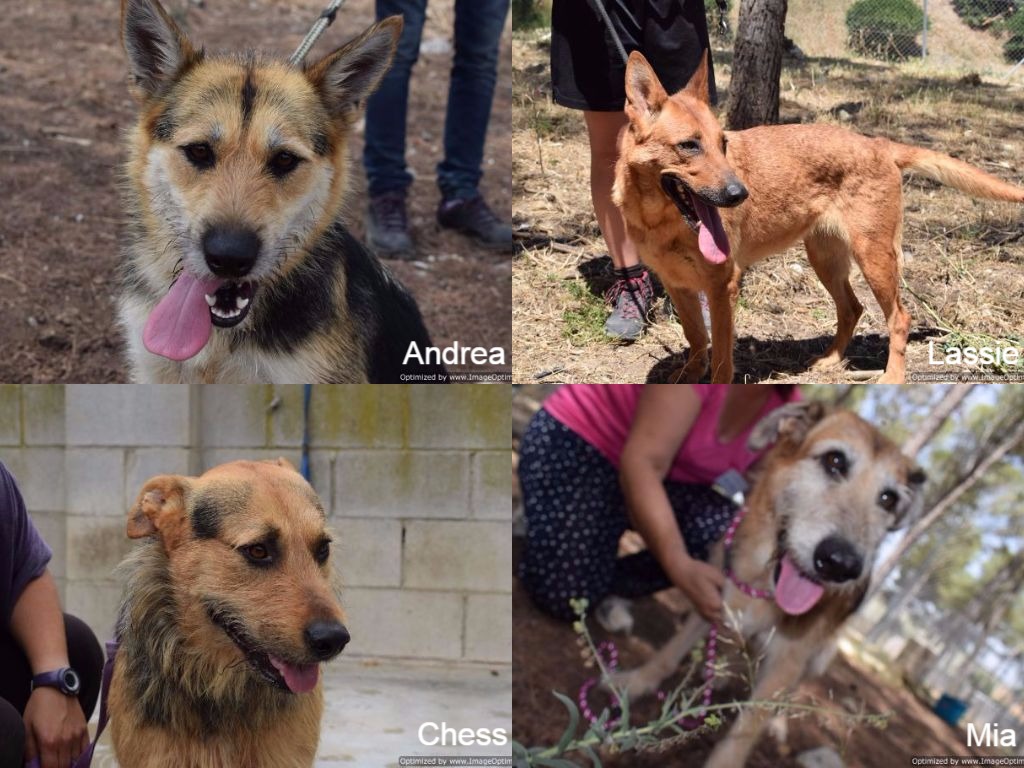 If only they could talk. This time the younger Shepherds from the shelter in Vilafranca (Barcelona, Spain) want some special attention. The beautifull and jolly Andrea, the intelligent Lassie, quiet Chess or the loyal Mia. Somewhere someone is looking for you! Is this you?
#please upvote for these beautifull Shepherd dogs.
Andrea: female, 1.5 years. In the shelter since the 24th of May this year, relatively short. If you see her face.....well.....can you resist her? She's a very modest and social young dog. We hope her stay in the shelter will be short.
Lassie: female, 3 years. She's a sweet, social and above all very intelligent. For her it would be great to have a future family whom will take her on all kinds of adventures and challenge her intellect.
Chess: male, 3 years. This poor guy was ran over by a car. Luckily the only permanent damage is his front leg which is pointing a bit outwards. In general Chess is timid, however towards other male dogs he can sometimes be dominant.
Mia: female, 3.5 years. There is nothing we can write that describes the look in her eyes.......you just know she's is loyal till the end. She likes cuddling and is social with other dogs.
In the shelter where they're staying about 400 dogs reside. Most are staying with 6-8 other dogs in cages of about 14-15 squares meters. Just recently we discovered this shelter and found out that they have no contact with foreign non-profits specialized in adoption of dogs. Thats were we could help them. Slowly more and more organisations are finding their way to this shelter and some dogs can finally go to their new families.
If your based in Spain, the Netherlands, Belgium, Sweden or Germany and want to take care of one of them, please let us know. We can get you into contact with a good and trustworthy organisation in these countries.
They deserve a chance! Please resteem and upvote!