giant dog!!! | chú chó con khổng lồ !!!
Dogs are very familiar pets in our daily life. This loyal animal looks extremely diverse, from small, lovely to large, majestic. What is the biggest dog you've ever seen? Today I introduce you a puppy of great size, even larger than Jaguar.
Chó là loài vật nuôi vô cùng quen thuộc trong đời sống thường ngày của chúng ta. Loài vật trung thành này có vẻ ngoài vô cùng đa dạng, từ nhỏ bé, đáng yêu đến to lớn, oai vệ. con chó lớn nhất bạn từng thấy to lớn như thế nào? Hôm nay tôi giới thiệu với các bạn một chú chó con có kích thước khủng, thậm chí lớn hơn cả loài báo Jaguar.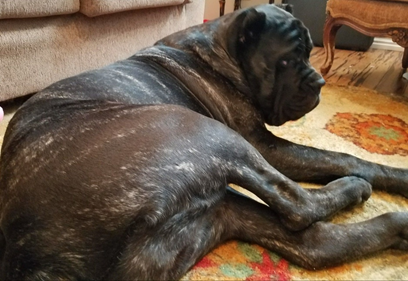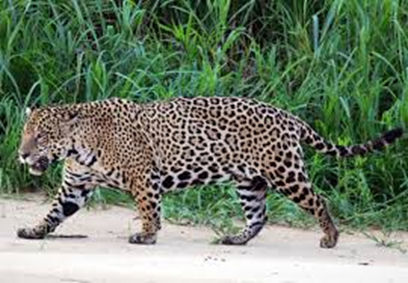 At 9 months old, the female dog named Euphrates had a huge body, weighing 81.6 kg (while Jaguar weighing 56-96 kg) and able to eat up to eight cups eat / day. This dog is a new breed named American Molossus, selected from the British Mastiff and Neapolitan Mastiff to become the closest genetic descendant of the Mesopotamian Molossus, a large extinct dog. 7,000 years ago. American Molossus is so strong that Pitbulls are well known and can pull heavier objects than their bodies.
Khi mới mới 9 tháng tuổi (tương đương gần 10 tuổi con người – tính theo hệ số của Gino Pugnetti), chú chó giống cái có tên Euphrates đã có một thân hình khổng lồ, nặng 81,6kg (trong khi loài báo Jaguar có trọng lượng khoảng 56–96 kg ) và có khả năng ăn tới 8 cốc thức ăn/ngày. Chú chó này thuộc giống chó mới mang tên American Molossus, được lai chọn lọc từ hai giống chó ngao Mastiff Anh và chó ngao Neapolitan Mastiff để trở thành hậu duệ gần nhất về mặt di truyền của Mesopotamian Molossus, một loài chó to lớn tuyệt chủng cách đây 7.000 năm. Giống chó American Molossus khỏe tới mức những con chó Pitbull vốn nổi tiếng khỏe và có thể kéo được những vật nặng hơn cơ thể mình cũng thua xa.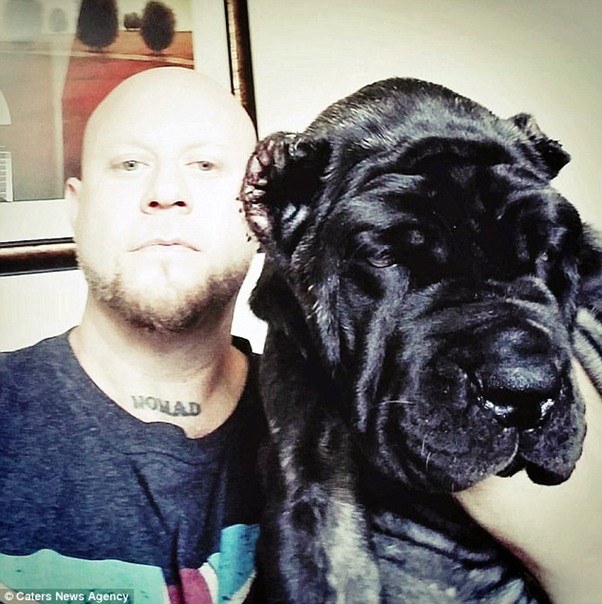 According to Jarret Howser, a resident of Salt Lake City, Utah, the owner of the Euphrates, people often do not hide their amazement, believing that this is only a 9-month-old dog. Mr. Howser also revealed that, with the oversized body of the Euphrates, taking a walk is also a challenge. "I'm 1.92m tall, weighs nearly 118kg and can still be 'folded' if it suddenly chases after something while walking. If it's tailed, it's pretty painful, "Howser said. The Howser family also revealed that the Euphrates grew so fast they became clumsy that they had to constantly adjust their daily habits.
Theo anh Jarred Howser, một cư dân sống tại thành phố Salt Lake (Utah, Mỹ) – chủ nhân của Euphrates, mọi người thường không giấu được vẻ kinh ngạc, không tin được đây mới chỉ là một cô chó 9 tháng tuổi. Anh Howser còn tiết lộ rằng, với thân hình quá khổ của Euphrates, việc dắt đi dạo cũng là một thử thách. "Tôi cao 1,92m, nặng gần 118kg mà vẫn có thể bị 'sấp mặt' nếu nó đột nhiên chạy đuổi theo cái gì đó khi đi dạo. Nếu bị đuôi nó vẫy trúng mắc cá chân thì chắc chắn là sẽ khá là đau đấy", Howser hài hước chia sẻ. Gia đình Howser còn tiết lộ rằng, Euphrates lớn nhanh tới nỗi trở nên hậu đậu vì phải liên tục điều chỉnh thói quen sinh hoạt hàng ngày.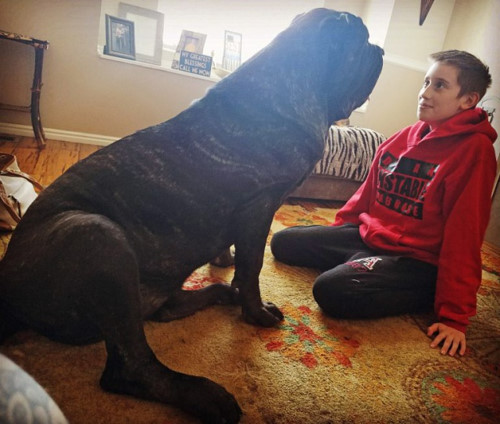 However, according to Howser, Euphrates is very friendly, loves children and cares about the safety of family members. At the moment, after calling hundreds of breeders, his family believes that Euphrates is holding the record for "The World's Greatest Puppy".
Tuy nhiên, theo Howser, dù cao lớn nhưng Euphrates rất thân thiện, yêu quý trẻ em và quan tâm tới sự an toàn của các thành viên trong gia đình. Hiện tại, sau khi gọi điện kiểm tra hàng trăm người nuôi phối giống, gia đình anh tin rằng Euphrates đang nắm giữ kỷ lục "Chó con lớn nhất thế giới"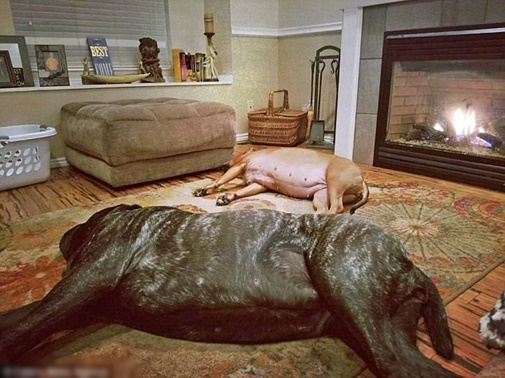 P / s: According to Story Trender, the Mesopotamian Molossus has a very large body with black hairs, which outshines the aggressive appearance of enemies or other animals to tremble. Especially, Mesopotamian Molossus dog is very loyal, ready to discharge the body protector.
p/s: Theo Story Trender, giống chó Mesopotamian Molossus có thân hình rất to lớn với bộ lông đen nhánh, toát ra vẻ ngoài rất dũng mãnh khiến kẻ địch hoặc các con thú khác phải run sợ. Đặc biết, chó Mesopotamian Molossus rất trung thành, sẵn sàng xả thân bảo vệ chủ nhân.