English Countryside Dog Sitting – Dolly the Silly Dog and the Sunny Green Country Views
Dolly is the most loving dog I have ever met. This morning she was in bed with me, her head resting on my legs. I went downstairs and poured her a big portion of dog food, gave her her epilepsy medication, renewed her water and opened the door to the garden for her to play outside. The weather was dull early in the morning and just before midday the sun suddenly came out!

Dolly in the garden early in the morning.
I put a handful of dog treats in my pocket and went out with Dolly for a walk. Whenever she sees me picking up her lead her tail wags with excitement! I was running down the road with Dolly in the sun and she seemed to love it.

GIF of Dolly and I running together.
Despite only having three legs, she manages to run quite fast and she enjoys playing fetch. I picked up sticks, threw them, and she would go bring them back to me. The walk felt timeless with the beautiful trees arching over Dolly and I, with the hills in the background and barely any cars around.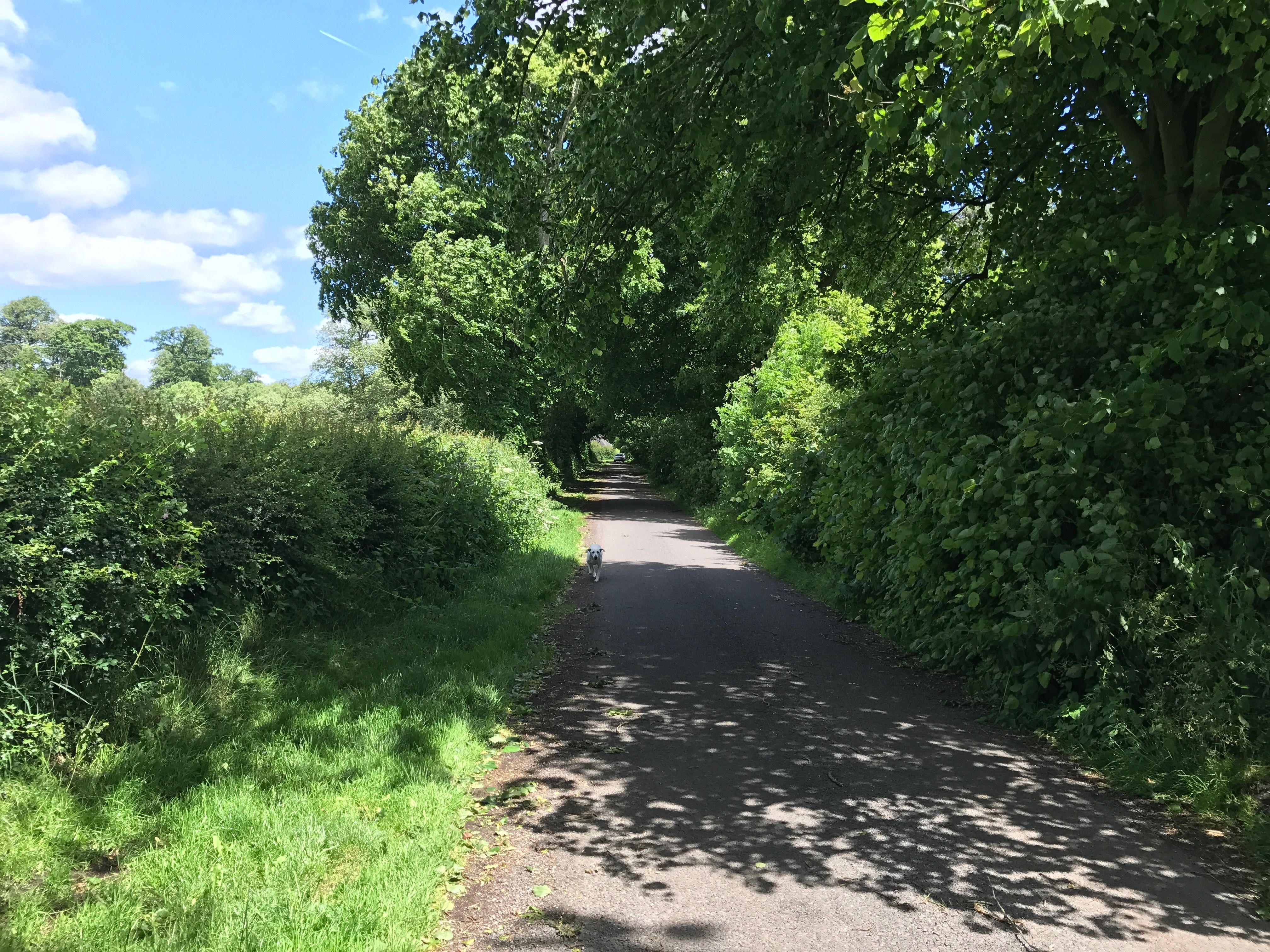 Dolly and I heading in the direction of home.
Whenever I walk to my bedroom on the second floor of the house, I walk by a view so beautiful I stop and look out of the window for a few minutes. Today the view looked especially gorgeous.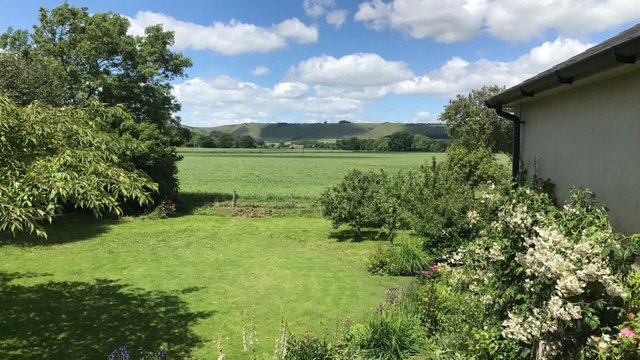 Stunning view from the second floor of the house.
I also finished watching the TV mini series, Riviera (2017 -), which I really enjoyed. Dolly was resting next to me on the couch while I was watching it and she eventually fell asleep. Him & Her (2010 - 2013) is also another good show and it's a comedy. I recommended it to my older brother who now loves it!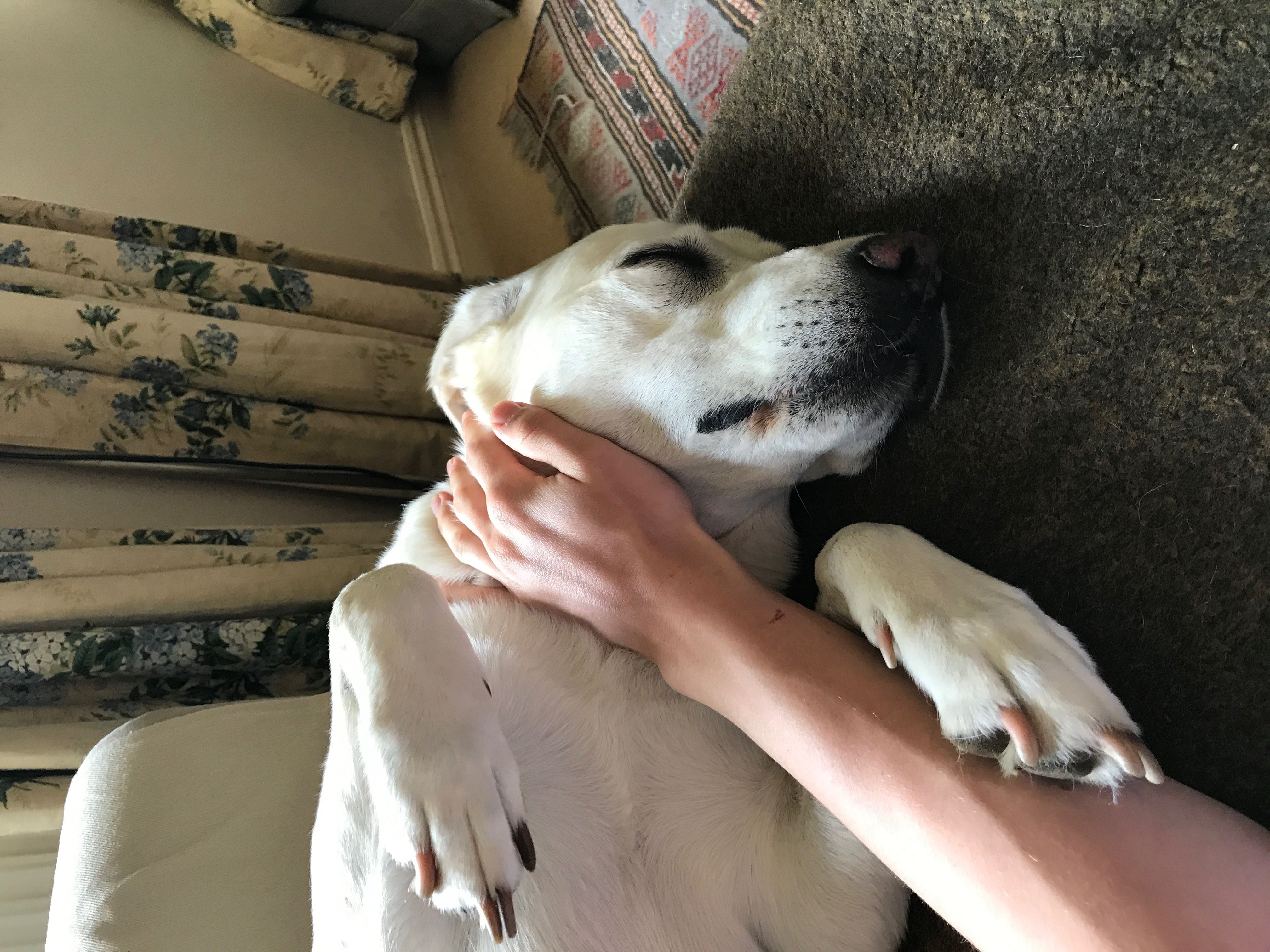 Dolly sleeping next to me on the couch.
Some of my friends came over for dinner and I made pork chops for all of us. We had a very early dinner because we were all so hungry. There was lots of laughter at the dinner table and everybody loved Dolly. We played with her in the garden, some of us watched TV, we really had a good time just relaxing in the countryside.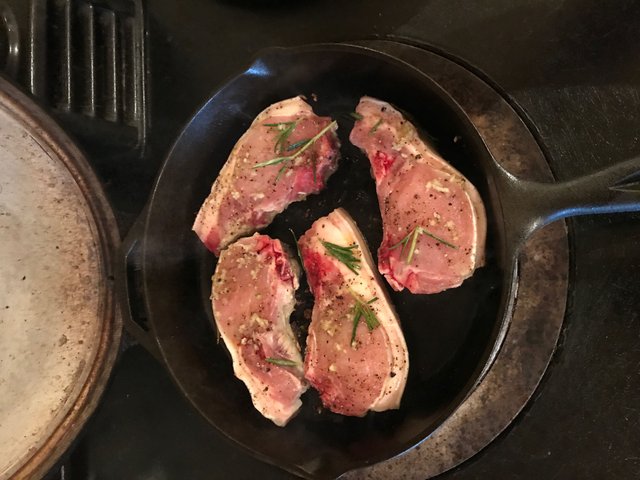 Pork chops!
Since the owners allow Dolly and Monkey, who isn't here, to lick the plates, Dolly was absolutely enjoying all the fats and remains from the pork chops on our plates.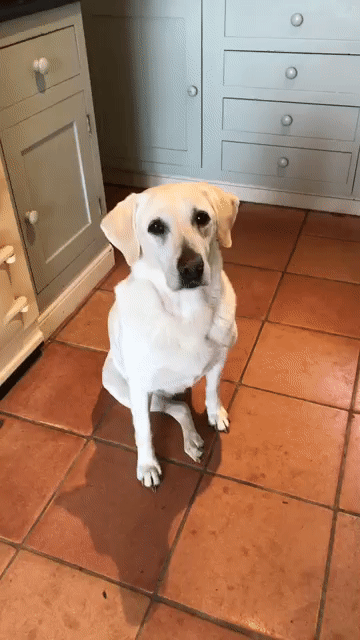 Dolly catching a piece of food.
Staying in the countryside is a little vacation for me. My time in Lang Tengah was a vacation, but in the countryside I can sleep as long as I want to, have lots of showers and watch TV. It's a big plus having a cute three legged epileptic Labrador spend these few days with me!