"The Snake Whisperer!"
This is my entry for the Daily Photography Contest. Them: Animal Photography.
I'll be the first to admit it. I DONT LIKE SNAKES! BUT...….I did end up stroking the smooth skin of this lovely very much alive Spotted Blonde Python. Yes......it wriggled and slithered up and down the arms and legs and under the sleeves of its proud owner and I stood back initially with my camera in front of me for protection but my desire to get the best possible shots found me calling on reserves of bravery I didn't know I had, to get these photos.
I call the young man who held this snake with awe and fascination, "The Snake Whisperer," because he'd never been so close to a snake before but after the owner (pictured below) assured him that he was not venomous and would not bite, he quickly made friends with it and was thrilled with the whole experience.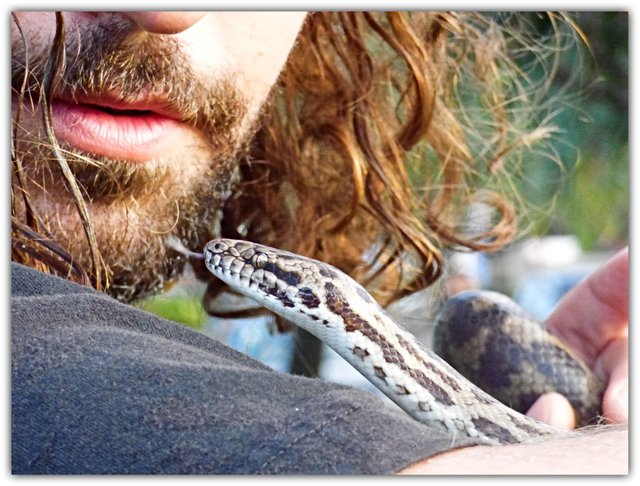 I met the snake owner (and his pet snake) at a local park after finding out what was creating a great lot of interest by a group of people. Kids and adults received an absorbing education lesson as we listened to the snake owner sing the praises of his much loved pet.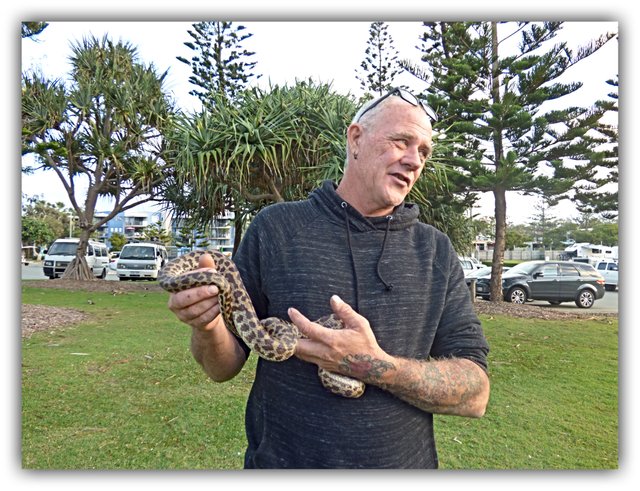 We've all heard the statement, "Gentlemen prefer Blondes" and no-one would argue with this after witnessing the rapport between the man and his Spotted "Blonde" Python. Spotted Pythons come in a variety of colours apparently and the most attractive of them all, is the "Blonde" colour or morph phase of these species. The Spotted Pythons are the largest and most popular of the Children's python group.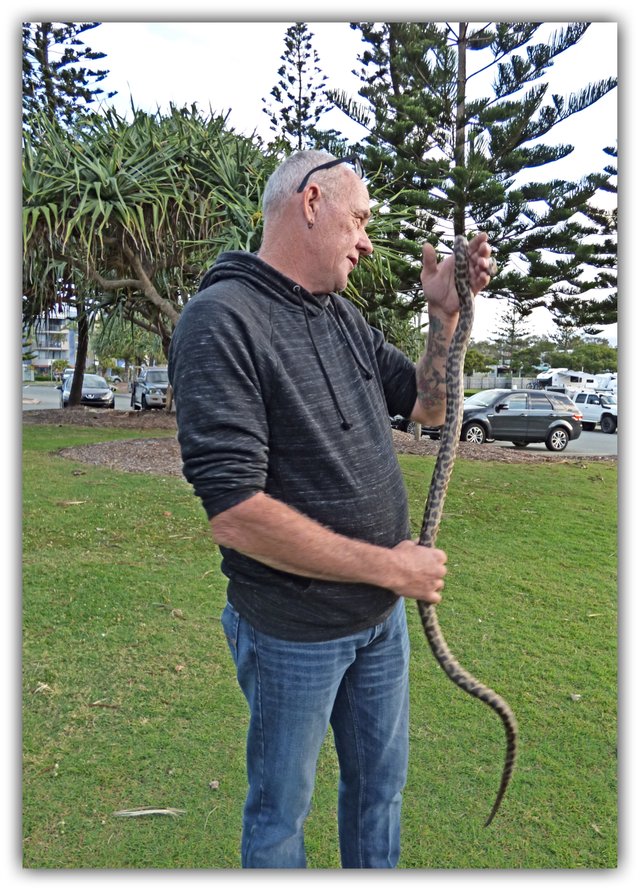 Occasionally they will grow in length up to 1.5 m although most measure about 100 - 140 cms (39 - 55 inches.) The 'Mac' (or Maculosus) variety are quite placid and actually enjoy human contact and don't mind being handled. They are easy to look after especially when well maintained. It is helpful to know, that from time to time, juvenile Spotted Pythons can get a bit snappy and sometimes quite aggressive but generally they make an ideal first pet for snake lovers.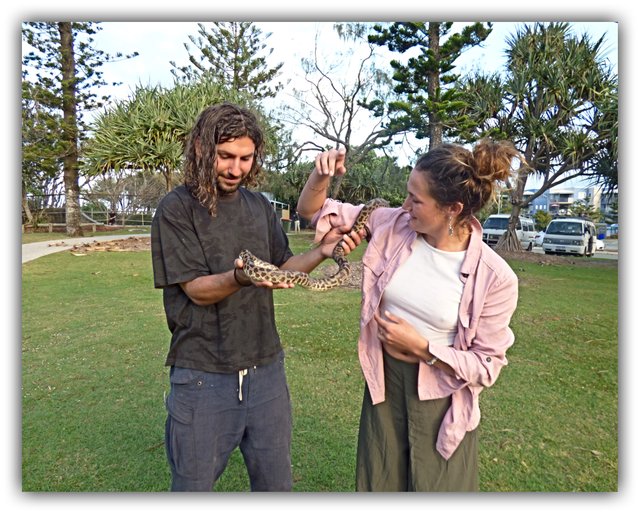 Spotted Pythons (Antaresia Maculosa) are very good handlers when they reach maturity, they eat often and are easy to breed. They are also known as 'Eastern Small-Blotched Pythons' and are found in northern parts of Australia and in New Guinea. The blotches have ragged edges due to dark pigmentation which occur only on complete scales.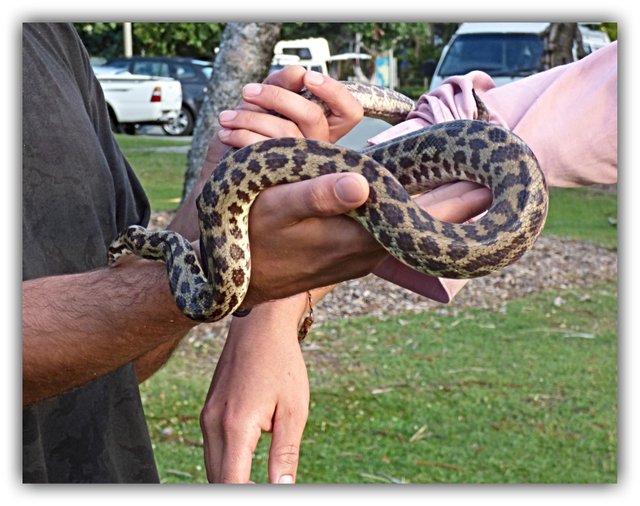 The diet of captive specimens consists of mice and rats but one of the favourite foods for pythons in the wild are the insectivorous bats which are caught at the entrance to their caves. Females lay up to 15 eggs in a clutch. With proper care Spotted Pythons live from 15 to 20 years in captivity but in the wild it would be substantially less. This species was described in 1873 by the German naturalist and explorer Karl H. Peters. A new species was described in 2003 by Hoser A. (m. brentonoloughlini) based on specimens found in the Cape York Peninsula. These snakes were much lighter in colour and were generally 10cms longer but this find wasn't considered valid by other herpetologists and no other subspecies of Spotted Python are currently recognised.
My grandson Dustin had no qualms at all in allowing this Blonde Beauty to wrap itself around his neck but his sister was a little more cautious and looked on from behind. (I wonder where she got that from?)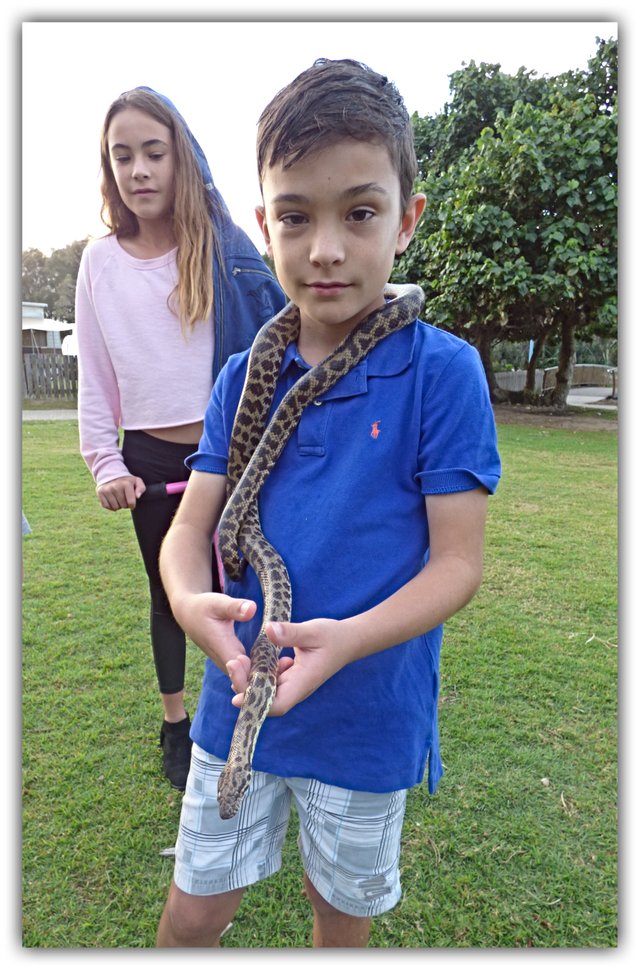 These pythons prefer to live in dry woodlands to wet forests, river banks and rocky areas. They do love caves and although they are agile climbers, they won't climb large trees but are often found climbing small shrubs or rock faces. Two young boys were enraptured at being this close to the snake and also had a turn holding it although the youngest one was more than happy to hand it over after a few short seconds.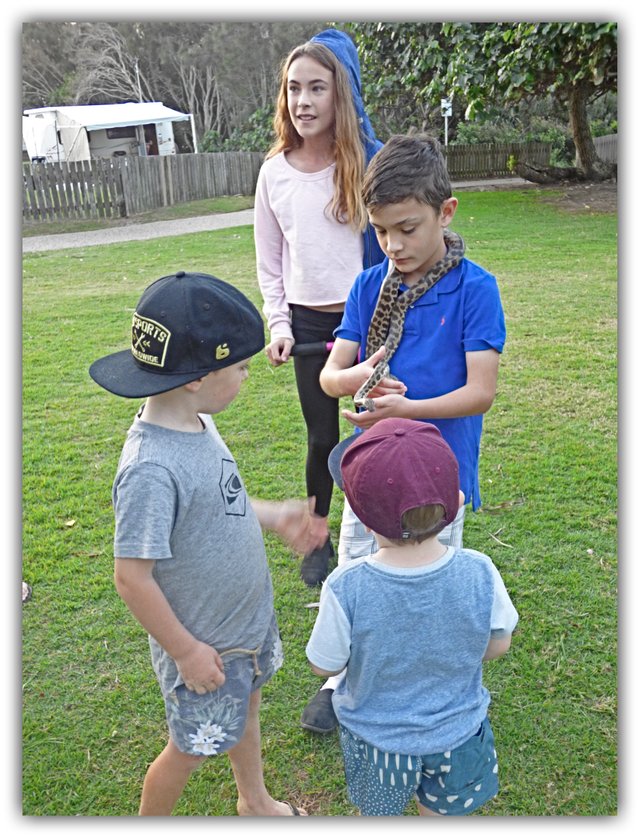 Spotted Pythons are nocturnal and actively seek their prey by using their heat sensor pits on their lower labial scales. These pits are similar to those found on pit vipers which allows them to hunt warm blooded prey including birds. Like all Pythons, they are non-venomous but they kill their prey by means of constriction and that is what made me very wary of handling this snake myself. I thought he might sense my fear and react defensively despite the reassurances from the owner.
My favourite photo of the day was when a Dad held his toddler in his arms and guided his sandy, chubby fingers towards the snake and let him stroke its soft, smooth skin. Its true. I did eventually find the courage to run my fingers along the length of this Spotted Python. But..........Give me the tiny hand of a sweet, innocent baby to hold any day over a slithering, unpredictable snake. Venomous or not!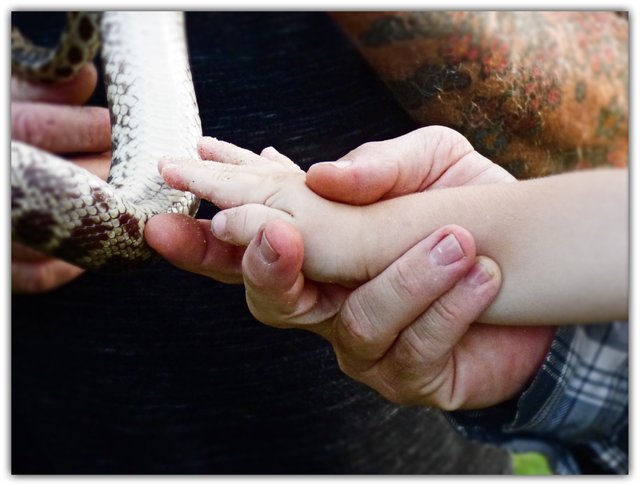 Source:
Source:
THANK YOU FOR VIEWING. HAVE A GREAT DAY.
Check out Julian's other challenges.
Monday: #foodphotography and #animalphotography
Tuesday: #landscapephotography and #cityscapephotography
Wednesday: #architecturalphotography and #vehiclephotography
Thursday: #macrophotography and #colourfulphotography
Friday: #streetphotography and #portraitphotography
Saturday: #sportsphotography and #smartphonephotography
Sunday: #goldenhourphotography and #longexposurephotography