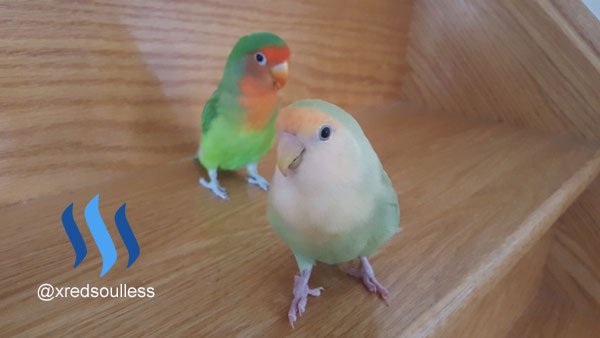 Hello my dear Steemians!    
I have been away from Steemit for a while now and I'd like to introduce to you my furry babies.  I am basically an animal lover.  I have grown up with many animals since I was a little girl.  Cats, dogs, fish, hamsters, and birds.  We used to have 12 kitties!!  Now, I have 2 very beautiful pint-sized lovebirds.   
Oddly, I found both of them in my back yard.  Juju came into my life 2 years ago.  One HOT summer evening while cooking, I found Juju perching on the fence, chirping and feeling like a lost little puppy.  At first, I thought it was some ordinary bird but realized it wasn't until I was close enough to her.  Like any other bird, I thought she would fly away but Juju was standing on the edge of the fence just looking at me with those sad eyes.  I gently grabbed her (she did not squeal or make any fuss) and I took her under my care. She's healthy and a very lovable & friendly pet.  I could not tell what type of bird it is but I found out later (by a friend) that she was a lovebird, not a parakeet/budgie.  Lovebirds are closest relatives to the parrot species.    
Jade joined our family on Father's Day this year.  Again, it was a hot day and I left my screen door opened while cooking.  Juju began chirping repetitively.  As Juju is pretty quiet and only chirps when you call her name or in the morning when she feels like singing.  I realized there was another bird also chirping outside, like they were communicating to each other. I opened the door and Jade flew right into my house.  Another Lovebird!  A very beautiful, vibrant and gorgeous green lovebird.  Jade was very timid and tiny. I'd imagine the poor little bird must have been outside for months!  I gave her food and lots of love & care and now Jade is recuperating and healthy.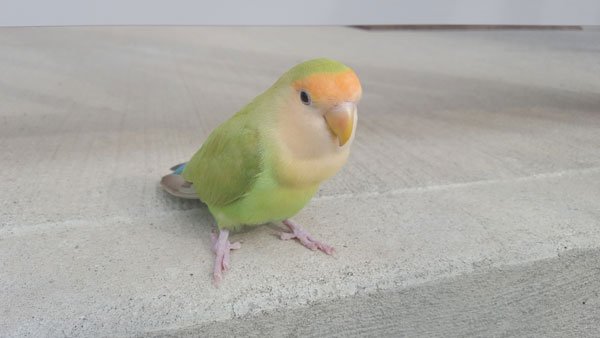 Hi, I'm Joob Joob (aka Juju).  I like to cuddle and give Mummy kisses.  I'm shy and quiet but can be active when I feel like it.  I like to take baths and naps in my little house.  I like tasty treats, yum!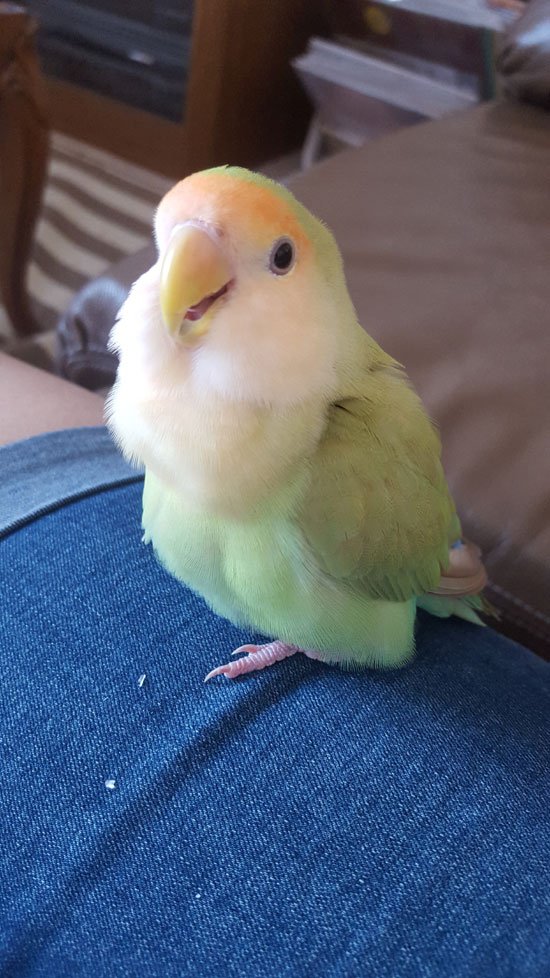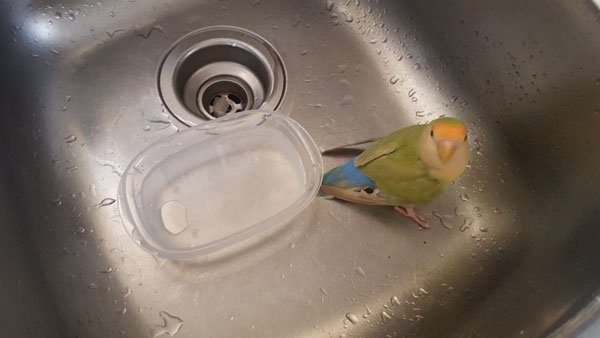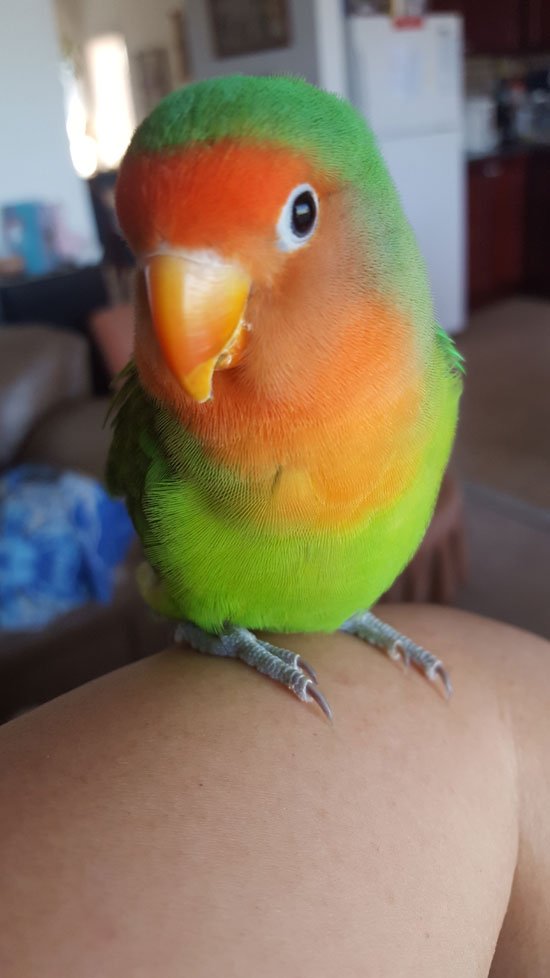 Hi, I'm Jade (aka Jayjay).  I'm mischievous and dislike cuddles and kisses.  I like to chew on everything and I am very outspoken and can sing my heart out.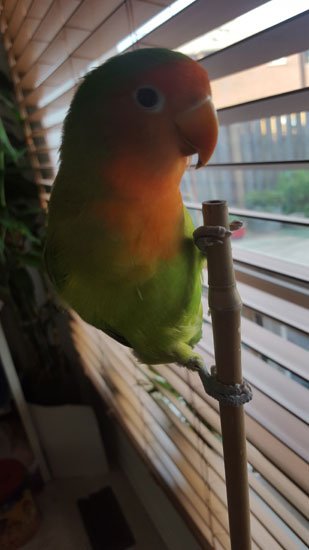 I always wanted a companion for Juju but it didn't work out as planned.  I figured Jade was a girl as she was a bit feisty and jealous and would peck at Juju sometimes.  I read online that if you have 2 female lovebirds on the same cage, one can kill the other, so I came to a conclusion that Jade is in fact a girl also.  Though both lovebirds are amicable I have to admit, I was worried because Jade seems pretty dominant and tried to attacked Juju so I kept them both in separate cages.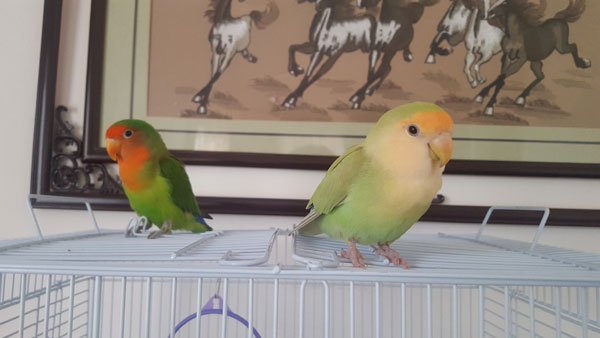 They each have their own personalities and are very easy to take care.  They both love to hangout on my shoulder or just lean onto me and stay there all day, especially Juju.  They would watch Netflix with me but never finish the movies because they are either napping or just playing hide and seek.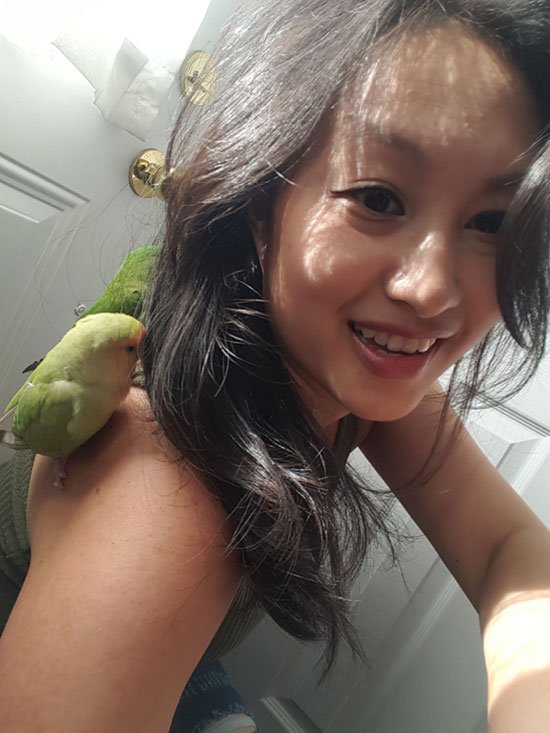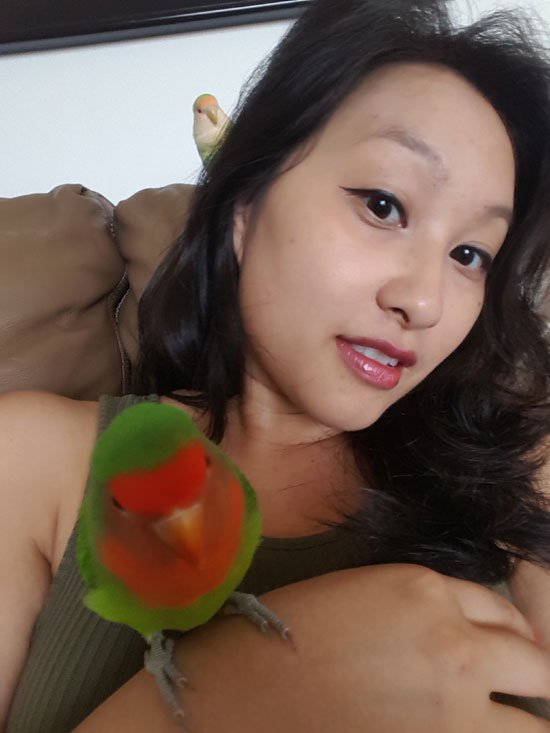 Jade is very clever and can escape from her cage almost everyday.  I have to put tiny clips on Jade's cage doors to keep her inside, but somehow she figured out how to open the doors by herself!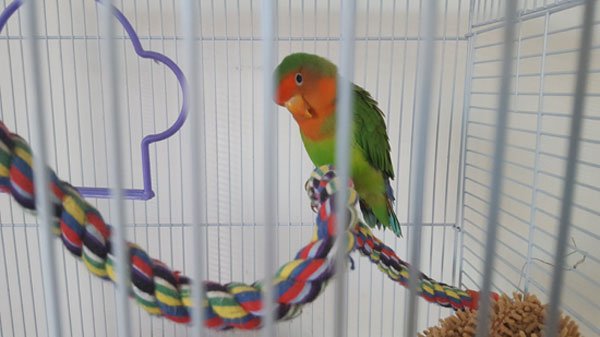 As you can see, Jade is up to something....
Jade is still very cautious around people and does not want to be cuddle as much as Juju.  They both have their wings clipped – Jade and Juju can still pretty much fly around the house.  I can take Juju outside and she would not try to fly away.  I wouldn't dare take Jade out as she will probably fly off easily.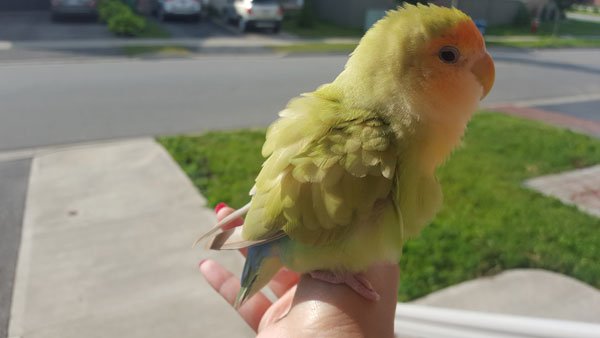 They are my feathered babies and I love them dearly.  Stay tuned for another furry friend visiting Steemit soon!  The first person to guess it correctly will win 3 SBD 7 days from this post!!!   All pictures are taken from my Samsung Galaxy 7.    
Thank you for your support.  As always, don't forget to: