Bolas Spider Hunting Like a Cowboy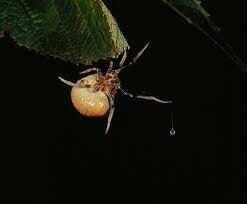 Bolas Spider Hunting Like Cowboys - Gaucho is a South American cowboy who traditionally uses special techniques to bring down livestock. They use a thrown weapon called a bolas, which is a string with wooden or iron balls at both ends and another ball tied in the middle of the rope. Gaucho can throw the bolas skillfully into the runaway cattle legs, tie the legs, and make the cattle in concert, then fall.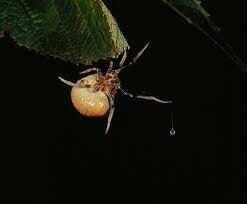 In many parts of the world, including South America, there are spiders who use techniques commonly used by gauchos to trap their prey. The bolas spider is about the size of a black-and-white pea. As the night begins to fall, the spider hunts. First, it will install a non sticky thread on the underside of twigs or leaves. Then, he hung on the yarn with his two legs, then he rolled a sticky string about 2.5 cm long, which at the end there was a sticky sticky thread like the tip of a bolas. Furthermore, the spider hangs and strands the threads, which appear to shimmer in the twilight. It will last about fifteen minutes and if it gets nothing, it will roll up and eat the yarn, probably because it will lose its stickiness.
In the first few hours of the night, this spider hunts a cutworm moth. Finally, if there is a moth coming, it will fly directly to the glittering thread. The moth was attracted to the spider-borne pheromones. This chemical is similar to the scent used by moths during mating period. As the moth approaches, the spider will wriggle the bolas and hook it to the mouth.
A few hours later the moths no longer wander so that the spider will pull and eat the yarn, then he rests. In the evening, he will hunt again. This time he had a new target: a kind of moth named smoky tetanolita. The spider will issue a different pheromone, which this time is designed to attract new prey, just like a jagoan angler that replaces bait for different fishing lures.

Thanks for visit