KyberSwap App: Non-custodial Ethereum Wallet With Instant Swaps and Limit orders
I was looking to exchange some Ether for Dai a while back and came across KyberSwap.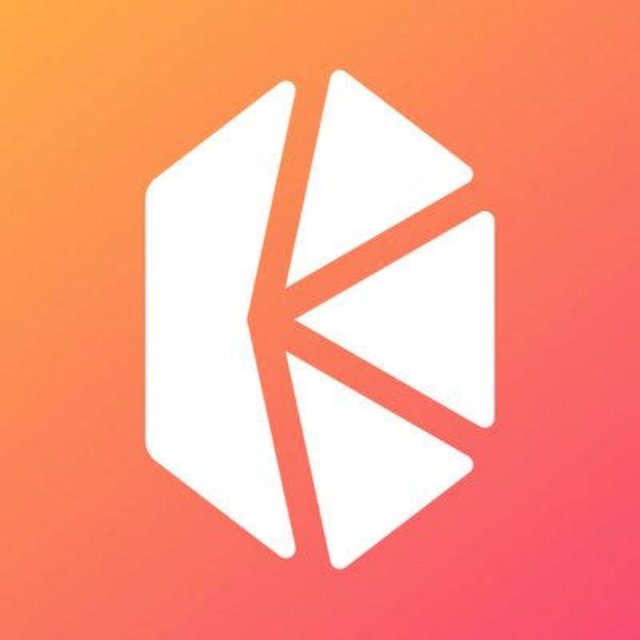 Kyberswap
At that time only web app was available, experience was smooth and saved a lot of hassle.
Shortly after, they released an android app, I gave it a try.
And my God! It's a full blown Ethereum wallet.
you can create a new Ethereum wallet, import it if you have one already by means of Json file, private key and seed words or by using promocode.
You can have unlimited wallets, head to Settings >> Manage wallet section to add/remove wallets.
On homepage, you see Kyberswap supported tokens. Clicking on any token will lead you to next screen showing price chart and actions such as buy/sell/transfer. Clicking on star icon will make it 'Favorite'.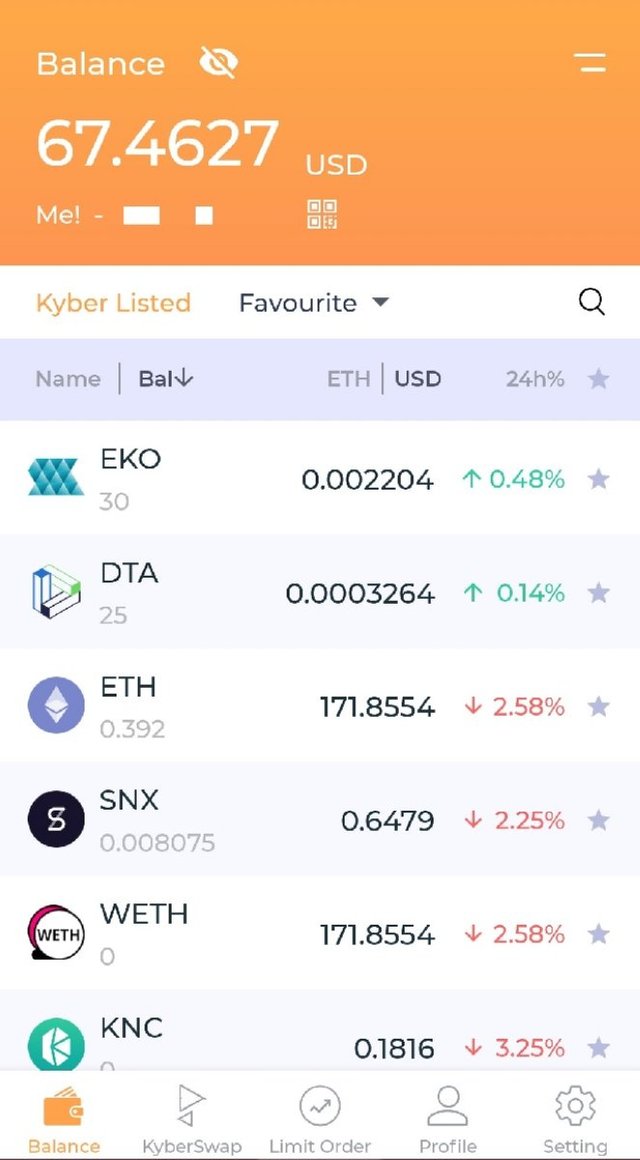 Kyberswap - Homepage
To send tokens that are not supported by KyberSwap, tap on 'Favorites' tab twice, text will turn to 'Others' and here you will see your all tokens with balances, yes there is no more need to add 'custom token'.
To set custom gas fee, click on 'Advanced' on particular token screen.
'Kyberswap' section allows you to instantly swap one token to other. 60+ token pairs are available (including DAI, USDC, WBTC, MKR, BAT, LINK.
) and the only fee you pay is gas fee. These trades executed at market rate and the minimum trade amount must be equivalent to 0.001 eth.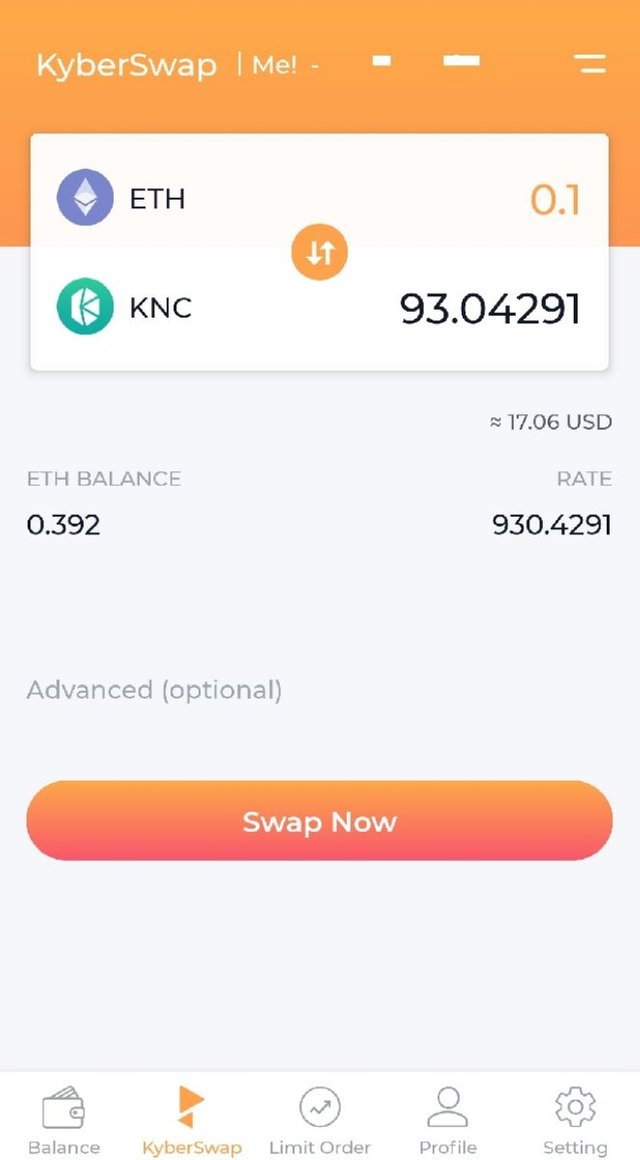 Kyberswap — Instant Swap
Next is, limit orders section, it allows you to set limit orders, duh! It has 29 token pairs available, at the moment of writing this.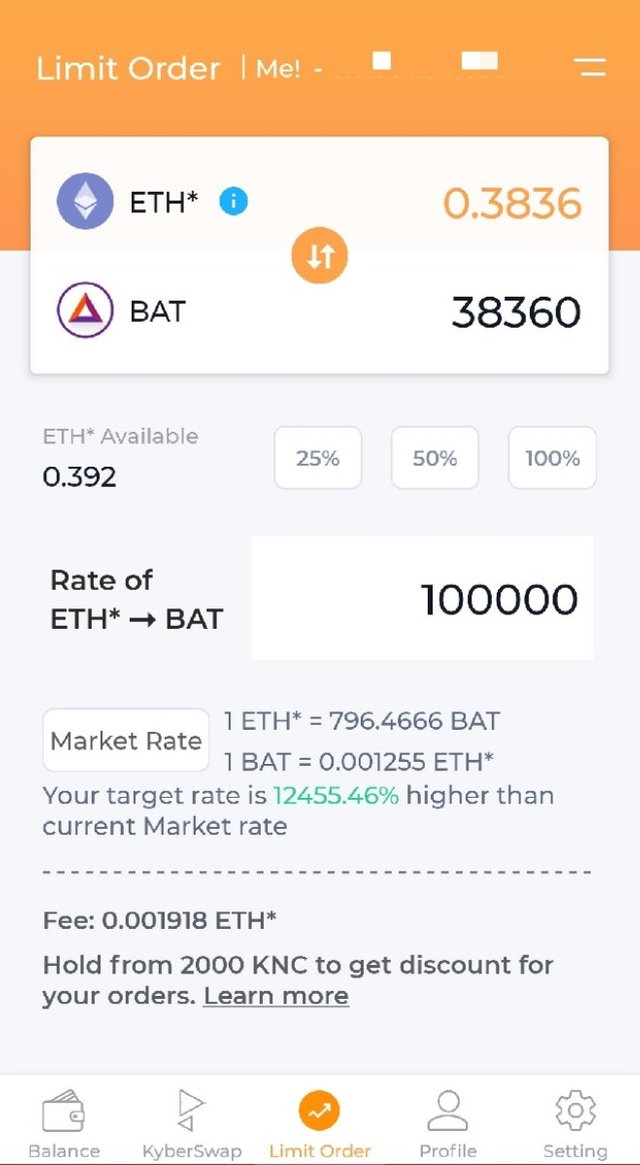 Kyberswap - limit orders
Handsome thing about KyberSwap's limit orders is that funds are always in your ownership, there is no deposit required.
Yes, it's true that a user can create a limit order without depositing funds. At a technical level, a user signs the transaction, allowing the KyberSwap smart contract to swap the token on users' behalf, at the specified rate and quantity. With the signed data, once limit order conditions are met, KyberSwap will broadcast the transaction to the ethereum network.
For each limit order minimum trade size must be equivalent to 0.1 eth and max is 10 eth.
User pays 0.5% of the transaction amount as limit order trading fees If the transaction amount is less than 2.25 ETH. Otherwise, the user pays 0.1% of the transaction amount. There is no gas fee required to create/cancel orders.
$50k is daily trading limit for addresses without kyc. That should be enough unless you are Nakamoto.
The trading fees can be brought down even lower by holding knc, The more knc you hold, more discount you get.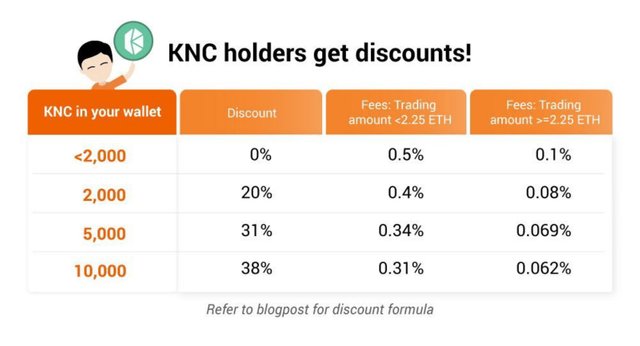 Source:
Blogpost
Trade Fees for limit orders are paid in source token, for example, you convert knc to dai then fee will be pain in knc.
Misc features:
— Notifications about swaps and transfers to your wallet.
— Price alerts (sign up/in is required).
---
---