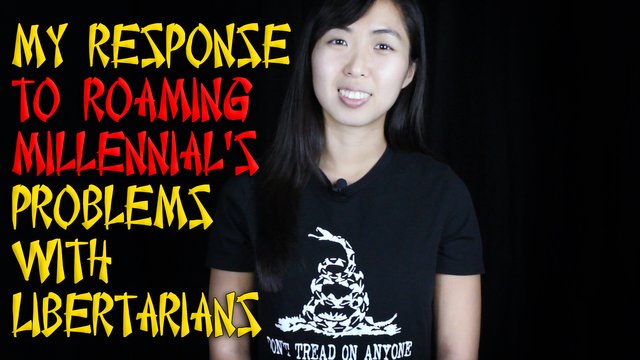 My response to Roaming Millennial's "Problems with Libertarians": https://www.facebook.com/RoamingMillennial/videos/448440418917448/
Before I critique, I want to first clarify that I'm not speaking to the politics of the Libertarian Party. I am not interested in discussing the circus that is the political arena because, really, the last 100 years of the Republicans and Democrats haven't exactly lead to peace and prosperity for all when looking at the growing inflation, debt, and taxation.
Rather, I want to cut to the core principles as the principles are what matter.
And, Roaming Millennial, when you speak to principles, you downplay the nature of libertarianism in such a crude way that I cannot help but think that you did not look into what the actual tenets are.
The tenets of libertarianism are not based on some mantras of "doing whatever one wants" or being an "isolationist" who is disconnected from others. These are hyperbolic statements that do not represent the principles in any shape or form.
The principles of libertarianism are founded in self-ownership, non-aggression, and property rights.
Those concepts are precisely the ethical underpinnings that are crucial to maintain peace through consent in all human interactions.
Without a consent-based ethics foundation, you can rationalize all kinds of violence, theft, and genocide, in the name of a utilitarian greater good.
And, fittingly enough, when you downplay libertarians as just wanting to smoke weed, you ignore the very evils that have been perpetrated by government in the name of the "greater good."
The War on Drugs is a quintessential example of how ignoring the importance of property rights in one area leads to massive harms against others.
The War on Drugs is actually the exact reason the government has been legitimized to further regulate the economy and guns!
In Gonzales v. Raich, the U.S. Supreme Court used the Commerce Clause to suggest it could regulate the use of homegrown cannabis.
So you want to talk about business regulations? How about how the government gave itself the invasive ability to regulate business conducted in one's home through the Commerce Clause BECAUSE OF the drug war.
In states where marijuana is legal, the government is denying people their second amendment rights to guns because they use marijuana, meanwhile, ignoring anyone who has dangerous prescription drugs or alcohol issues.
Those are real, material erosions of individual liberty by the state!
And not only that, literally, millions have had their lives ruined because of drug-war policies. Homes have been raided. Children stripped and attacked. Families torn apart. Patients denied medical care.
And many of these harms took place for political purposes, not even because of actual drug use.
To quote former Nixon domestic policy chief John Ehrlichman,
"We knew we couldn't make it illegal to be either against the war or black, but by getting the public to associate the hippies with marijuana and blacks with heroin. And then criminalizing both heavily, we could disrupt those communities. We could arrest their leaders. Raid their homes. Break up their meetings, and vilify them night after night on the evening news. Did we know we were lying about the drugs? Of course we did."
So when you downplay the nature of rights as to drug use, you actually ignore how government uses policy in one area to deny rights in another!
By ignoring government's regulations in one area, you have ignored the cause of what has created the bloated government you now speak against.
Without consistent principles and a meaningful historical analysis about how government manipulates people to give up their freedoms, you will never make any meaningful change as people will continue to make exceptions and grow the state.
If you want economic freedom and gun rights, you must be aware how government strategically gets unprincipled people to conveniently compromise.
Republican or Democrat, government grows, and liberty dies, because of a lack of non-aggression virtue.
IF you want material change, you need principles. Libertarian principles. No compromises.
And these principles are something that have an impact on those around.
They make for a more peaceful and prosperous future.

▀▀▀▀▀▀▀▀▀▀▀▀▀▀▀▀▀▀▀▀▀▀▀▀▀▀▀▀▀▀▀▀▀▀▀▀▀▀▀▀▀▀▀▀▀▀▀
Philosophy is my core. Reason is my foundation. Phở is my sustenance.
~Connect with me :{D
∀ Facebook - https://www.facebook.com/dapholosopher
∀ Twitter - https://twitter.com/DaPholosopher
∀ Steemit - https://steemit.com/@thepholosopher
∀ YouTube - https://www.youtube.com/thepholosopher
∀ Instagram - https://www.instagram.com/pholosopherofficial/
∀ Minds - https://www.minds.com/thepholosopher
~Help me afford more Phở (ノ◕ヮ◕)ノ*:・゚✧
∀ Patreon - https://www.patreon.com/thepholosopher
∀ Crypto - https://thepholosopher.com/support/
∀ Liberty Tees - https://www.libertariancountry.com/?rfsn=639897.fb3ec
∀ More Liberty Tees - https://www.rageon.com/a/users/voluntaryist
▄▄▄▄▄▄▄▄▄▄▄▄▄▄▄▄▄▄▄▄▄▄▄▄▄▄▄▄▄▄▄▄▄▄▄▄▄▄▄▄▄▄▄▄▄▄▄