In our attempts to delegate our moral culpability, the difference between right and wrong has become so convoluted that the average adult human can not decipher a basic Human Right from a Human Rights violation. Most "responsible" individuals could not concisely define morality in one or two sentences. Give it a try: Can you define the difference between right and wrong in one or two sentences?
Many of the people I confront with (what should be) this very simple question can not even come up with quasi-accurate, simple definition of a right action, a wrong action and the difference between the two. You would think that with our advanced education system and complex legal dissection of every single human action, we would have, as a society, come to some understandable conclusions regarding the subject of morality. After all, aren't the systems built up put in place to protect and uphold these very principles? Isn't the government supposed to regulate society in such a manner that protects the citizens from harm? Aren't the police forces supposed to protecting the innocent and vulnerable from those who would take advantage of them? Is the military supposed to be enforcing foreign policy or protecting us from others that would do the same to our lands?
Back To Preschool
Allow me to be the barer of some great news! The concept of morality, the difference between right and wrong, is not a complex philosophy! In fact, it's so simple that a small child can understand it! The hard part is forgetting all the bullshit you've been taught by those seeking to obfuscate this understanding. Why would those who are in control want to confuse the general public in regards to the difference between right and wrong behavior? It may have something to do with the fact that most of the actions of these organizations are actually Human Rights violations and are morally wrong. It would be very hard to pull this off without a general delusion of the concept within the general public. Let's get you all up to speed.
The difference between right and wrong is;
A Right Action is any action that does not harm another being or their property. A Wrong Action is any action which causes harm to another or their property.
Rather than expanding this outwards into the uncountable individual possible human acts, it helps to understand this by keeping it simple. In fact, keeping it simple is all that is necessary. Mark Passio blew my mind when he was able to sum up ALL Moral Law (Natural Law) with one simple rule to abide by: DON'T STEAL. Let's take a look at all of the acts that could possibly cause harm to another being.
Theft (Taking an other's property without permission that does not belong to you.)
Lying (This does not present someone with the truth and takes from them the ability to make an informed decision.)
Assault (Causing harm to an other's physical, mental or emotional body, taking from them the Right to be safe and secure.)
Coercion (Forcing someone to make a decision, one way or another, with threats of repercussions, taking from someone the Right of free-will choice.)
Rape (Forcibly taking someones right to choose with whom they have intimate relations with.)
Murder (Taking someones life without the Right to do so.)
As you see in parentheses beside each Right violation, every single one of these is a form of theft. We only need one law: DON'T STEAL.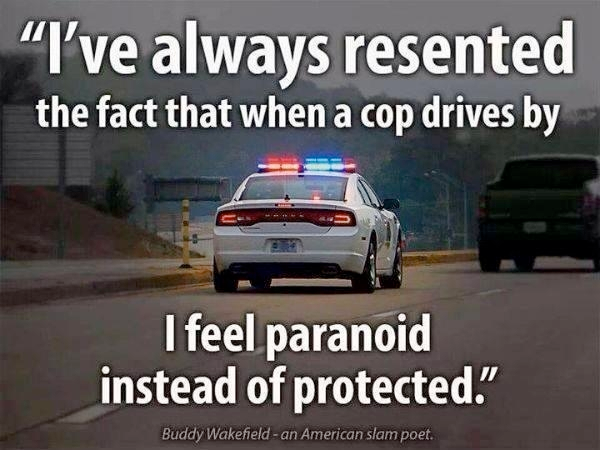 Image Source
Violence Is Still Violence Under Any Other Name
It is impossible to come to an understanding of morality and advocate the governments, police, military and corporations of the day. In understanding the difference between Right and Wrong, it is inevitable to conclude that if an action is Wrong for one person to commit, it is also Wrong for any group of people - regardless of name. Violence insinuates a violation of rights. As such, any violation of Rights is violence. Now that we understand the difference between right and wrong we need to understand that 'the powers that think they be' do not possess any rights that you or I do not possess, regardless of supposed intent. It doesn't matter if someone says the money will be used for good. This does not give someone the right to steal the fruits of your labor.
Ask yourself;
Should I take a portion of my friends and neighbors earnings without permission?
Should I imprison people I suspect of certain acts without proof?
Should I present people with proposals and threaten them with violence if they do not comply?
Should I enter an other's home without permission?
Should I listen into my neighbors conversations and monitor their data without permission?
Should I physically detain and assault people?
Should I walk around with a gun on my hip and place my hand on it to illicit compliance in interactions with others?
Should I deny others the necessities of life if they do not have a specific means of attaining it that only I can authorize?
The answer to all of these is NO. In every one of these situations you are violating the Rights of another individual. Further more, if you do not possess the Right to commit these acts, how could you delegate the Right to commit these acts to government or any other organization? A Right is always a Right, a Wrong is always a Rights violation. It doesn't matter who you are, if you're a part of some organization or if you were ordered to do it.
Practice What You Preach
The most important step to understanding this information is applying it in your life. If we could collectively get our acts together, start behaving in a manner that is aligned with True Morality and Natural Law, we may have a chance at experiencing Freedom at some point in the human story. If we all acted Right and spoke/acted out against that which is not a Right, the world would not be in the state that it is in today.
I myself have had to quit my profession twice due to coming to terms with the fact that the way I was earning a living was immoral. I also openly admit this to people I know and speak about it in a manner that exposes it. The governments of the world are criminal organizations. If you work for them you are guilty by association and you are a criminal. I know many in the government, military and police may have joined with good intentions, it is not my purpose to speak down of you. It is my intent to shed light on Truth in order to promote freedom and justice throughout society.
I am calling all who can recognize the simplicity of Natural Law Principles in relation to True Objective Morality to begin aggressively implementing them in your life. If you work in an immoral occupation - quit! There are many ways to survive and it's never too late to change your life and live according to a true set of Moral Ethics which are uncompromising, even in the face of death. Speak out against violent behavior, regardless of who's responsible and stop suppoting these agencies and organizations financially and otherwise.
Morality is not subject to the whims and statutes of man, man is subject to the Laws of Nature. The sooner we can align with these forces, the sooner we can experience true Freedom & Abundance.
Thanks for reading, I hope all were able to take away some information that will help improve your life and the community around you. For many more Freedom, Health and Cannabis related posts check out my blog @jayanarchon.
Peace Everyone