For many years, the Porcupine Freedom Festival was the must-go libertarian/voluntarist/anarchist yearly gathering. Many would travel from around the United States and globe to attend. Maybe they enjoyed the various speakers and panels, relaxed camping atmosphere and beauty of the location at Roger's Campground, or the various activities like Buzz' Big Gay Dance Party. Or maybe it was just the fun of being with other liberty-minded people for a week in the woods during the Summer of northern New Hampshire. Whatever it was that attracted people, Porcfest was the key such gathering for many years.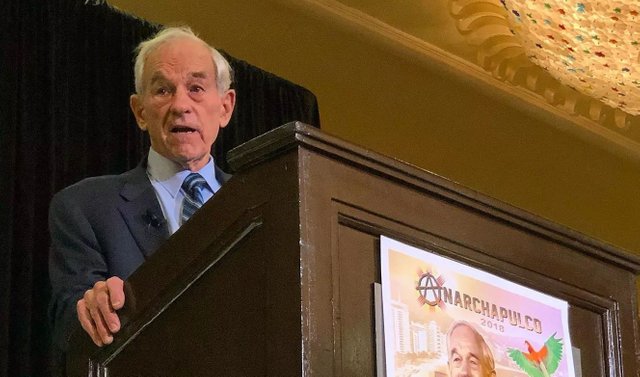 (Ron Paul Speaks at Anarchapulco 2018 to a Full House - Photo by Luke Rudkowski)
Unfortunately, due to certain prudish elements Porcfest made a critical error and jumped the shark in 2016. After many longtime attendees dropped out in protest, the event has re-branded itself as a family gathering. Not that there's anything wrong with that, but it has limited the event's turnout for the last couple of years. According to attendees of the last two years, Porcfest is just not what it used to be.
According to our discussions with organizers over the many years my radio show, Free Talk Live, broadcast from Porcfest, the top turnout they had was about 1,700 - that number reached after about a decade of events.
Now in just its fourth year, Anarchapulco has already hit 1,700 ticketed attendees! For those unfamiliar, Anarchapulco is a hotel convention in Acapulco, Mexico that is attracting a very diverse, international audience. Attendance more than tripled between 2017 and 2018's events. This year, for the first time, it was SOLD OUT!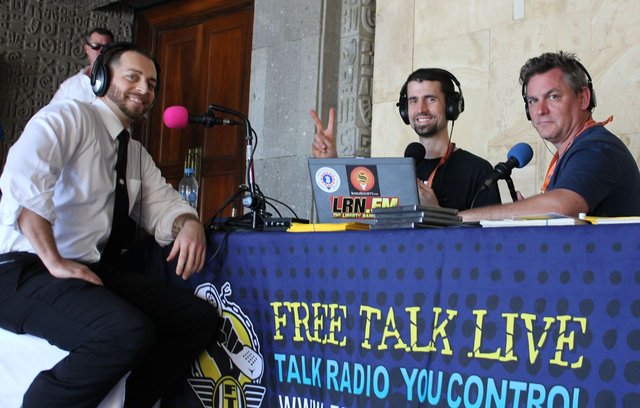 (Adam Kokesh joins from the Free Talk Live broadcast table at Anarchapulco 2018.)
The speakers couldn't get any bigger. Ron Paul spoke to a standing-room-only crowd, former US congresswoman Cynthia McKinney came out on-stage as an anarchist with Libertarian Party 2020 presidential candidate Adam Kokesh, and dozens more spoke on everything from cryptocurrency to economics to esoteric conspiracy kookery. The attendees were in good spirits and ranged from crypto-suits to crypto-hippies! Seriously, everyone was into cryptocurrency. At least that's how it seemed from the conversations in the hallways.
Most of the event's sponsors were cryptocurrency-related including prime event sponsor Bitcoin.com, DASH, PIVX, and others. In fact, as they did the previous year, the final day of Anarchapulco was completely dedicated to crypto-related speakers. They called that Cryptopulco.
Like last year, music was an important part of the convention with nighttime performances from Wu-Tang, Jordan Page, Backwordz, and others. Art was also once again present with artists creating beautiful works right in the main hall at the front of the stage. The location was spectacular. It was held this year at the Princess resort right on the beach in Acapulco.
No attendee I spoke with had anything bad to say about the event - it was all rave reviews. Everyone I spoke with is planning to return with friends in 2019 and tickets are already available at Anarchapulco.com for 2019. They're moving to the venue's largest event room and can next year hold approximately 4,000 attendees. Expect 2019 to sell-out as well, so get your tickets soon. We hope to see you there.
If you want a taste of what it was like to be there, we did several days of broadcasting Free Talk Live from the event and featured a bunch of the speakers and sponsors of the event on-air. Here they are in chronological order:
Thursday, February 15th, 2018:
Friday, February 16th, 2018:
Saturday, February 17th, 2018:
Sunday, February 18th, 2018:
Tuesday, February 20th, 2018 (bonus interviews episode):