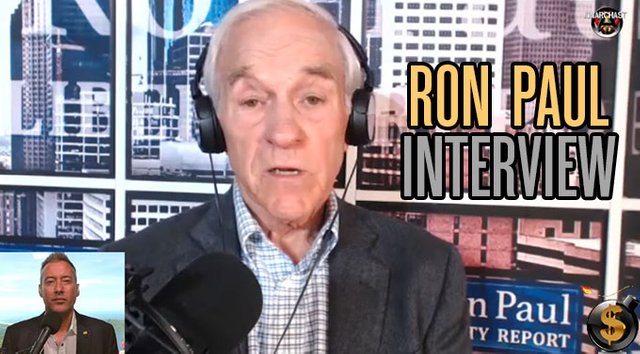 I recently had the pleasure of interviewing Doctor Ron Paul on my Anarchast channel which I had wanted to do for a long time!
I asked Dr. Paul several questions including, perhaps most importantly, his thoughts on the future of the Federal Reserve, financial markets, and bitcoin.
Dr. Paul emphasizes the importance of keeping bitcoin legal and allowing the people of every nation to choose and to maintain complete control over whichever medium of exchange they see fit.
This interview was so great that explaining the specifics here just wouldn't do it justice, so I urge you to watch it in full here:
And, I have to tell you that before, during and after the interview, Ron Paul was one of the most humble, intelligent and easy going people I have ever met. It truly was a special honor to have met him.
Also as a friendly reminder, you have just 10 days left to get an early bird discount for this years Anarchapulco conference, which if you didn't know, is the largest voluntaryist/anarcho-capitalist conference in the world held every February for four years running in sunny Acapulco, Mexico.
If you're just starting to learn about things like bitcoin and cryptocurrency you will be happy to know that we have an entire day devoted exclusively to cryptocurrencies called "Cryptopulco" and it is included in the cost of your ticket!
And the day after Cryptopulco, on February 19th, is the full day Dollar Vigilante Internationalization & Investment Summit where we'll have the great Ed Bugos speaking on the state of the economy, markets and gold stocks as well as numerous other amazing speakers in the precious metals, cryptocurrency and internationalization space.
You can get your tickets at Anarchapulco.com
P.S. Today is Dr. Paul's birthday and we'd like to wish him a happy 82nd! Keep spreading the message of liberty!