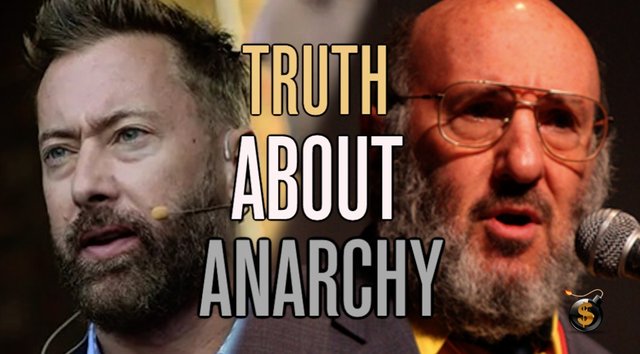 Anarchy is rising.
That might sound like an ominous slogan for the next "Purge" movie, but it's really just an accurate assessment of the world today.
And no, this "anarchy" won't come with bombs and fire and bloodshed---that's the state's job.
No, anarchy is rising in the sense that people everywhere are waking up to the simplest, purest truth: self-ownership.
Back in July, I spoke on a panel at Anarchaportgual with economist and anarcho-capitalist Walter Block, exploring the truth about anarchy and what it actually looks like. Also part of the discussion was Susanne Tarkowski Tempelhof and Raphael Lima.
"Critics of anarchism are always using Somalia as an example of anarchy," said Walter, "It's not… if it's anarchy it's not libertarian anarchy."
Block shared noteworthy insight:
"You know where else there's anarchy? There's anarchy between countries! Portugal and the United States are in a state of anarchy in regards to each other in the sense that there's no world government…
Right now we have 200 countries or something like that, and each of those countries is in a state of anarchy with each other because there's no world government over them."
It's easy to get caught up in the labels people use to describe things. "Anarchy" is just a word describing complex phenomena in reality.
And while statists will try to boogeyman you into fearing unchecked human freedom, who's in charge of governing government? Is their freedom to rule any less "dangerous" than our freedom to rule ourselves?
Learn the Truth About Anarchy:
During the panel, we discussed everything from the origin of statism, where anarchy exists today, Somalia, pollution, privatization, and more.
Anarchaportugal was a success for its first year---it's refreshing to be reminded that freedom is popular across real and imaginary borders.
The World's Premier Liberty Event---Anarchapulco---is already spontaneously organizing to bring you the ultimate experience in free thought, free expression, and true freedom.
It's happening February 14-17, 2019, and tickets are selling fast. We expect to be sold out soon, so be sure to SECURE YOUR SPOT now before it's too late!
Life Unchained is not to be feared, but embraced.