Kabel dotarł do bardzo mocnego węzła popytowego, w którym ulokowane są dwie formacje harmoniczne. Pierwsza z nich to Ft - Pattern czyli jeden z współczesnych układów łączących współczynniki 61,8% i 88,6%.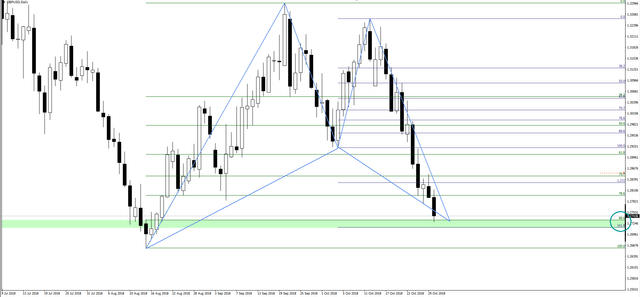 Interwał D1
Druga formacja to klasyczny Crab. (Układ ten znajduje się o odcinku CD sekwencji FT-P).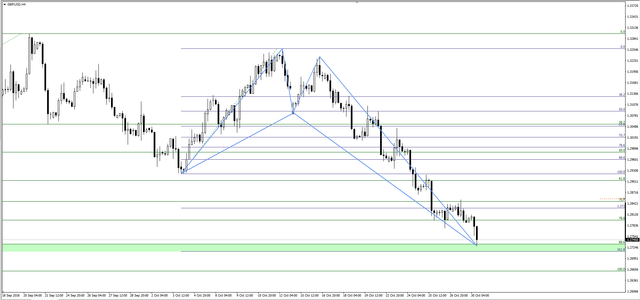 Interwał H4
Informujemy, że treści zaprezentowane w niniejszym serwisie oraz podczas nagrań video nie stanowią rekomendacji ani porady inwestycyjnej w rozumieniu Rozporządzenia Ministra Finansów z dnia 19 października 2005 r, (Dz. U. z 2005 r., Nr 206, poz. 1715) w sprawie informacji stanowiących rekomendacje dotyczące instrumentów finansowych ich emitentów lub wystawców. Treści te mają charakter informacyjny i przygotowane zostały z należytą starannością oraz w oparciu o najlepszą wiedzę ich autorów. Autorzy oraz właściciele niniejszego serwisu nie ponoszą odpowiedzialności za decyzje inwestycyjne podjęte na podstawie informacji zawartych w niniejszym serwisie, a w szczególności za wynikłe z nich straty. Wydarzenie jest przeznaczone dla osób powyżej 18 roku życia zainteresowanych inwestowaniem w produkty finansowe wysokiego ryzyka. Pamiętaj, że te produkty mogą nie być odpowiednie dla wszystkich inwestorów.