Introducing AMPSTEEM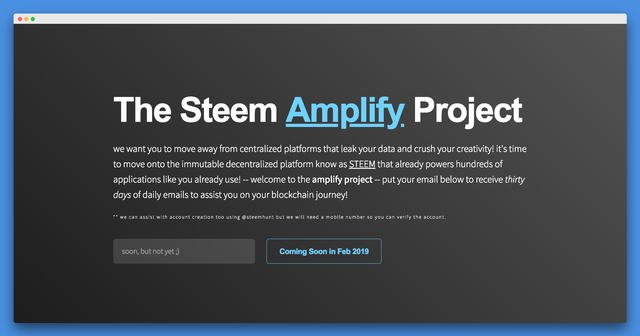 Project One of Three to push out this week but this one has been a long time coming. We've wanted to have a landing page for all of the courses and output we are doing on the Steem Blockchain but in the end it morphed into something much bigger as we went through the various panics and issues that were happening on the Steem Blockchain — I wanted to keep perspective in those times and do my 'part' where able.
In a nut shell these are the current features of the website/landing page and it will be used in our upcoming project @steemcasting to onboard content creators from other social platforms and to educate people about the steem dApps that exist already and how people can come and build businesses over here on top of the blockchain.
---
we are building a 30 day drip feed email plan for newbies wanting to learn about the Steem Blockchain including the potential for fortnightly webinars for those wanting to get an account on the Steem Blockchain.
our second project ihaz.carrd.co will launch this week too, our first steem enabled business for carrd.co users who can purchase any one of our first 18 designed templates for carrd, it's our first Steem Blockchain micro business and we accept fiat, steem and soups/ramen from an amazon Wishlist in return with a designed landing page to speed up web idea deployment, we also will use our own designs in our live shows to make steemians landing pages and 'presence' on the web — we hope to work with @sambillingham (@finallynetwork) on embeds or layout designs in the coming months.
placeholder project for @steemcasting our 24/7 project that's currently on @fundition for amplifying the Steem Blockchain via social networks around the clock, the first experiments in four hour blocks starts soon on this.
easy access to both the content creators guide and steem digital independence, both courses on skillshare and udemy about STEEM
a wistia powered embed of the digital independence course, planned for multi language translation and SEO search through the text when we can afford the $1 a minute conversion fees for at least English to start.
links to our gumroad/printful teeshirt store (beeb.ee setup, any additional income from profit from t-shirts will go into buying more steem power or go towards projects like @steemcasting
---
Most of all this 'landing' page is so that we can communicate better for people outside of the Steem Blockchain eco system about the platform and why people should get involved — we would like to expand on the amps teem page as we make more steem related courses and will use this in conjunction with the @steemcasting 24/7 end game — to make more people around the world notice the Steem Blockchain around the clock.
Our goals are simple.
amplify
To strengthen the outreach of the Steem Blockchain by amplifying the content and conversations that might sometimes get lost in the silos of discord or other places that people outside might need to see to make an informed decision about joining the many communities.
audience
We knew we are leaving 'audiences on the table' out there, the new global metric is 'audience eyeballs and engagement' — the new metric is the live streaming portal into a person/brands live, we want to give the Steem blockchain the same potential for building a retained active internal and external audience.
retention
How do we keep people around? What creates good momentum, hype and engagement? It's and exploration phase for us to try and fine tune those elements as we make our live stream outreach with @steemcasting more interactive, interesting and current with the latest 'on trends'
video seo
We already have a wealth of seo traffic hitting one of the main frontends to the Steem Blockchain with steemit and it's condenser — but we have more ways to interact with the Steem Blockchain, we want to get videos out there that can be found on other platforms too to raise the profile of the platform.
---
We hope you will support our projects and you like the site. We are looking for for collobrations to help us form the first thirty days of emails that will go out in the 'drip' feed day by day, if you are interested in this and working together then drop into our discord, sulphite misfits for a chat!