On this pleasant Sunday, something moving around the trees caught my eye as I was sitting by the kitchen window. I was treated to an amazing sight of nature being hit by the love bug.
Three ruffed grouse were moving rapidly through the bushes along the highway towards the upper driveway. Then behind them I saw another birdlike figure following behind them. At first I wasn't sure what it was.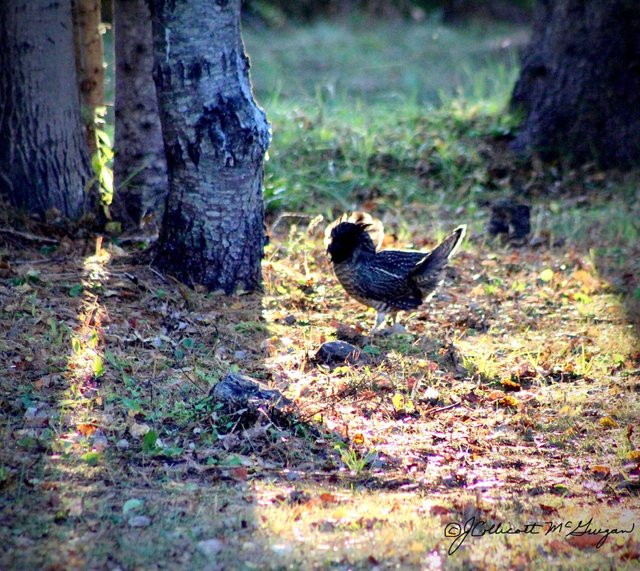 It was a male grouse with the feathers around his neck ruffed up and his tail starting to fan out.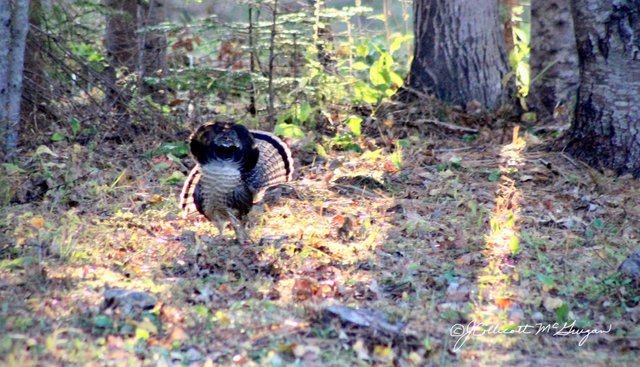 The male grouse must have heard me come outside as he turned to look at me.
Within a few minutes they were all by the driveway, near the road. I hoped they wouldn't go on the road. Not only they might be killed but I didn't want hunters to know there were grouse on the property.
The females do not seem to be impressed with this beautiful male displaying his plumage.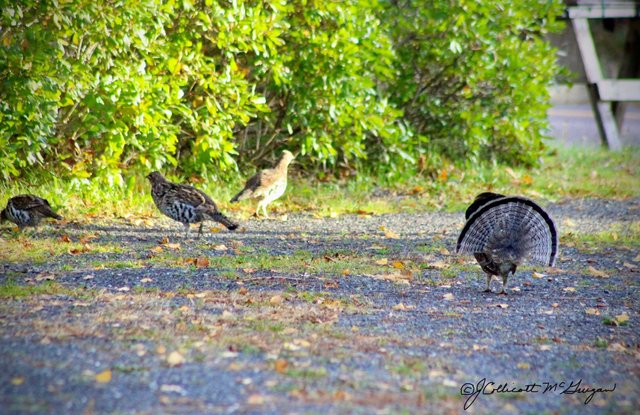 The females are ignoring him.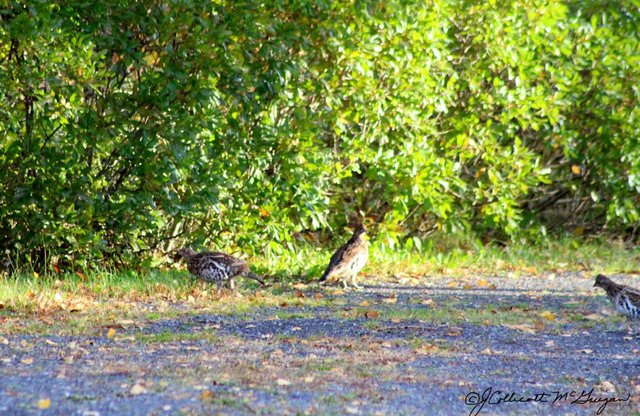 I am surprised to see the male looking for romance this time of year as it is in the spring they do their courting and do a dance where you can hear the drumming.
Here the male turns again to look at me. Even though he has other things on his mind he heard the click of the camera or maybe he is just showing off. He probably is a young male testing his appeal to the females.
In the spring when the mating season is in full swing, the males have been known to chase humans away.
This male in his full regalia is an amazing sight. I always feel honoured to see nature at work.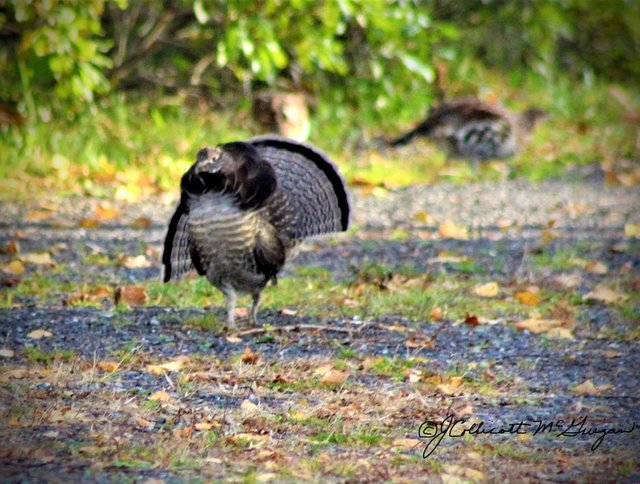 Here on Prince Edward Island the ruffed grouse are sometimes referred to as native partridge. They like forest lands, especially with new growth where they also have shelter, and where they have access to apple trees.
The grouse are rather small birds but bigger than pigeons. These endearing birds are related to the chicken family. I love seeing them come out of the forest and peck at the apples in the trees. They will fly up into the trees for the apples and eat buds and insects.


---
This is my entry to #amazingnature contest hosted by @adalger and to #sublimesunday initiated by @c0ff33a.
Location: Prince Edward Island, Canada
Camera: Canon EOS Rebel T6
---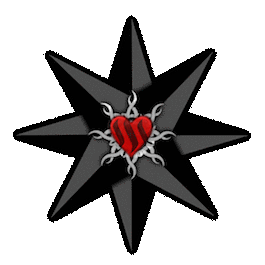 #thealliance