Eclipse lunar 2018
There have been some spectacular lunar and solar eclipses in recent years, but tonight's will be the longest in history :)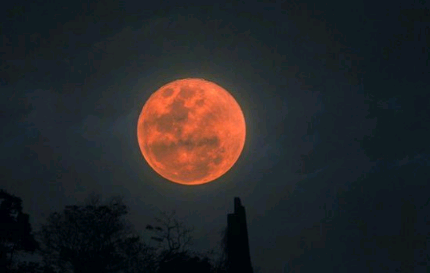 fuerte
This night July 27, 2018, will take place one of the most important astronomical events of recent times. The earth will return between the sun and the moon, after two years without doing so, causing the lunar eclipse longer than we have been in the 21st century
Our satellite will start to dye a deep red from 21:30, Spanish time and will last about 1 hour and 43 minutes, so it will reach its full around 22:22.
Taking into account the twilight time, the lunar eclipse will last 3 hours and 55 minutes, that is, from the moment in which the moon passes through the clearest area of ​​the Earth's shadow.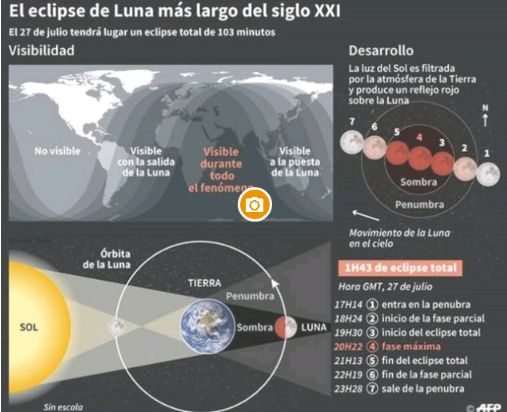 What we will see
During the phase, the moon will reflect a reddish hue, which popularly gives it the name of Moon of Blood. The phenomenon, apart from offering a unique event for its spectacular color, also helps astronomers to know the state of the Earth's atmosphere.
To be able to enjoy the eclipse, it is not necessary neither a telescope, nor binoculars, nor any other optical instrument, although it always helps to appreciate the moon more closely. You just need a certain height, good visibility and that there is no element that hides the vision of the phenomenon. We must be attentive to the east to be able to see the full moon, as soon as it appears on the horizon.
In addition, on this occasion, the phenomenon almost coincides in date with the day in which the red planet (Mars) will shine with more intensity. Tomorrow, July 28, the planet can be seen as it had not been for years. Another event that lovers of astronomy should not miss.
Where it will look and at what time
A unique show that, if time permits, can be enjoyed in a special way, especially in Africa, the Middle East and some Central Asian countries and Spain as a whole. In South America you will enjoy your final and in Australia you will only see the beginning of the eclipse.
Timetables in America
Mexico, Peru and Colombia (15.22 hours)
Chile, Bolivia and the United States (16.22 hours)
Argentina, Uruguay and Brazil (17.22 hours)
South Africa (9:30 p.m.)