Weekly Summary of PCHAIN AMA on 06/11/2018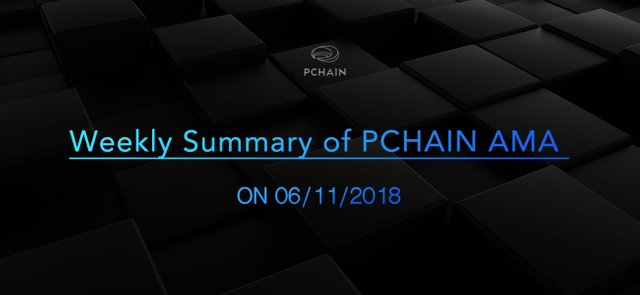 We have finished the weekly AMA with Dr. Feng Cao on the telegram on Nov 6. Thank you for your participation and support. The following is the summary of the AMA.
Part 1: PCHAIN Technology Questions
Q1: What are the expectations for the testnet 2.0?
A1: We will have 3 new important features.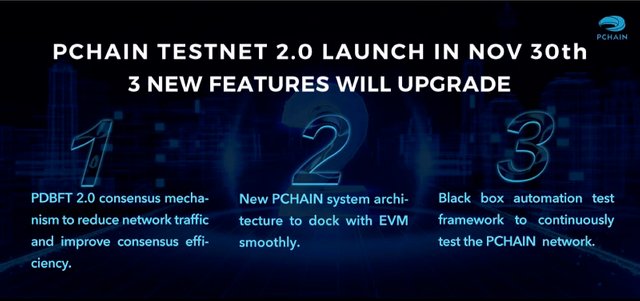 Q2: The surprise you mention in one of your tweets when we know, what are the other functions of PCHAIN?
A2: Aadvanced cross chain tech/functions which is very unique in this space as it utilized some feature of PCHAIN.
Q3: In testnet 2.0, there is automation test black box framework to continuously test the PCHAIN network. Can you explain more about this feature? Community developers can use this feature too?
A3: We used this framework to test our new releases or when new features check-in as we adopt evolving development model. This framework will be also very important for our community developers.
Q4: In PDBFT 2.0 consensus mechanism to reduce traffic and improve consensus efficiency, any estimated percentage of improvement will be?
A4: 50% +.
Q5: When should we expect the last of the patents to be approved?
A5: We will continous to submit more and more patents,so there will not be the last patent :)I guess you mean the next batch of patents. It will take some time as the process. But we have fully confidence on our innovation.
Part 2: PCHAIN Marketing Questions
Q1: In the congresses that you are participating presenting PCHAIN, we only see reports in Chinese, when we will be in the usual and renowned media of the crypto world?
A1: Of course,we will have more material in English over youtube,twitter ..
Q2: There is already interest on the part of some governments to use PCHAIN in the future, I ask because I always see tweets that you are meeting with governments?
A2: Yes, we are exploring business application as well as with government.
Q3: Which employees have been hired in recent weeks and months? Is PCHAIN actively seeking new employees?
A3: Our core dev team is relatively stable. we are actively to explore new features :)
Q4: When should we expect the cryptobriefing review?
A4: I don't know. It's based on their schedule. As you known,they are independent 3rd party, we can hardly influence them.
Q5: Is there somewhere a token unlock schedule?
A5: We didn't announce that. In fact,we haven't release our team token as we decided to postpone.
Q6: Until when please, It's just 1/3 circulating, 15 percent for network, 25 percent for team.
A6: We will make announcement. For team,even we start our release plan,it will not release in batch. Instead,it will be linearly released in 24 months.
— — — — — — — — — THE END — — — — — — — — —
Thank you for reading!
PCHAIN will hold AMA with Dr. Feng Cao on telegram every Tuesday from 10 pm to 11 pm (Singapore time). See you next week!
Welcome to learn PCHAIN at:
Telegram 1: https://t.me/PCHAIN_org
Telegram 2: https://t.me/PCHAIN_org2
Telegram(Chinese Community): https://t.me/PCHAIN_CN
Telegram(Russian Community): https://t.me/PCHAINRussia
Telegram(Spanish Community): https://t.me/PCHAIN_org_spain
Telegram(Germany Community): https://t.me/PCHAIN_org_germany
Telegram Announcement Channel: https://t.me/PCHAIN_org_ann
Medium: https://medium.com/@PCHAIN
Steemit: https://steemit.com/@PCHAIN
Reddit: https://www.reddit.com/r/PCHAIN_Org_Official/
Twitter: https://twitter.com/PCHAIN_org
Founder/CEO's Twitter: https://twitter.com/jeff_fengcao