Alluma Referral Program
Welcome to the Alluma referral program, here's your chance to earn free LUMA tokens and impress your friends in the process. This guide will show you how to share your unique referral link and provide all the details of the program.
Inviting your friends or family to join Alluma is easy, here's how it works:
Grab your unique referral link
Invite your friends or family
You both earn $10 (200 LUMA tokens) when they trade over $25. (You can also earn up to 0.50ETH in bonus rewards!)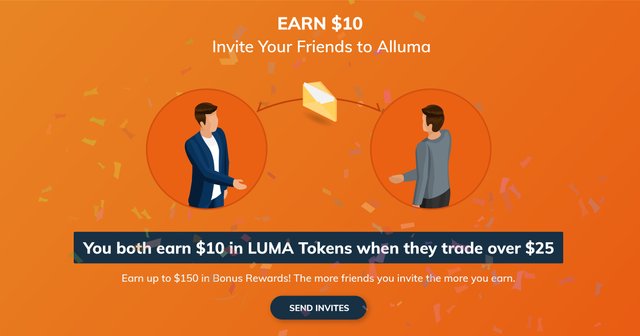 Ready to start referring and earning? Here's a step-by-step breakdown of just how to earn those tokens, all you need to do is follow these steps:
Step 1 : Please Sign in to your Alluma account.
Important: When you are taken to the dashboard page (as below), please ensure the URL is trade.alluma.io.
Step 2 : Once you're logged in navigate > Invite Friends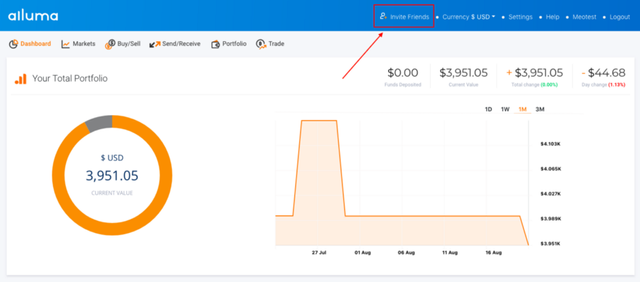 Step 3 : You can find your unique referral link on this page, simply copy the link to your clipboard.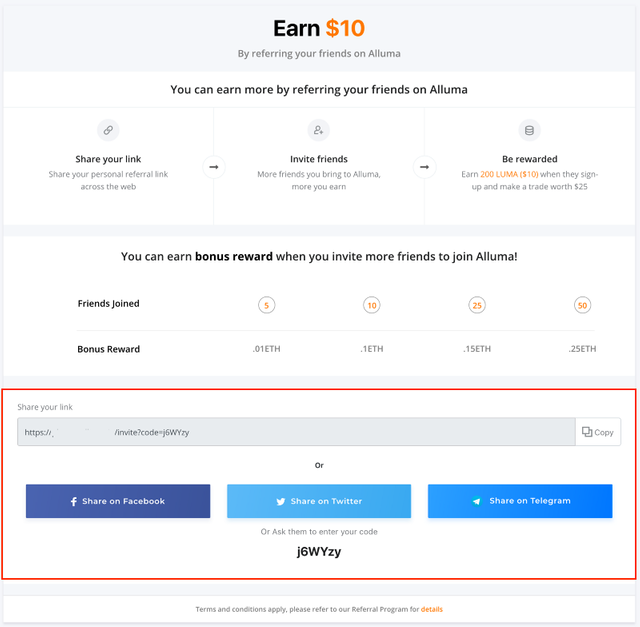 Step 4 : Invite your friends!
We've made it easy to share your invite link on Facebook, Twitter, and Telegram. Click on whichever social network you would like to post to and it will automatically draft a post with your unique link.
After your friends sign up, complete ID verification and trade over $25 you will earn $10 (200 LUMA) and your friend will earn $10 (200 LUMA). It's that simple!
Oh, did we mention Bonus Rewards!
The more friends you invite, the more you earn — up to 0.50 ETH!

F.A.Q.
How do I track my referrals?
You'll be notified by email when your friends qualify for the referral reward. In the (very) near future, we will be introducing a tracking dashboard for you to track the status of each person you refer (so you can send them a reminder to start trading 😉)
When will I receive LUMA tokens?
The LUMA tokens you earn via referrals will be distributed within 2 weeks after the end of our public sale.
When will I receive ETH bonus rewards?
Bonus rewards are in ETH are credited on the last day of each month and sent directly to your ETH wallet on Alluma.
What else should I know?
It's important to note the following details of the promotion:
Your referral must sign up within 30 days of being referred.
You must make at least 1 trade in the past 30 days.
Your referral must complete ID verification and trade over $25 USD in value to qualify for the referral reward.
Bonus Rewards limited to first 1000 referrals.
Alluma reserves the right to change/end the referral promotion without prior notice.
We check for duplicate or fake accounts and will not award referral bonuses if we suspect foul-play.