Alluma.io Product — 17th August development update
Since our public beta launch(!) I've begun posting product updates to the community. These weekly posts will showcase what our development and product team is working on behind the scenes.
Alluma on Android
We're very close to the finish line and just putting the final touches on our android app. For a glimpse into what our mobile team has been working on, I wanted to share one of the early demo videos of our simple buy/sell feature.
We've made a lot of improvements since this demo, but let me know what do you think.
Our android app will be released very soon and we'll be posting more details on this release and our iOS build in the comings weeks.
Please note: INR is not currently supported :(
Referral Program: Supercharged ⚡️
In my last update, we introduced our simple referral program. Since adding the feature we've seen many of you invite your friends to join Alluma so we decided to pump it up! Thanks to the tech team for implementing this awesome update in less than 24hrs.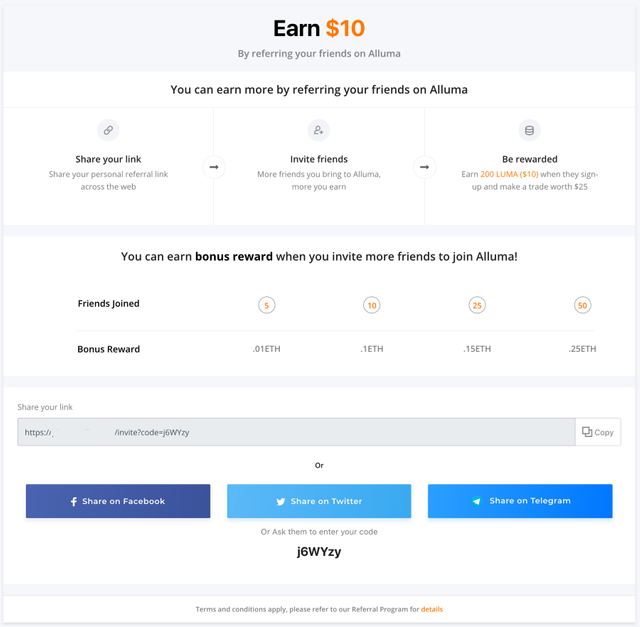 Alluma referral dashboard
What we've added:
Milestone referral bonus. Now, the more friends you invite the more you earn! (over 0.5 ETH in bonus rewards.)
Quick share links. We've make it super easy to share your unique referral code on Facebook, Twitter, and Telegram.
Referral code field on sign up. Now your friends can sign up using your your referral code directly on our sign up page.
In the next iteration, we'll be adding a dynamic referral tracking dashboard so you'll be able to see the status of all the friends you've invited to Alluma in real-time.
Trade Screen Update
I'm very excited to share our progress on our trading screen redesign. This past week we were working hard on adding advanced trading options and beautiful charting tool. Take a look and let me know what you think!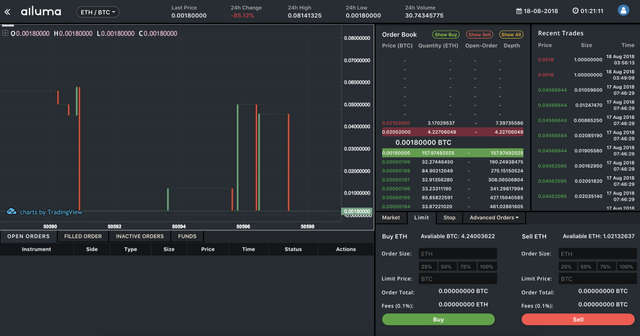 Finally, I want to add that your feedback is very important for us. We're reading all of it and it truly helps our team identify new ways to improve our platform and processes. Stay tuned for more updates!
Be sure to join our Telegram Announcements Channel & Chat Community to be part of the conversation and stay up to date on important announcements.
Alluma on the web:
Website: https://alluma.io/
Blog: https://blog.alluma.io/
Support: https://support.alluma.io/
Twitter: https://twitter.com/allumaexchange
Medium: https://medium.com/alluma
Facebook: https://www.facebook.com/alluma
Reddit: https://www.reddit.com/r/alluma/