What if we did find another planet with life they might not look so different, depending on what the conditions were and age of the planet, if it was a little heaver they might of evolved to be stronger and have larger bones to survive a greater fall, if it were darker they might have bigger eyes and if it was a younger planet they mighn't of evolved into human like things yet, not that they necessarily would be anyway, but wouldn't it be so cool if they were.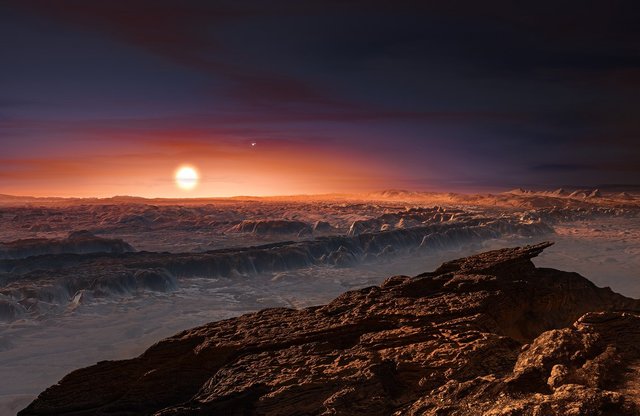 Artists render of the surface of proxima centauri b
Wouldn't it be cool if on some other planet that had a similar climate to earth and if animals had evolved similarly, what if there was still dinosaurs because no asteroid had wiped them out that would be pretty cool if there was a human like alien thing it might of evolved differently because of the dinosaurs. What if it was a few thousand years older or it had evolved faster and we could see what we would be like in a few thousand years, of course it would've been a far few years before we could get there anyway:)
Also wouldn't it be really cool if on some other planet which had very similar conditions if there was a mirror planet which was exactly like us down to have english, if there were that would simplify talking to them... That's assuming that they even breathed the same gas, let alone evolving the same. but the universe is big enough that they could have:)
What about life on other planets in our solar system, there probably isn't any life that's big enough to see but there might be micro bacteria on mars or frozen under europa (one of Jupiter 's moons), but we might find out about that sooner than about other planets though scientists are planing to launch something to proxima centauri within the next 50 years https://en.wikipedia.org/wiki/Breakthrough_Starshot
Anyway hope you enjoyed :) and thanks for reading!
RIP
2018