The Three Principles - Sulphur, Mercury, and Salt - Alchemy & Hermetics
The Three Principles
In Alchemy & Hermeticism, there are three primary forces, energies, or "principles" to all things in the universe. There are lots and lots of reference terms for these three principles - and a few in the alchemist's language - sun, moon, and mercury - sulphur, mercury, and salt. Some have called these aspects of the Human Being - Body, Spirit, and Soul.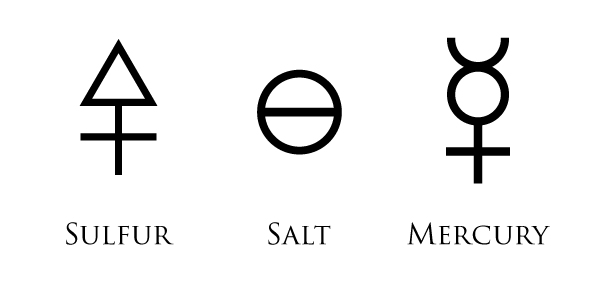 What do these symbols of something the ancients considered divine mean? Well, its both complex and simple - there are opposites and neutrals in atomic physics, i.e., electron, proton, and neutron, and this is similar to that. One is a negative aspect, one is a positive aspect, and one is neutral.
Sulphur - Sulphur is the "Active" principle of things. It is considered a "masculine" force. It is related to the Sun in alchemical artwork, as well as fire. It would be considered a positive energy, a proton in physics, and may also be associated with light when compared to dark, realized rather than potential energy, and the like.
Mercury - Mercury is known as the "Neutral" principle of things. Mercury is the Roman name for the god, Hermes. Hermes helped influence the creation of the term, Hermaphrodite, because Hermes was though to be both male, and female. Mercury is likened to the twilight between day and night, the Neutron in physics, and the Gray between White & Black.
Salt - Salt is much more commonly interacted with by modern man than the other two alchemical "principles" of this set of knowledge. Salt is likened to the Moon, the feminine aspect, the darkness rather than light, black rather than white, as well as the element water.