You will be hard pressed to find a local that would speak ill of this establishment, as it is a true Albuquerque tradition. The Frontier is located directly across the University of New Mexico, but it is frequented by more than just college students. People from all walks of life, from all over the state, from every corner of the city, come to enjoy the food and atmosphere distinct to the Frontier.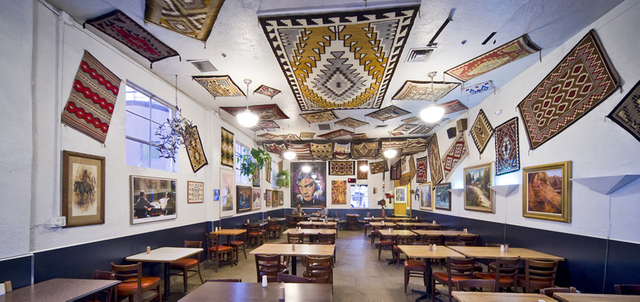 The Frontier
To an outsider, it may seem like an unimpressive eatery, which is understandable. The unpretentious setting of the Frontier may not be impressive on first glance, but one taste of their food, and you can understand why this establishment is at the forefront of Albuquerque culture. Open since 1971, the Frontier is famous in town for it's crispy french fries, the fantastic fresh squeezed orange juice, and soft, fresh made tortillas. Their menu has American staples like hamburgers and pancakes (breakfast is served all day), as well as New Mexican cuisine favorites like breakfast burritos and green chile smothered enchiladas.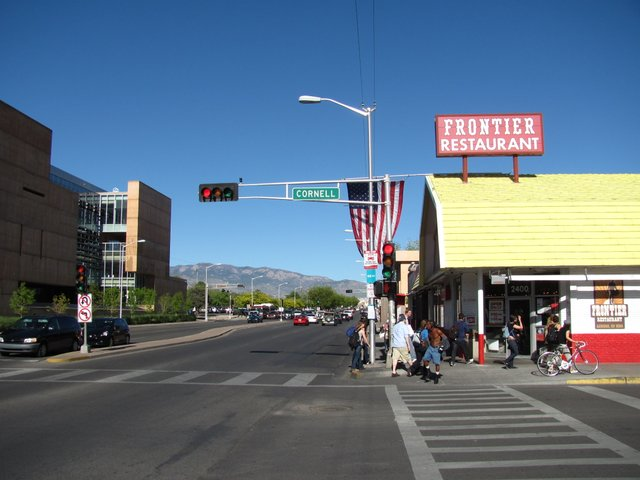 wikimedia commons
When I was growing up, the Frontier was legendary for being open 24 hours a day, 7 days a week. However, since 2006, it is now open from 5 a.m to 1 a.m, which still offers plenty of late/early opportunities to indulge in a sticky sweet roll.
Casual, cheap, and a treasured, local tradition, you can't skip a visit to the Frontier if you should find yourself in Albuquerque.