🎊Divide 1BTC & Get 5000USDT+5000BMB🎊
Link Bit-M
reviews in the first half of 2019, Bit-M's projects, blockchain exhibition activities, and ecosystem all have obtained great achievements. In order to thank the support of Bit-M users all along, Bit-M will hold a big activity with great heat in August. Not only the activity benefit is super appealing to our users, the scope of rewards expands to the Top100 as well!
Time: Aug.1st - Aug.10th, for 10 days!
instruction:
finish Level 1 verification
active 2fa
the final interpretation of this event is owned by Bit-M. If the activity is adjusted, the platform update shall prevail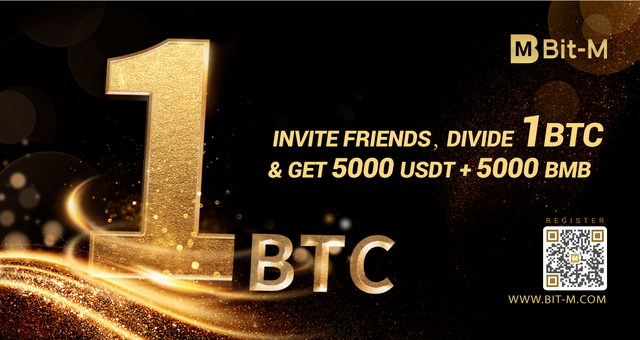 Top 10: 1BTC will be divided according to the proportion of the total recommended number of the top 10
Benefit TWO:
Top 100: Each user can get USDT+BMB rewards!
5000USDT+5000BMB
3000USDT+3000BMB
2000USDT+2000BMB
1000USDT+1000BMB
800USDT+800BMB
500USDT+500BMB
100USDT+100BMB
50USDT+50BMB
20USDT+20BMB