Bounty Program PRIVIX - $15,000 estimate to be distributed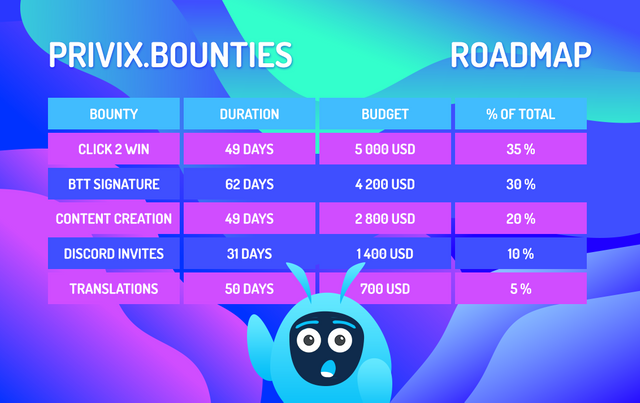 General bounty program rules :
-Duration: June 24 - October 1.
-This is a premium and high-quality project. We encourage genuine discussions, opinions & reviews. Any misrepresentations of the project or false claims are not permitted. Use our www.privix.io/litepaper.pdf and this content guide as a basis for your work & inspiration.
-We check and analyse all the provided information daily, rewards are counted weekly
-It is prohibited to present VPX as an investment or encourage people to buy the token for high return profits. Only promoting VPX as a product is allowed.
-To participate in the VPX bounty program, you need to complete the tasks and not undo it before the end of the bounty (for example, joining the telegram group and staying for the rest of the bounty)
-The bounties will be paid after a positive audit of your work and within 30 days after the end of the program.
-You can join the bounty campaign at any time.
-Prohibited: negative trust members, multi-accounts, spamming, bots, cheating, using someone else's work, multiple signatures for the same users or any other activities that we may find fraudulent. If any are found, participation will be banned and payment will be denied.
-We reserve our right to eliminate you if we think you haven't been honest with your work & also to change the bounty campaign rules
-After the ICO we will grant bonuses to those who provided high quality work, played by the rules, contributed systematically and respected involved communities
-Rewards will be paid after the verification of the competitors at the end of the campaign.

Budget: 600 VPX - 0.3 BTC - 2800 USD
Duration: 49 days (from 24 June to 12 August)
Link: http://bit.ly/2Ljhh6K
Resource information :
https://t.me/privixdiscussions