WORBLI ShareDrop and Launch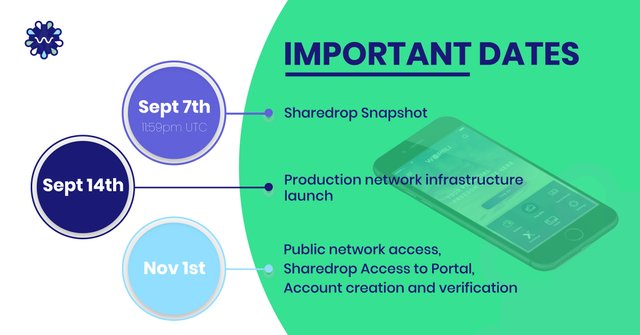 Things are starting to really heat up at WORBLI! It seems that every day we're making announcements regarding new partnerships, enhanced features, and new members joining the team. Here's another one to add to the list and one not to be missed -  WORBLI's ShareDrop and Network Launch.
Wait, what's a ShareDrop? I thought you were doing an Airdrop…
We came to understand that WORBLI wasn't technically doing an Airdrop. We were, in fact, doing a ShareDrop. Our ShareDrop is similar to a conventional airdrop, whereby token holders (in this case, all of you EOS holders!) will be dropped WORBLI tokens. The only difference is that WORBLI is an independent blockchain, so ShareDrop participants will need to claim their tokens through establishing a WORBLI user account, as opposed to the tokens appearing in existing EOS wallets.
The Sharedrop 'Snapshot' is taking place at 11:59 PM UTC, 7 September 2018.
Ok… so what is 11:59 PM UTC in my timezone?
-Los Angeles: 4:59 PM, 7th September 2018
- Kansas: 6:59 PM, 7th September 2018
- New York: 7:59 PM, 7th September 2018
- London: 12:59 AM, 8th September 2018
- Dubai, 3:59 AM, 8th September 2018
- Delhi 5:29 AM, 8th September 2018
- Beijing: 7:59 AM, 8th September 2018
- Tokyo/Seoul: 8:59 AM, 8th September 2018
- Melbourne/Sydney: 9:59 AM, 8th September 2018
- Auckland, 11:59 AM, 8th September 2018
What next?
Following the snapshot, our Production Network will be launched on 14 September 2018.
The WORBLI Portal, which users will use to create accounts and get access to their share-dropped tokens, will be deployed on 1 November 2018.
Even better news…
We have fast-tracked our AML/KYC integration, bringing users an integrated and ready to use portal 6–7 weeks early.
The following are important milestones that WORBLI are committing to:
Continue to operate testnet with current block producers and experimental code and applications. Developer access is available upon request.
Production Network Infrastructure will be launched on 14 September 2018. We will then take the network through rounds of in-depth security auditing, penetration, and integration testing to ensure the network is GDPR compliant and operating at an enterprise standard. During this period the WORBLI Network will be accessible to dApp developers and service providers (non-producing peers.) The WORBLI Block Explorer will also be available at this time amongst other features.
Public Network Access to the WORBLI mainnet will be enabled following a scheduled network restart on the 1 November 2018. The WORBLI network codebase will have finished testing and be made open to the public through API endpoints. User accounts can be created and it is at this point that ShareDrop participants and token purchasers will be able to begin claiming their tokens with their very own WORBLI account!
The WORBLI Network will be enterprise transaction ready when Public Network Access occurs. Users will complete KYC/AML account verification, wallet integrations will be available and developers and our partners will be enabled to deploy whilst interacting with a chain that has been rigorously tested to ensure its success.
Get ready to mark these dates in your calendars!
7 September at 11:59 PM UTC - EOS ShareDrop Snapshot
14 September - Production Network Infrastructure Launch
1 November - Public Network Access, ShareDrop, Portal Account Creation, and User Verification

WHAT YOU NEED TO DO RIGHT NOW… Nothing! Just keep across our community forums and hold tight until the network deploys in November!
We're looking forward to sharing these key events with you all.
Please keep up to date on worbli.io and participate in the discussion in our Telegram channels: WORBLI Community and WORBLI News
Thank you for your support,
Domenic Thomas
CEO WORBLI
❇️ Website: www.worbli.io
❇️ Twitter: www.twitter.com/WORBLI
❇️ Steemit: www.steemit.com/@worbli
❇️ Medium: www.medium.com/@worbli
❇️ Facebook: www.facebook.com/worbli
❇️ Reddit: www.reddit.com/r/worbli
❇️ Telegram News: @worblinews
❇️ Bitcointalk: https://bitcointalk.org/index.phpaction=profile;u=2020487
❇️ LinkedIn: www.linkedin.com/company/worbli
❇️ Instagram - www.instagram.com/worbli.io