Receive 50 free SPOT if you hold 500 or more EFX tokens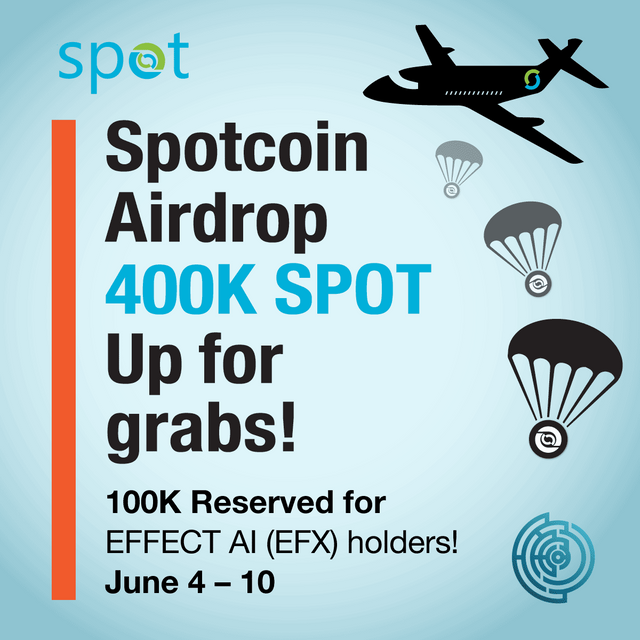 We'll admit we're very impressed with our NEP-5 cousin Effect AI. And it's not just because with all of their Artificial Intelligence, they are officially 'the smart ones' in our NEO family. No, it's because they're taking on major players like Amazon to open up the AI market for everyone. They are connecting supply and demand, regardless of size. Small companies and individuals from almost every country in the world can co-operate on AI jobs through the EFFECT M-Turk network, where before AI was almost exclusively available for the mega-corporations. Effect AI is making AI work for everyone, and of course, that's exactly what we at Spotcoin aim to do with digital currencies. We are starting by providing liquidity to our NEO family, and our airdrops are part of that. If you own 500 or more EFX tokens, you will receive 50 SPOT and the chance to win a Nano Ledger S.
How to participate in the SPOT -> EFX airdrop:
Join our Telegram group https://t.me/spotcointeam

Go to Spotcoin.com and register or login to your account.

Monday, June 4th, at 6pm (GMT+4), login and fill out the Spotcoin airdrop pop-up with your Telegram name and the NEO address where you hold your EFX tokens. Be quick, our last airdrop was over in 2 hours and the registration is first-come-first-serve.
Your SPOT will be delivered to the same NEO address once we've completed our post-ICO third-party audit.
While you are here, read about their master plan:
Stage 1: EFFECT M-Turk.
Here, the demand side, or Requestors, can post AI jobs that require human intelligence, that the Workers can respond to. Payments for jobs done use the EFX token, are settled directly and without a third party taking a cut. It's also open to bots, which will lead to…
Stage 2: EFFECT Smart Market
The Effect.AI Smart Market is a decentralized marketplace where AI algorithms can exchange their services. Following our data interchange format (and by specifying a usage fee for consumers) an application owner can register on the exchange by specifying a public endpoint for his or her application. This application can now be invoked through smart contracts on the blockchain. The caller of the contract will have to transfer the required funds to the owner of the contract to get an authorization token that allows him or her to interact with the application.
Stage 3: EFFECT Power
Phase 1 and 2 of The Effect Network decentralized the data gathering and usage of AI algorithms. Up to this point, the algorithms themselves still run on centralized servers. In the final 'Effect Power' phase of the network, the actual computation will be distributed so that the algorithms run globally without a single point of failure.
Liquidity and Stability through the Galaxy Pool
At the center of this sits the Galaxy Pool, where Workers can sell their EFX rewards for native tokens like NEO and GAS, and Requesters and network users can buy EFX to get jobs done.
Don't miss it!
Our previous Switcheo airdrop was over before you can say "decentralized artificial intelligence collaborative revolution," so make sure you are ready to go when registration opens on Monday.
---
Interested in more Spotcoin?
Join our Telegram community: Spotcoin Team, Spotcoin News, and Spotcoin Bounty.
Take a look at our complete ICO offering here.
Read our Whitepaper here, for more details.
Visit spotcoin.com, where we make digital currencies work for everyone.
Residents and citizens of the United States are prohibited from taking part in the SPOT Airdrop and the SPOT public sale. Residents and citizens of China and South Korea are prohibited from taking part in the SPOT public sales. However, certified accredited U.S. investors can take part in the SPOT private sale. Chinese and South Korean investors can participate in the private sale when paying with digital currencies, after signing the SAFT form and completing the KYC /AML process. Any investment in digital currencies comes at a risk. No one should invest money that he or she can't afford to lose.