Bryllite Airdrop Event! [13.11.2019-26.11.2019]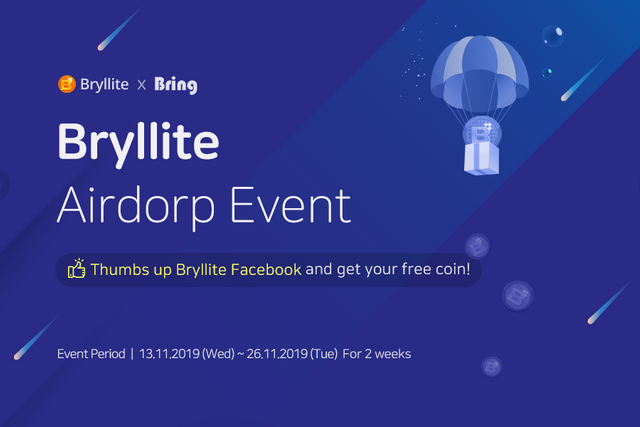 [Bryllite #Airdrop_Event]
Beyond the game boundary!
Hello This is #Bryllite!
Opening game of Bryllite is around the corner!
Soon you will meet the pre-booking of games with Bryllite! (Make some noise!!! YEYYY!!)
There is a GOOD NEWS that makes your pockets heavier~ 🌟
The Airdrop Event will be started in the Bryllite Facebook page! (clap clap clap 👏👏👏)
Raise your hands!
Bryllite's gonna shoot! For what?! 🤩The coins~!~!🤩
Bryllite will distribute the coins for the all who thumbs up Bryllite Facebook page during the Event period! 🤭 🤭 😮 😮
😍Event period : 13.11.2019 (Wed)~26.11.2019 (Tue)👈
🌟 How to participate the Event! 🌟
THUMBS UP the Bryllite Facebook page.
Sign in the Bryllite wallet 'Bring' and register the coin address (Bring Download link : http://bit.ly/2pLJCtq )
3 ) Remain your 'Bring' wallet email in the Event post in Facebook
Event Rewards : 100 BRC for all!
※Notes※💥
the coin rewards will be sent on 28th November
You SHOULD MAKE your COIN ADDRESS or register your existing coin address after you sign in the 'Bring' wallet to get the reward, unless you cannot get the coin.
You will be excluded from the scope of the event reward if an abusing action is detected.
Even you are already following Bryllite Facebook page or having 'Bring' wallet account, you can participate the event without any of limits.
You will get the reward 100% only with Facebook Following and Wallet sign-in!
This is just a piece of cake.. you should try it! Don't miss your free airdrop coins!
Bryllite loves your participation and attention. 🥰😘
Bryllite Facebook page : http://bit.ly/2CFQT1a