PRiVCY Coin Round 8 Post-Airdrop News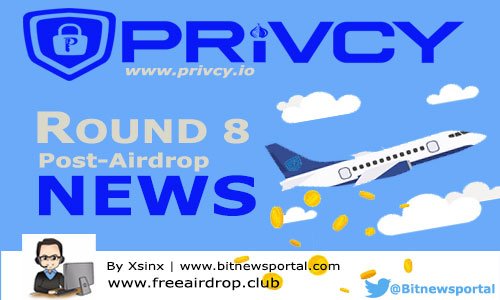 JOIN PRiVCY AIRDROP
https://freeairdrop.club/privcy-coin-airdrop
ORIGINAL ARTICLE
http://bitnewsportal.com/privcy-coin-round-8-post-airdrop-news
Hello Everyone, How everyone is doing today? its been another airdrop week have passed for PRiVCY Community and today we will do the usual post-airdrop news for airdrop round 8.
PRiVCY Coin airdrop just finish another sucessfull airdrop distibution and i can feel all the happiness of everyone who are accepted for this week privcy airdrop. Ofcourse not everyone is happy since some people still miss some important steps for airdrop registration, Thats why its always advisible to always visit PRiVCY discord channel to check and pick up the latest news about the project.
Going back to airdrop reports for this week,This week 70% HODL requirements has been enforce and for this round 450,000 PRiV has been shared by 950 total participants and its group into 3 types of members.
Hodlers Group have 823 Airdrop Participants that share 95% of the total pot. Each participants recevie 501 PRiV with today's market value of $32 USD.
New Members Group have 55 Airdrop participants that share the remaining 5% of the total post and each participants receive 177 PRiV with today's market value of $11 USD
Dumpers Members Group have 72 Airdrop participants that also share the remainig 5% with the newmembers group, Each participants receive 177 PRiV with today's market value of $11USD.
As of today PRiV Coin is being traded at $0.065 USD per PRiV and as usual dumpers will dump at any price for small financial gain. New Airdrop Mechanics has been announce for Airdrop #11 and all dumpers will be scratching their head as there are no more free meal for them every week.
PRiVCY is aiming to get listed on coinmarketcap and as a community members of PRiVCY, We should do our part to help the PRiVCY dev team to make it happen. Help PRiVCY Community get seen by simply upvoting the PRiVCY Reddit post and adding your best comment about PRiVCY
UPVOTE & COMMENT NOW on REDDIT
https://www.reddit.com/r/CMC/comments/92bb7f/why_privcy_coin_should_be_listed_on_cmc
Keep Voting for PRiVCY on both Sonox and SHARDAX show the community power of PRiVCY Coin. You can vote once every 24 hours
Vote now on SONOX https://sonox.io
Vote now on SHARDAX https://shardax.com/votes/coin?coin=PRiVCY
Don't Forget guys, If you are not accepted this week its not the end of the world, Strive harder for the next round don't settle for less and improve your account everyday. Learn from others and copy their success. Remember PRiVCY Coin is an opportunity its not a job that offers weekly income.
That's all for today guys! i hope everyone is happy since Saturday is the Favorite day of all PRiV Airdrop Participants. See you guys again tomorrow for another Edition of PRiVCY Community Newsletter.
Don't Forget to Re-Tweet, Like and share the article in different Social Media Channel a simple task but will have a great impact on PRiVCY Crypto Awareness Campaign.
FOLLOW ME ON TWITTER!
https://twitter.com/BitNewsPortal
CLAP THIS ARTICLE ON MEDIUM
https://medium.com/@xsinx2018/privcy-coin-round-8-post-airdrop-news-bc5f83edd0
Disclaimer
This News Entry is a personal opinion and not directly from $PRIV developer team this is a community initiative news entry, for official news and updates check out #announcement channel via $PRIV Discord.