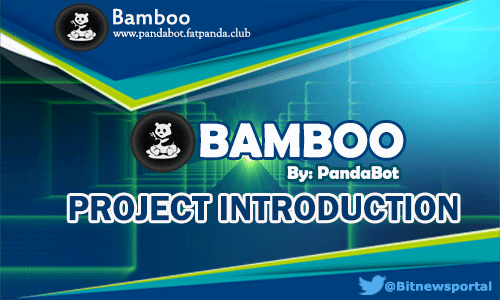 Hello Steemit Community!
Bamboo Coin is a brandnew POS/MN Cryptocurrency from the maker of Panda Discord Bot. A succesful and well known Cryptocurrency tipping bot in the market today.
Bamboo coin is a 100% Self Funded Cryptocurrency project, No ICO - No Presale - No Fund Raising or whatsoever to collect or solicit money from its community. Currently its already being traded at Amsterdex a decetralized excahnge from a legendary member of bitcointalk community.
Bamboo coin will be use as a payment option for the PandaBot Subscription also a good passive income from its POS/MN Wallet Functionalities.
What is Panda Bot?
A succesful discord bot that aims to increase community interaction and engagement. An automated system to facilitate Airdrop, Payment, Tipping to discord community.
***Getting your first Boo Coin
Bamboo coin are building a strong community by using their native coin (Boo) to fuel the growth and create a active robust community.
Bamboo Coin is now Trading @ Crex24
https://crex24.com/exchange/BOO-BTC
There are many ways to get your BOO's for free
Shower Airdrop
Join their official Discord Channel -https://discordapp.com/invite/FRyFNSY and be active in the community discussion. You will receive random airdrop from the Panda Bot, The more activity the more chances and frequent you will receive an airdrop.
Games and Contest
At a random time, the dev team announce games and contest to rewards those who are online and actively joining the community dicussion. So always watch those surprise announcement for more Boo's
Bounty
There are many Bounty Available for Bamboo, Like Discord Invite Bounty, Blog & Media Bounty, Bug Bounty and Avatar Bounty. Always check the bounties channel for more bounty related task. Complete and join them all for maximum bounty rewards
Technical Details
Coin Name: Bamboo
Ticker: Boo
Algo: POS/MN
BlockTime: 120 Seconds
Total Supply: 21,000,000
Launch Date: January 2019
Masternode Collateral: 50,000 BOO
Masternode Reward: 30% – 50%
Staking Reward: 70% – 50%
Important Project Links
Website – http://pandabot.fatpanda.club/
Bitcointalk – https://bitcointalk.org/index.php?topic=5103411
Discord – https://discord.gg/FRyFNSY
Bamboo Explorer: http://explorer.fatpanda.club/
Github: https://github.com/Bamboo4Panda/bamboo-core
Wallet: https://github.com/Bamboo4Panda/bamboo-core/releases/tag/v1.0.1