LIVE HEALTHY, GET WEALTHY! 🏥💛💲
First of all, if you are yet to join the Bounty Campaign to grab your AIRCOIN hurry now to https://Airdrops.myairclinic.com to enter now!
You are welcome to the Day 4 reports of one of the most loved utility token on the Steem Blockchain. Imagine getting paid for living a healthy life! Imagine getting free healthcare! Imagine earning Steem for doing things you never expected. Now it's no longer an imagination, ITS REAL!
Air-Clinic is a decentralized App(DApp) built on the Steem blockchain to provide innovative solutions to the challenges of the healthcare system worldwide. Our smart "Proof of Health" protocol is combined with steem's "Proof of brain" algorithm to yield awesomeness.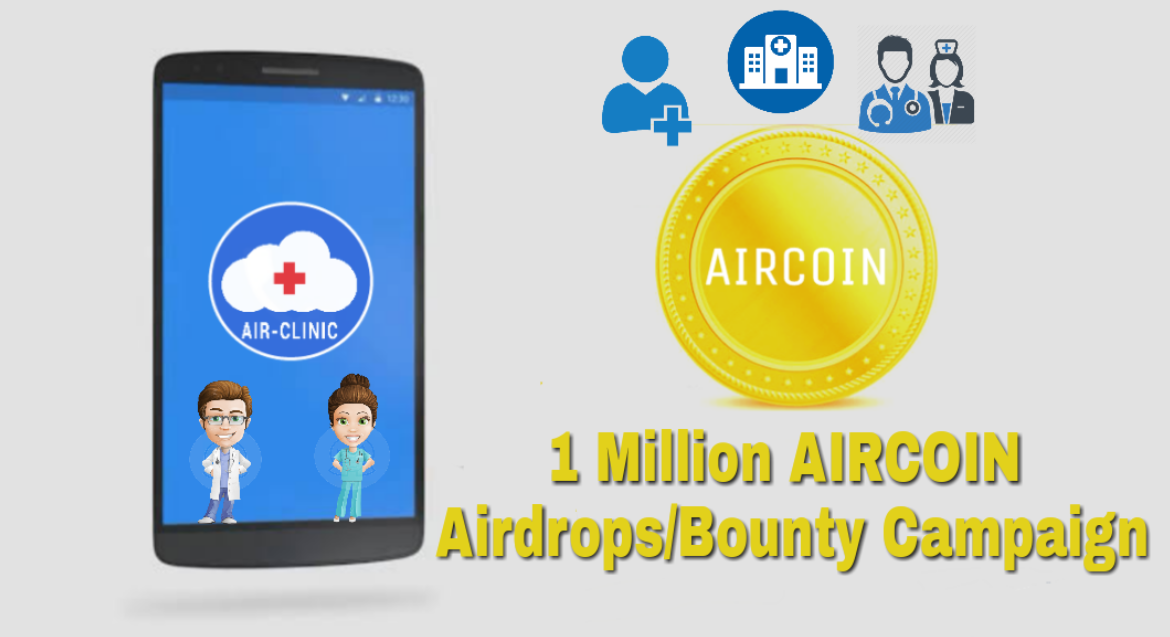 ---
BOUNTY REPORTS
Our Airdrops is about rewarding users for social media actions. This includes Twitter, Facebook, Youtube, Medium, Steemit, Discord and even visiting website / reading info about Air Clinic. There's also referral link and bonuses involved.
Here's a little summary
ENTRIES - 8200+
ACTIONS - 2500+
PARTICIPANTS - 400+
TIME ELAPSED - apprx 4 DAYS
TIME REMAINING - 24 DAYS
---
TOP REFERRERS
In the tradition of this bounty, we will be reporting the winners of our TOP REFERRER CONTEST and awarding a generous $30 AIRCOIN to the No. 1 Referrer. See Table of top 10 below.
---
To encourage more fierce competition for the top users, we will be giving away MORE AIRCOIN DAILY IN THIS BOUNTY!
1st - The referral bonus has been increased to 10 ENTRIES per new registered referral. (It was worth 5 entries previously).
2nd - The daily bonus to the top referrer is 30 AIRCOIN to be transferred immediately to the user's in-App wallet. Begins counting from today...
3rd - We also encourage everyone to repeat their daily actions and earn the DAILY BONUS which we have increased to 5 entries. (It was worth 2 entries previously)
---
NEW ENTRIES AVAILABLE!
1- NEW VIDEO ON *HOW TO EARN AIRCOIN" : 5 entries
2- STEEMIT COMMENT: 5 entries
3- STEEMIT POST UPVOTE, RESTEEM: 10 entries
4- TELEGRAM GROUP : 5 entries
5- SHOW YOUR WALLET (Screenshot your in-App wallet and upload it on Steemit. Then write a little bit about how you earned what you have in the wallet) :20 entries! (Coming soon!)
6- Everyday, there will be new tasks related to health and well-being for you to do and earn more!
---
Remember that we have $1 Million AIRCOIN allocated for this Bounty Campaign.
SHARE YOUR REFERRAL LINK ON EVERY SOCIAL MEDIA TO GET MORE REFERRALS!
---
CONNECT WITH US!
Download our Android App: https://play.google.com/store/apps/details?id=air.clinic.android
Join our AIRDROPS/Bounty Campaign: https://airdrops.myairclinic.com
Visit our website: https://myairclinic.com
Join us on Discord: https://discord.gg/rqded5m
Join us on WhatsApp: https://chat.whatsapp.com/1h5m4tsLpniJRQG2YThFIQ
Join us on Telegram: https://t.me/joinchat/FH89yhHAxJMIfGn1eMRGmA
Follow us on Twitter: https://Twitter.com/myAirClinic
Follow us on Facebook: https://Facebook.com/airclinic1
Follow us on Medium: https://medium.com/@AirClinic
Read our whitepaper: https://myairclinic.com/whitepaper.html
If you have a previous version of our Android App, please re-download and install!
Remember to go to the register page and input your Ethereum Wallet Address!
LIVE HEALTHY, EARN REWARDS!
🏥💊💉💝