This is quite humiliating, but I can't lie that Indonesia needs help about healthcare problems. Not only it is too expensive but the most pathetic one is that we have problems with doctors and hospitals who do not care about health at all. What do they care is just about money, they prioritize the money that come from drugs companies who give them sponsors and facilities instead of thinking more about their patients. As an example, I met a lot of friends and families who got "punish" to have hemodialysis immediately even though they can get help without it. Some of them then went to another countries such as Singapore and Malaysia to get second opinion, and it turned out they do not need hemodyalisis at all. Just imagine what happened to those who do not know and do not have enough money to get second opinion abroad? This is sick and must be stopped.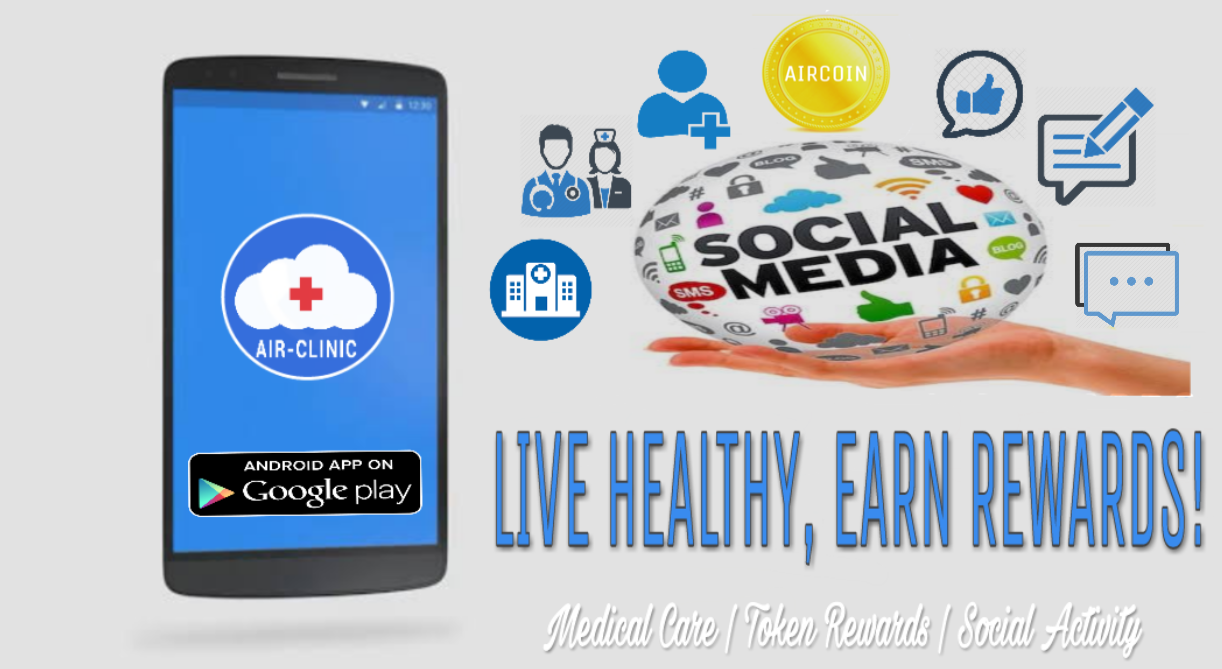 Air-Clinic is more than just being healthy but also to earn rewards!
Two months ago, during fasting month, a friend of mine who is Steemian came to my house. She was crying and asked for help. Her husband quit from his job because the company he was working was bankrupt. Then he tried to support the family by being online motorcycle driver, but he got very ill because he was working very hard. He was collapsed and taken to the hospital, doctor said he had heart problems and of course, they have to pay a lot of money for the medication. This family have health insurance called BPJS which organized by the government, they have been paid for more than a year, but since they have economic problems, they delayed the payment. They need money for their kids. So, they can't used this insurance unless they pay all their debts first. They cant even go to the hospital because they have no insurance and money to pay. That is why she was crying and try to get helps from anybody. I was so angry at that time, I could not believe that is happening. I went to the hospital and asked for the policy, and it is true. The hospital can't do anything and they have no intention at all to help, unless we got the money or paid all this insurance debt. I was speechless and I was thinking about my friend, especially her kids. I wonder where is the money that they already gave to the government every month for their insurance. I am sure they are not the only one, with the economic situation at the moment, there must be a lot of people out there who experience the same. BPJS is not insurance for poor and low economic people, it is just for middle up, so much different from its campaign before. Though perhaps it is not that much for middle to upper class citizen, but IDR 150.000 which equal to US $ 15 a month, for the whole family (father, mother, and 2 children) is too much for lower and poor people. This family finally got helped to pay all the insurance debt and also for the medication they spent before they can use this insurance. Thank God! But, then, I can't believe this is happening. Really! Doctor said that his kidney is having problems, and I was curious about it. My father had problems with his heart and after a few months medication, he was diagnosed having failed kidney and need to get hemodialysis. I discussed with a lot of doctors and my friends, and they said it must be because of those drugs during the medication. Not all people are strong enough to get those strong drugs and mostly then got failed kidney. I was very upset as well, because at that time, my father's kidney was still 38% working but doctor suggested to get hemodialysis on that they. My mom at that time did not understand and agreed with the doctor. Later, I found out from a doctor in Singapore, that it is not supposed to be like that. We need to have further exams and avoid hemodialisis as much as possible because his kidney was still 38% working. My dad past away after 4 years having hemodialysis, 3 times a week. At that time, we need to pay most of the medication costs, because the government insurance for him did not accept all costs. We were struggling to paid everything for my dad, and though now the government insurance accept the hemodyalisis cost, but still it is not comfortable at all to know there are people out there who got punished by their doctors just like that. This is insane!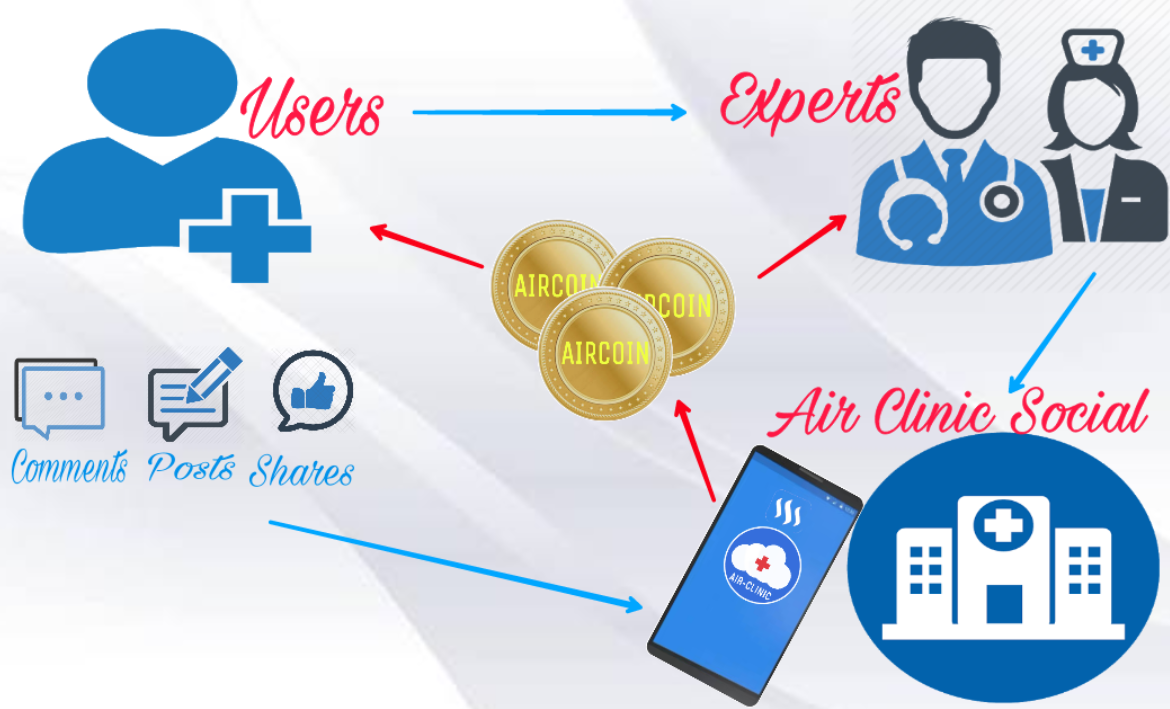 How Air-Clinic Rewards Healthy Living
When I read about air clinic on their website : https://myairclinic.com/ and their whitepaper : https://myairclinic.com/whitepaper.html#intro, I am so happy. Finally I found healthcare programs on blockchain, and this is very important. My mind was here and there thinking what can we do with this air clinic programs in Indonesia. This is very good and supposed to be able to help a lot of Indonesian to get better and "right" medication, especially for the poor and lower economic citizens. I do really support this program so much, especially now they have massive airdrops and bounty programs, you can check it on this website: https://airdrops.myairclinic.com and https://steemit.com/smt/@air-clinic/air-clinic-healthcare-smt-android-app-now-on-google-playstore-1-million-aircoin-airdrops-bounty-campaign-app-user-stats. It will worth it to invest their coins, this air clinic program will be known and supported by the world : https://medium.com/@AirClinic/aircoin-erc-20-token-distribution-economics-presales-ico-details-2d3624bb10f4.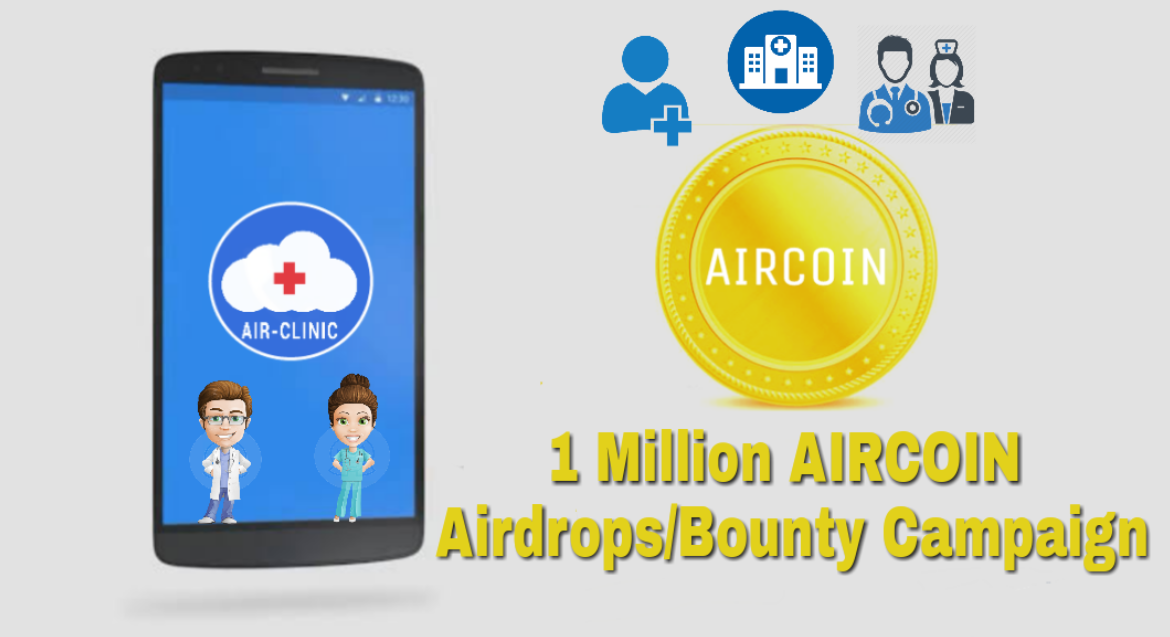 Air-Clinics does share a lot of coins for all to be part of the next step of healthy living on Blockchain
The good thing about air-clinic, they also have app which you can download from google store : https://play.google.com/store/apps/details?id=air.clinic.android. There are a lot of benefits we can get by downloading and install this application, we can even discuss about our health problems and issues over there. For me this is good news, and should be spread all over the world and Indonesia for sure, this could become a solution for a lot of Indonesian to get the best opinion about their health and medication. They do not have to spend too much money to go abroad, and for the poor and lower economic citizens, they can get help as well. And the best thing as well is that they can get help and reward from air-clinic, so they should not worry too much about their medication costs, it will help all of us, a lot! Please visit this important air clinic links, this is very important: - Android playstore : https://play.google.com/store/apps/details?id=air.clinic.android - Website: https://myairclinic.com - Twitter: https://Twitter.com/myairclinic - Facebook: https://Facebook.com/airclinic1 - Discord: https://Discord.gg/rqded5m - WhatsApp : whatsapp://chat?code=1h5m4tsLpniJRQG2YThFIQ - Medium Blog: https://medium.com/@AirClinic/ Bandung, September 4th, 2018 Warm Regards, Mariska Lubis